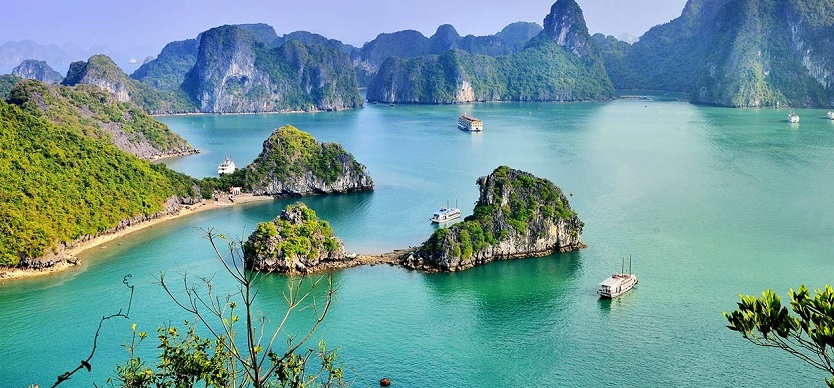 The weather changes with the months everywhere. Therefore, for each vacation, you should prepare clothes thoroughly before you go.
At the place you live, you may have memorized the characteristics of each season, you know when is the best time to go fishing, swimming or sailing.
However, with tourist spots like Halong Bay, tourists should learn about the weather as well as leisure activities during the holidays. The guide to Halong weather below will definitely help you to plan specifically for your upcoming trip.
When is the best time to visit Halong Bay?
The best time to visit Halong Bay is in October, November, and March. Winter and spring are two peak seasons for tourism, however, summer and autumn have their own advantages.
An overview of Halong Bay weather
Located in the north, Halong has four distinct seasons.
Spring lasts from March to April, with a warm temperature which is the time for flowers blooming. Summer usually lasts from May to early October. At this time, the temperature is high with heavy rainfall.
Fall often lasts 2 months later with a pleasant heat and less rain.
Winter begins in November and ends in February which is cold and dry. The average temperature falls around 17 degrees Celsius to 22 degrees Celsius.
The holiday from July to September will have many difficulties because the weather Halong becomes hot and humid with rain, causing many fluctuations in the sea.
Haven't you still decided on your vacation time? Find out and decide based on your own weather and favorite activities below!
Tips: You can watch Halong bay weather forecast here.
Halong Bay weather in January
At this time, the weather in Halong is quite dry. Tourists will enjoy the clear blue sky and sunshine. The temperature is low, falling around 18 degrees Celsius with little fog and rainfall.
If you visit Halong Bay in January, you should prepare a light coat or a hoodie. Don't forget to bring your swimwear, in case the weather is warm enough and you want to immerse yourself in the water of Halong.
This is an appropriate time for you to experience most activities on the bay.
The blue sky is suitable for a scenic flight with seaplanes or watching Halong from the top of a mountain.
Visitors should skip the water sports activities if the temperature is too low.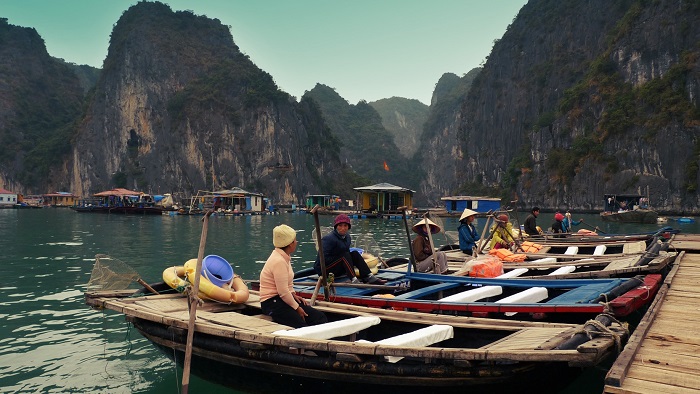 Fishing village in Halong Bay
Weather in February
Like January, visitors will experience the beauty of the clear blue sky with sunshine in February. However, the temperature is lower, about 17 degrees Celsius with fog as the previous month. Jackets or hoodie are great outfits around this time.
Many people believe that March is the best time to visit Halong Bay. At this time, the sky is clear and sunny. The temperature also increases slightly - about 19 degrees Celsius. Don't forget to bring a thin sweater in your suitcase.
With the warm weather, March is the perfect time to climb mountains. Also, for the brave tourists, this is the time for you to jump into the sea of Halong.
Weather in April
Considered to be the end of the peak of tourism, the weather in April is gradually hot and prepared to welcome the summer rain. Halong Bay will become more deserted at this time.
You can enlist the beautiful sunny days early April to enjoy your holiday. The rainy season starts around the end of the month with a temperature of about 24 degrees Celsius. Visitors can even wear shorts when coming here at this time.
April is the best time to participate in all relaxing activities in Halong. Bring a swimsuit, enjoy the cool water and a sunny sky. Climbing, cycling, sailing or sightseeing with seaplanes are all ideal activities for you.
Weather in May
May is a good time to travel, however, it is often difficult to determine the weather. The amount of precipitation will be higher and the temperature will increase, making the weather hot. The average temperature is about 29 degrees Celsius. The humid climate will make you extremely uncomfortable. In return, the cool breeze on Halong Bay will make you much more comfortable.
Traveling to Halong Bay in May, make sure you bring shorts, tank top or T-shirts. Always bring a swimsuit because you will want to jump into the clear blue water at any time. Do not forget to bring an umbrella, too.
Tourists can participate in water activities on sunny days. Beautiful beaches also become more deserted.
Weather in June
The weather in June is full of summer features with high temperatures and heavy rainfall. For travelers who love the hot sun with summer showers, this will be an ideal time.
Storms often occur in the Gulf, so tourists should stay in the land to ensure safety. With an average temperature of about 30 degrees Celsius, prepare clothes for the summer day with a raincoat. You may not be able to swim due to the weather, however, still bring a swimsuit.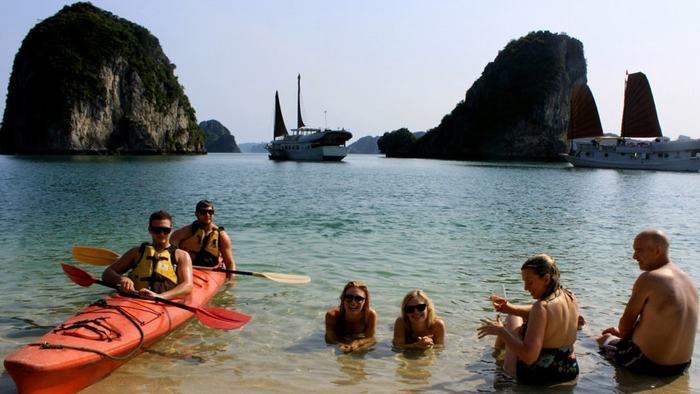 Swimming on the beach
Outdoor activities will be postponed or canceled due to rain, so visitors should pay attention to the "Refund" section before booking.
Due to heavy rainfall, you should not participate in climbing.
Weather in July and August
The weather of Halong in July and August has many similarities. With heavy rains and temperatures like June, this is actually the wettest time of the year.
With such weather, there are very few tourists coming here to visit. So, if you're lucky, this could be an opportunity for you to explore on less rainy days than forecast. However, it often rains the most at this time, making visibility limited. Therefore, it makes difficult to admire scenery and experience.
Nearly October, the rainfall on Halong Bay decreases. The temperature also drops to about 28 degrees Celsius, making the weather more pleasant. Make sure you bring a raincoat in your suitcase with summer clothes, in case of sudden rain.
The rainy season ends, which means that relaxing activities will start to return. Guests will experience interesting ones in the water, on the mountain or any expeditions thanks to the dry weather.
In October, the sky is clearer and the rainfall decreases significantly. The hot of the summer disappears, replaced by the pleasant and mildness of autumn. The temperature drops to only 26 degrees Celsius. Shorts, T-shirts, and swimwear are perfect for Halong weather this season. However, you may still encounter heavy rain, especially in early October.
This is one of the most beautiful times to travel to Halong. You can see Halong Bay from the seaplane or visit beautiful fairy-like caves.
Besides, the seawater temperature is also warm enough for you to participate in fun activities. No more rain or heat, the relaxation experience becomes much more interesting. Tourists can climb mountains or cycle around the bay.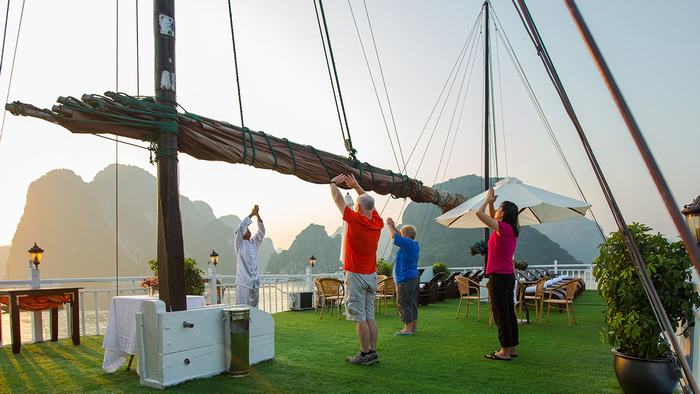 Tai Chi on the sundeck
Weather in November
November begins with dry weather and decreasing temperature, about 24 degrees Celsius, so this is the right time to visit Halong.
The weather in November makes it the peak season here. When arranging things, bring a thin woolen coat for the windy nights on Halong Bay.
Do not miss the opportunity to immerse yourself in the waters of Halong before winter comes.
This is arguably the most appropriate time to take a cruise. As a peak season, you should book in advance to ensure your vacation is not interrupted.
December is the driest time of the year. As rainfall and temperature decrease, you won't have to worry about the sudden rain. The sky becomes clear, enabling you to experience the activities on the bay.
With a temperature of about 19 degrees Celsius, during the day, the weather is sunny but the night is quite cold. Therefore, visitors should bring both summer and winter clothes.
Low temperatures create perfect conditions for visitors to experience the discovery of Halong. Land activities such as hiking or climbing are extremely suitable. However, you should skip water sports activities because it is quite cold.
What is the best time to visit Halong?
Halong is a great destination at all times. Winter and spring are the two peak seasons for tourism, however, summer and autumn also have their own advantages. Many people want to feel the beauty of Halong, so they often choose the low season.
Therefore, the best time to visit Halong Bay is in October and November or March.
Following these instructions, you have a complete plan for your travel. Enjoy and spend time exploring the whole of Halong.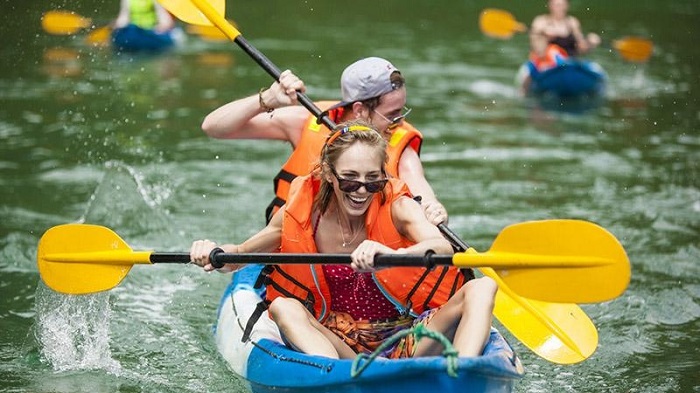 Kayaking in Halong Bay
How to deal with tour cancellation due to the bad weather?
All cruise companies are managed by the Management Board of Halong Bay and need permission to sail. In case of weather conditions such as monsoon, thunderstorms, typhoons, or storms, the administration has the right to cancel cruises to ensure tourists' safety.
Common weather conditions occur in Halong Bay
Tropical storms and typhoons
These types of weather occur in summer, especially from July to September.
Tropical storms happen from May to July, while heavy rains and powerful ones come in the end of summer and the early autumn. They can lead to considerable damage.
Foggy weather
Heavy fog with low visibility occurs in winter, from December to the end of February. At that time, the weather is cold and the extreme foggy condition makes human vision limited. Therefore, tours will be cancelled.
Monsoon season
Monsoon is a typical weather condition in North Vietnam, which occurs from October to late March. It's one of the main reasons to cause tour cancellation.
How to deal with the tour cancellation?
In cases of bad weather conditions, the Management Board of Halong Bay will announce at 3 pm. Therefore, tourists should check updated news and listen to any advice before your departure.
If the cancellation is informed before your departure in Hanoi, you can ask your travel agent to make sure you clearly know about the time of the next trip, alternative options or the cancellation policy.
If the cancellation is informed after you had arrived at Halong, you can choose either to go back to Hanoi or wait for the next day cruise.
If the cancellation is informed while you're on the cruise trip, the trip will be shortened. Also, the cruise operator will rearrange the itinerary to ensure your safety.
You should stay one night at a hotel on the mainland if the weather is better the next day. If it is still bad, cruise operators will transfer you back to Hanoi or you can choose other alternative options.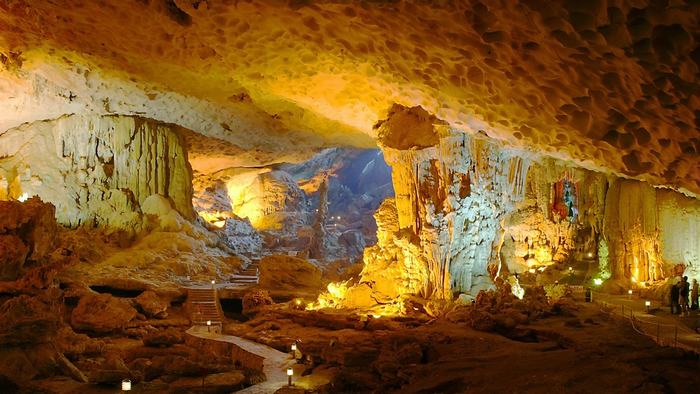 Thien Canh Son Cave
FAQs
Q: How long does it take from Hanoi to Halong Bay?
A: Normally, the distance from Hanoi to Halong Bay is about 170 km. Shuttle Bus takes you around 3.5 hours, included haft-hour for break time from Hanoi to Halong Bay. If you go by private car, it takes around 3 hours.
On the other hand, there is another route which only takes you about 2.5 hours for traveling to Halong Bay. You can hire a car or buy a ticket of a VIP bus to travel from Hanoi city center to Halong Bay through the new Hanoi - Hai Phong highway, which shortens the distance between Hanoi - Halong to about more than 150 km.
Q: Is there any special package for honeymoon, wedding anniversary or birthday vacation on a cruise?
A: Halong Bay is a very suitable place for a honeymoon, wedding anniversary or birthday vacation. Depend on your budget, you can join a sharing cruise or take a private cruise. But all our cruise partners have activities to celebrate for your special occasions such as decorating your bed with rose petals in a heart shape, giving chocolate or birthday cake.
Q: How do I know my booking has been canceled?
A: When we receive your cancellation, we will process to cancel your booking. Then we will confirm your cancellation through the email. At that time, your booking will be canceled.