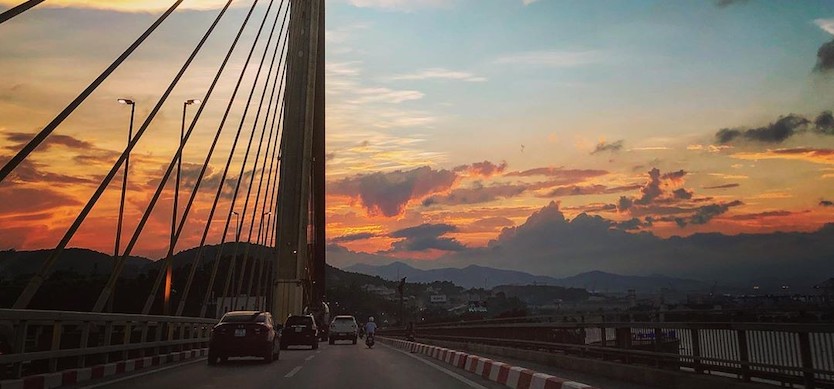 For most foreign visitors, the easiest way to travel to Halong Bay from Hanoi is to choose a cruise tour from 1 to 3 days.
However, the cost of such a tour is not cheap, and the visit will also depend on the schedule of the tour group. Therefore, if you want to explore Halong Bay on your own, you need to know the best and most suitable way to travel here.
That's why in this article, we will bring you countless choices of means to get to Halong Bay from Hanoi.
Of course, they are not for everyone. As long as you feel most comfortable, the choice is up to you.
Besides, you will also receive answers to issues that tourists coming to Halong Bay concern the most. In addition, the article also provides you with some useful tips for you to make the most of your time exploring Halong Bay from the transfer.
Let's dig into it!
How far is it from Hanoi to Halong Bay?
Hanoi and Halong are both cities located in the North of the country. In particular, Hanoi is the capital city, and Quang Ninh is one of the most developed coastal tourism cities across Vietnam.
Halong Bay of Vietnam
The distance from Hanoi to Halong Bay is not too long like Hanoi - HCMC or Hanoi - Hue, but it also takes you quite a lot of time. Depending on the route you choose to move, the distance from Hanoi to Halong Bay will vary.
Hanoi - Haiphong - Halong route
By this route, you will depart from Hoan Kiem District, Hanoi. The way going through Haiphong to Halong City, Quang Ninh will be 156.5 km with the passing route is Highway 5B and Highway 04.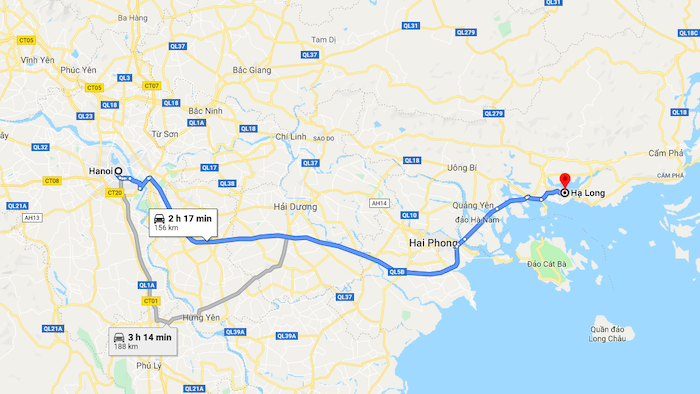 The first route
Hanoi - Hai Duong - Haiphong - Halong route
With the route through National Highway 38B, National Highway 5B, and National Highway 04, the distance will be 206 km.
Depending on your current location as well as the traffic situation, you can choose a suitable route out of these two options.
Note: Both of them have BOT toll stations
Hanoi - Bac Ninh - Halong route
This road is about 170 km long.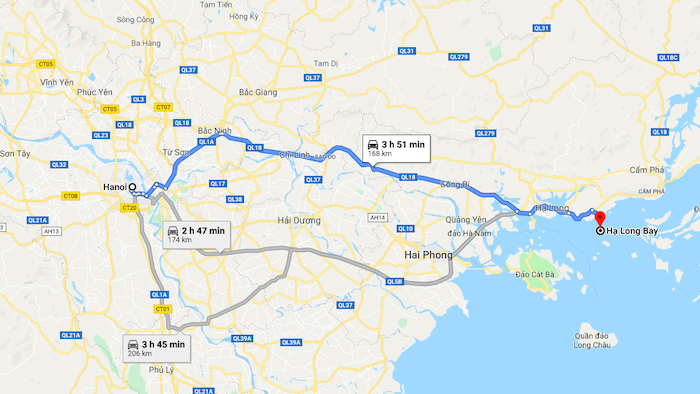 The third route
Best ways to get to Halong Bay from Hanoi
The cheapest way to travel from Hanoi to Halong is by passenger buses. Like anywhere in the world, they are a cheap and affordable vehicle. This option also allows you to learn more about the daily life of Vietnamese people.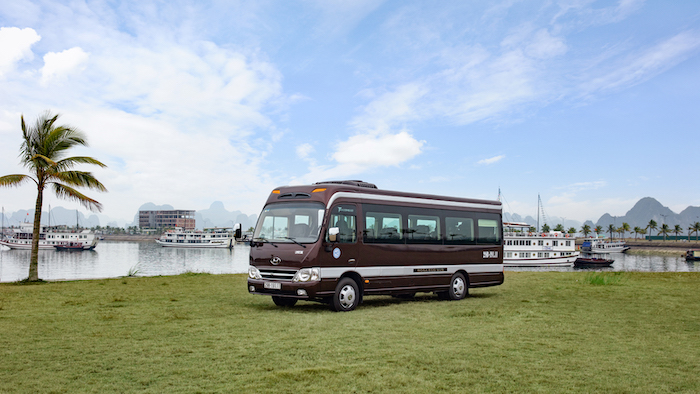 Traveling to Halong Bay by passenger bus
Traveling by passenger bus is a unique way to experience the local culture. However, foreign tourists may find it difficult to fully understand the practices of Vietnamese buses or exchange information with drivers.
The buses depart from many bus stations like Luong Yen, My Dinh, or Gia Lam. They usually stop at Bai Chay bus station, Halong city.
Low price - about VND 100,000 - 200,000

Travel time: 4 hours

Main route: Hanoi - Hai Duong - Haiphong - Bai Chay (Halong)
Pros:
Cost-saving

Comfortable

Safe

Time-flexible
Cons:
Unpleasant smell

The risk of losing belongings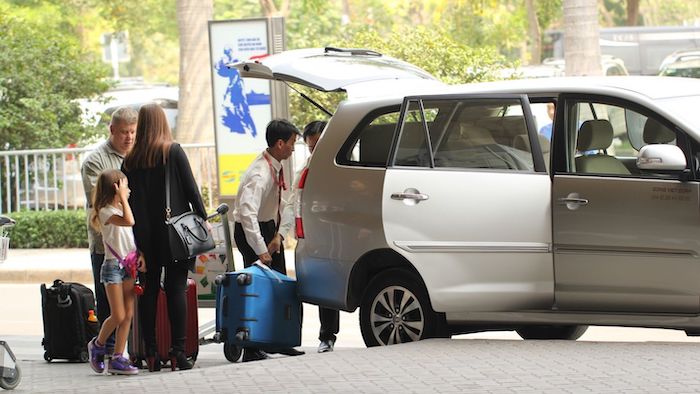 Booking a private car
Contrary to passenger cars, private cars bring more convenience and comfort. They focus on meeting the needs of group travelers like family or friends.
Not only can you choose the right vehicle for the number of participants but you can also be proactive in selecting departure times. Besides, you can visit anywhere you want on the go without affecting other people.
However, the time you travel from Hanoi to Halong is like a bus. It takes about 4 hours for this trip.
There are many popular suppliers of car rental for you to get to Halong Bay from Hanoi. You should call them in advance to ask about their available services and check the quality of the car.
The rent for a 4-seater private car is about VND 1 million and a 7-seater car is about VND 1.5 million.
Pros:
Time-flexible

Convenient

Safe

Fast
Cons: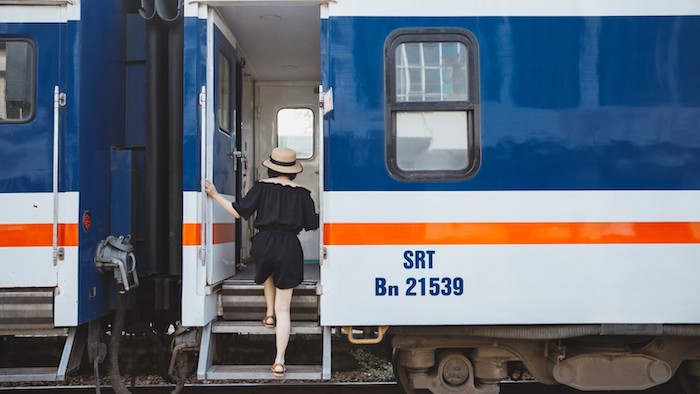 Going by train is more popular to foreigners
This is another public means that is used more by local people. Trains provide passengers with the opportunity to enjoy the beautiful views along the road. However, the train from Hanoi to Halong will last 7 hours. This is usually not the right choice for travelers.
From the train station, you will have to spend extra time and cost catching a taxi or motorbike taxi to move to the city center. In addition, you need to wake up earlier if you want to enjoy a full day in Halong. Besides, you should also note that the pier is about 5 km from the station. So, make sure you'll arrive on time.
Trains offer travelers two options, including air-conditioned "soft seats" and "hard seats" at different prices. However, the train from Hanoi to Halong only has hard seats.
The train route is designed primarily for locals. But, for some visitors, this is a great opportunity for them to better understand the lives of the Vietnamese people.
Pros:
Easy booking

Cost-saving

Fun
Cons: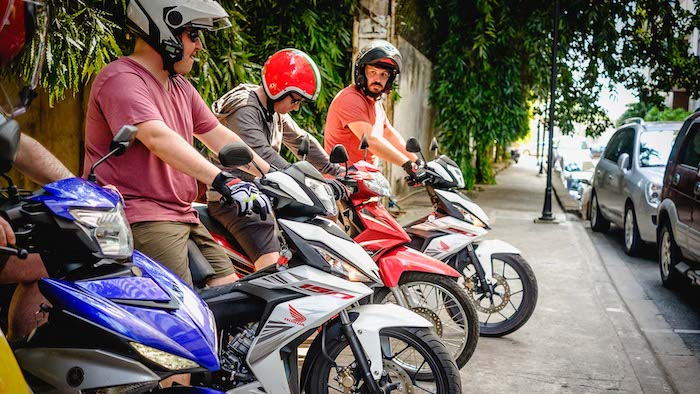 Traveling by rental motorbike
It is not an option for most travelers, but for those who like to travel and explore, the motorbike is the most appropriate means of transportation to go from Hanoi to Halong Bay. Tourist will have a chance to admire the beautiful scenery along the way, as well as stop by any destinations they want, thus they will not be bound by time and schedule.
However, riding a motorbike to Halong Bay is quite dangerous. Make sure you understand the route and are willing to deal with the risks on the way.
Besides, unlike cars or buses, traveling from Hanoi to Halong Bay by motorbike will take more than 5 hours and can make visitors tired during the journey.
Pros:
Flexible

Cost-saving

Unforgettable experience
Cons: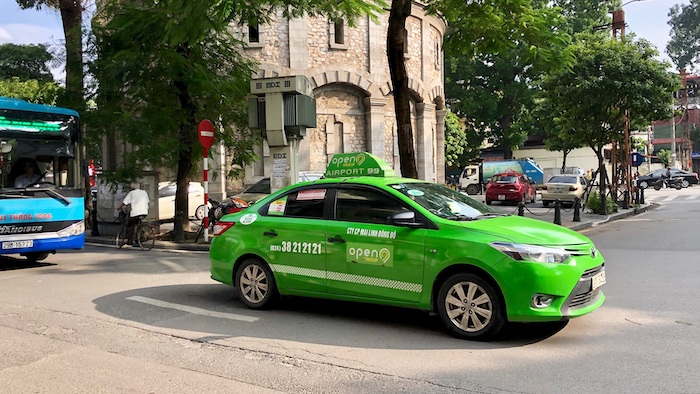 Taxis in Hanoi
If your vacation lasts a few days, a passenger bus will be an economical and flexible option. However, if you only have one day, make sure you depart before 8.00 am. This ensures you have enough time to admire Halong before returning to Hanoi.
In the case of force majeure, you can go by taxi. It is both fast and convenient, giving you a more private space. However, it is quite expensive compared to other means, so we recommend that you only consider ordering a taxi when needed and when traveling with over 4 people.
Pros:
Flexible and convenient

Fast

Safe
Cons: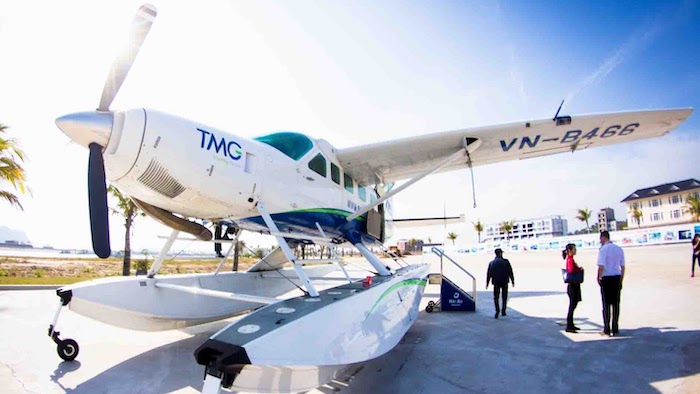 The seaplane in Halong Bay
Seaplane is another luxurious aerial transport that you should try. Hai Au Airlines is proud to be the only provider of sightseeing flights with seaplanes from Hanoi to Halong Bay.
The journey with the seaplane takes 45 minutes, helping you save time. Thanks to that, you can enjoy the beauty of Halong Bay more than other means.
Direct flights departing from Noi Bai airport, Hanoi to Halong cost about USD 275. It offers visitors the opportunity to enjoy stunning views of the bay below.
For travelers who do not like to travel by air or those who go in groups, they may not choose this form of travel. However, for businessmen or adventurous people, seaplanes are the best way to travel between Hanoi and Halong.
Pros:
Unique and fascinating

Fast

Safe

World-class services
Cons:
The facilities on luxury buses
Luxury buses are becoming more and more popular in the past few years. It is a form of a passenger car or private car but in the more luxurious version with many high-class services, and is often called Limousine or Dcar.
Luxury buses are usually 9-seater cars. There are also 16-seater cars if the demand is high. Currently, there are many Limousine bus companies that support package tickets from Hanoi to islands or other tourist destinations in Quang Ninh. Traveling by luxury car from Hanoi to Halong Bay is very convenient so it is chosen by many passengers.
The route starts from the old quarter - the center of Hanoi. Tourists can easily catch a taxi to the meetup location. Many car lines arrange a lot of car routes departing during the day. Every 15 minutes, there is one luxury bus departing from Kim Ma bus station on Nguyen Thai Hoc street.
Pros:
Flexible and convenient

Comfortable

Safe

Fast
Cons:
Expensive

The risk of losing things
Things to prepare
Departure time
Halong is one of the hottest tourist cities in the country with a system of beautiful islands and bays. You will have the opportunity to see and enjoy the immense, majestic nature of this place. However, for this reason, if you want to travel to Halong for one day, you will need a specific and reasonable schedule, especially on a self-sufficient journey.
To make the best use of time, you should move in the early morning, around 3.00 am - 4.00 am. With this departure time, you will be in Halong at 6.00 am - 7.00 am to enjoy the fresh and cool air of the coastal city in the morning.
In particular, departing at this time, the transfer is also quicker compared to other points of time that it can avoid traffic jams. If possible, you can even be there to catch the sunrise on the beautiful and enchanting Halong beaches.
Necessary items
Here are some essential items and clothes to bring if you want to travel to Halong.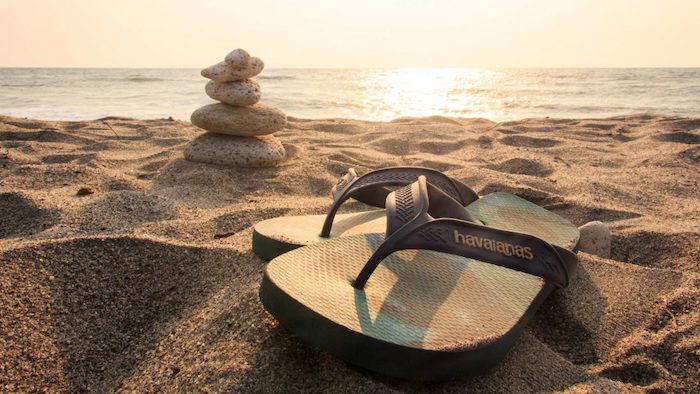 Let's prepare for a Halong beach vacation
Sunscreen

Snacks

Swimsuits

Hat

Sunglasses

Flip-flops

Jacket

Medicine
Some tips to have a safe and convenient transfer to Halong Bay
The best time to go to Halong is the summer from April to June, or autumn from late September to November. However, these are also the peak seasons. Therefore, if you intend to travel to Halong at these times, you should book tickets for at least one month in advance.

When riding a rental motorbike or car, remember to obey the traffic rules, stay in the right lane and speed to avoid traffic violations. Also, learn the routes from Hanoi to Halong to get the best preparation. If possible, you should have a paper map and use the Google map app.

The locals always provide the best directions. Vietnamese people are very friendly and they are willing to guide you if you get lost.

For rental vehicles, you need to prepare your identity card, passport, driver's license, and deposit. For seaplanes or trains, the purchase of tickets will also require identification and passports.

You should not carry too much cash to avoid theft. Halong has many ATMs for you to withdraw money.

When visiting Halong, you can ask the hotel owner where you are staying to rent a motorbike for you. Motorcycles are a cheap means to help you discover every corner in Halong city. Besides, you can ask them to buy boat tickets if you want to visit Cat Ba Island.
FAQs

FAQs
#1: Are there any airports in Halong Bay?
Yes. It's Van Don Airport.
However, at present, Van Don Airport has only 4 flight routes, including 3 international routes and one domestic route.
Specifically, the current domestic flight is Van Don - HCMC and vice versa. It is operated by the three largest airlines in Vietnam, which are Vietnam Airlines, Vietjet Air, and Bamboo Airways with 2 flights per day and 3 flights on Sundays alone.
The international routes were operated from May 27, 2019, connecting Shenzhen (China), Seoul (South Korea), and Hunan (China) with Van Don.
#2: What is the Halong Bay map location?
Halong Bay is a small bay on the western part of the Gulf of Tonkin in the northeastern sea of Vietnam, including the island waters of Halong city, Cam Pha city, and part of Van Don island district of Quang Ninh province.
#3: What is a Hanoi Halong Bay tour?
Hanoi - Halong Bay tour is the most popular cruise tour in Vietnam. This is because it has an extremely beautiful, pristine, and special landscape, once recognized by UNESCO as a world natural heritage.
With a cruise tour in Halong, you will choose tours of 1-3 days. You will visit the most famous places in the bay and spend the night on the cruise.
Options with more days are often a combination of two or more locations in the North and Northwest such as Hanoi, Halong Bay, Mai Chau, and Sapa, etc.
#4: Can I be transferred from Hanoi to Halong Bay day trip? What about Hanoi to Halong Bay cruise?
Yes. The transferring from Hanoi to Halong Bay by bus is included in the tour no matter how many days the tour is.
Also, if you want to move from many other tourist destinations like Sapa or Moc Chau, or if you want to change the means of transportation, you can ask the tour suppliers.
#5: Where is My Dinh Bus Station located?
My Dinh Bus Station is situated at 20 Pham Hung, My Dinh, Tu Liem, Hanoi. This is a convenient location for those who want to go from Hanoi to neighboring provinces, close to the highways (Ring Road 3).
From Hanoi's Old Quarter to My Dinh Bus Station is about 10 kilometers far. You can get here by taxi, motorbike taxi, motorbike, or bus.
#6: Where is Bai Chay Bus Station? Is it far from Halong Bay?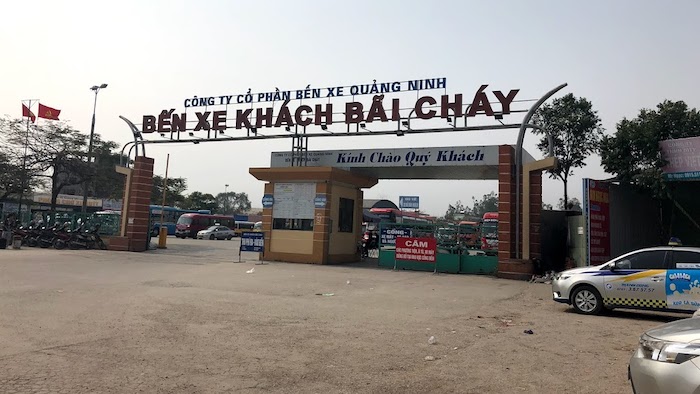 Bai Chay bus station
Bai Chay Bus Station is one of the stations that many people choose when coming to Quang Ninh. With a prime location and high-quality services, it is ideal for passengers. The bus station is located right on the highway of Noi Bai - Halong and near the moving route to Halong.
From the bus station, you can conveniently move to the city center and Halong Bay. The distance between it and Halong Bay is about 22 km so you can reach the bay by taxi or motorbike taxi.
You can move from here to anywhere, especially the Northern provinces. In addition, there are many routes to the Central, South and Central Highlands provinces.
#7: How long does it take from Hanoi to Halong Bay?
It depends on the type of vehicle you choose to travel from Hanoi to Halong Bay. Specifically, the seaplane only takes 45 minutes while other vehicles such as motorbikes, passenger buses, private buses, or luxury buses take about 4-5 hours. The train is believed to be the slowest, about 7 hours, to reach Halong Bay.
#8: How do I get from Hanoi to Cat Ba Island?
To come to Cat Ba island, there are many ways. From Haiphong, you can go by speedboat at Binh wharf, Got ferry terminal or HADECO speedboat at Dinh Vu wharf. Note that if you go by car, then take a ferry. However, the ferry is slower than the speedboat.
Traveling by speedboat in Binh wharf: The ticket price is VND 200,000 - 250,000/guest. The travel time is 45 minutes.

Taking a ferry or speedboat at Dinh Vu wharf: It takes about 2-3 hours with 2 ferries.

Going to Tan Vu - Lach Huyen bridge: Tourists go through the bridge to Got ferry terminal, then take a ferry to Cai Vieng wharf and continue to move to the center of Cat Ba island.
However, in the peak season, the Got ferry terminal is often in overload, congestion, especially on weekends.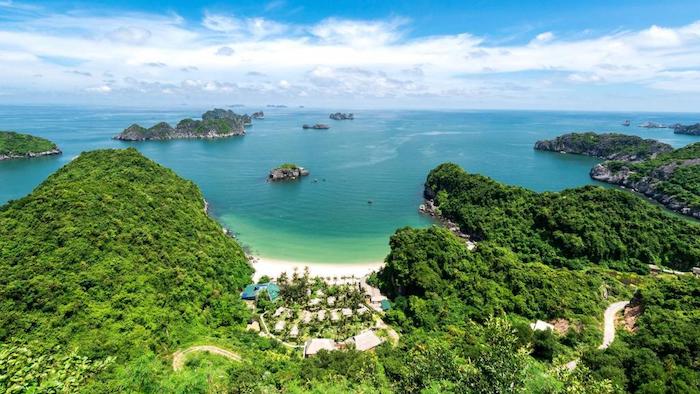 Cat Ba island
If you travel from Halong to Cat Ba, you can take a ferry in Tuan Chau wharf. The last trip is at 3.00 pm. Normally, tourists combine the visits of Cat Ba and Halong Bay, leading to the overloaded situation of the ferries here. Therefore, you should come early to buy tickets.
In addition, from Hanoi, you can go straight to Cat Ba by bus with the cost of about VND 250,000/guest.
Coming to Cat Ba island, you can rent a motorbike to explore the beauty of this gem by yourself.
Halong Bay is not as difficult to go as many people think. If you have a chance to travel to Vietnam, don't miss the beauty here. Hope that our full guides on how to get to Halong Bay from Hanoi will help you have a convenient trip. Please like and share the article with others if you find it useful for you. Thank you.