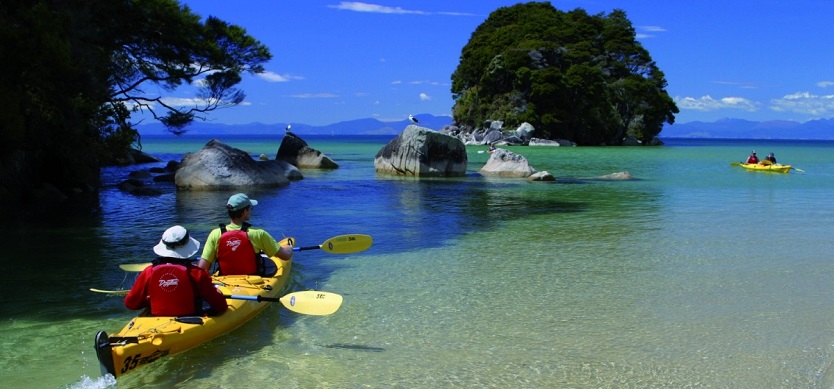 Halong Bay has been recognized by the UNESCO as the world natural heritage with countless interesting things to admire. Enjoy the most attractive spots HERE.
Halong is a famous tourist destination in Northern Vietnam which attracts visitors by thousands of green islands in the middle of the immense sea. That is the beauty that nature has bestowed on this place.
Besides this, is there even something more to add in Halong Bay?
A lot, of course!
Therefore, we wrote this post hoping to bring you closer to the beauty of Halong Bay. At the same time, through this, you will be able to choose the appropriate itineraries for your trip to this bay.
Let's explore now!
Top must-see things in Halong Bay
Sung Sot cave
Location: Bo Hon island, 14 km south of Bai Chay port
Sung Sot cave is located in the heart of the World Heritage Halong Bay. As the name implies, from the moment you set foot inside the cave, the scenery and the virtual space inside the cave will make all visitors astounded. Discovered by the French in 1901, the cave was named "cave of wonders".
And rightly so, the Sung Sot cave was selected by the Czech Association of Travel Brokers and Offices as one of the 10 most beautiful caves in the world. The cave is divided into two main chambers with thousands of stalactites: a large theater-like compartment that can accommodate thousands of people with wide-open ceilings combined with neon lights, this theater is like the surface of the moon.
The second one opens a completely new space: the rich system of stalactites in the ceiling of the cave create objects that are both familiar and unfamiliar to visitors with ancient trees, iconic horse-riding Saint Giong or the image of the bamboo village. All bring the interest of visitors when watching. When it reaches the top of the cave, this place is like a place to swim when the lake is green with many plants and birds live.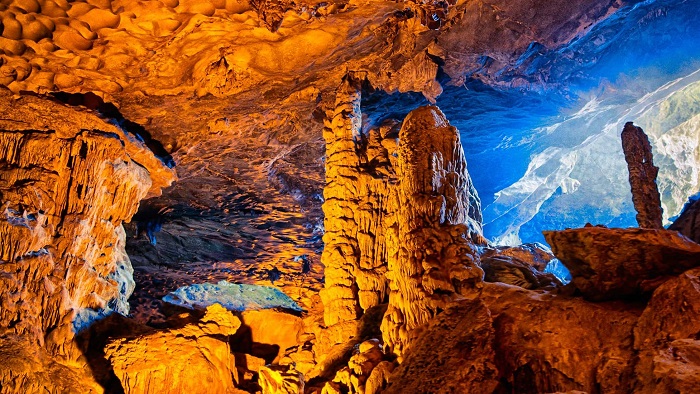 Sung Sot Cave
Me Cung cave
Location: Lom Bo Island, 2 km southwest of Titop Island
The Me Cung cave is also one of the most beautiful caves in Halong Bay, located on Lum Bo island, about 2 km south-west of Titop island. The entrance to the cave is small but opens up a magnificent space with a multi-compartment structure that makes visitors feel like they are stuck in a maze with lots of sophisticated stalactites. This is also referred to as the palace of the Persian emperors.
Other famous caves include Kim Quy cave, Luon cave, and Thien Canh Son cave, etc.
There are still many other famous caves in Halong Bay, but above are some of the most amazing ones in Halong Bay right now. Hopefully, you will have a wonderful time visiting these caves in the near future.
Thien Cung cave
Location: Dau Go Island, 4 km from Bai Chay port
Thien Cung cave is like a paradise on the ground with breathtaking beauty. Discovered in 1993, Thien Cung grotto is located on Dau Go island, about 4 km from the tourist port. This is one of the destinations on Halong Bay tourists cannot ignore.
The way to get to Thien Cung cave is quite difficult with cliffs and the two sides are covered with trees. However, this stimulates the visitors' conquest. The beautiful Thien Cung cave covers an area of about 10.000 square meters. It is a complex structure with many rooms and high ceilings and walls. Besides, it is a stalactite system with many unique shapes.
This beautiful paradise-like cave is one of the places associated with the ancient dragon king. Today, when visiting the cave, visitors still seem to be able to admire this bustling wedding scene by the stalactite shapes in the cave.
Monkey island
Location: Cat Ba island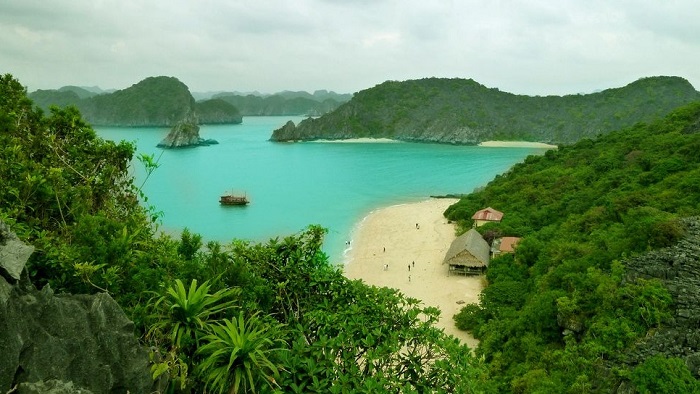 Monkey Island
Monkey Island has a circumference of about 3 km. This is a mountainous island with sandy beach formed over millions of years ago. Waves and winds have brought sand, rocks, corals, shells of marine creatures like seashells, shrimps, crabs into the foot of the mountain, creating a sand beach stretching for kilometers.
Monkey Island has 2 arc-shaped beaches which are Cat Dua 1 and Cat Dua 2. In which, Cat Dua 1 beach is longer, is an ideal bathing spot for visitors in Cat Ba because the water here is very clear and blue.
Services here include a roofed restaurant so that visitors can sit on the beach, drink, and eat ice cream, etc. Visitors can try a number of other services such as bathing suits, buoys, and kayaks, etc.
Cat Dua 2 beach is on the right-hand side, hidden behind a tiger-shaped ridge. Currently, visitors can come to Monkey island and relax at Monkey Island Resort in Cat Dua 2 beach. The resort has 30 rooms built in the style of a bungalow with thatched roofs.
Halong Bay beaches
Halong Bay has many beautiful beaches with white sand. The sea here is very clear and green. That's because of the reflection of the rocky outcrops surrounded by trees, providing the sea here with a distinctive color.
If you are an active person and like fun places, we recommend you to visit Cat Dua 1 beach on Monkey island, Tuan Chau, Titop, or Bai Chay beaches. The scenery here is very bustling, crowded with many convenient travel services such as dining or accommodation.
On the contrary, if you prefer the deserted beaches, Three Peaches, Quan Lan, Minh Chau, Son Hao, or Truong Chinh beach on Ngoc Vung island will be the ideal places for you.
While other beaches have big waves, the Three Peaches beach will make your trip extremely memorable with a kayaking experience on the calm and clear water.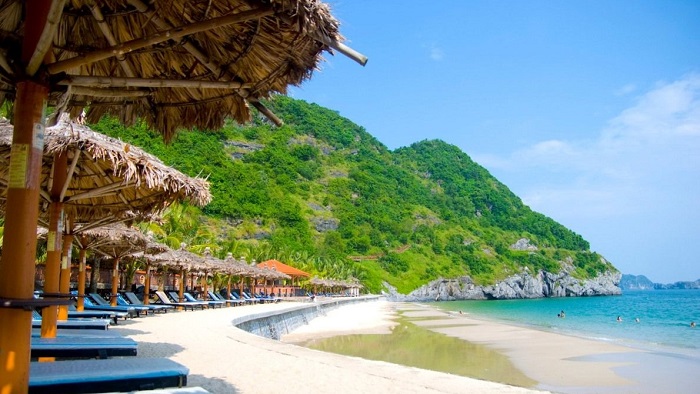 Halong Bay Beach
Dark and Bright caves
Location: Lan Ha Bay - Cat Ba island
Dark and Light caves are located on Lan Ha Bay, in Cat Ba archipelago - Haiphong. This is a 70 m long line through the mountains but lies on the water. Therefore, to visit the cave, guests often go on a bamboo boat or kayak.
When going through the cave, visitors will feel surprised as lost in paradise because inside it is a vast stream of water. It is surrounded by majestic high limestone mountains.
Sitting on the boat drifting along the water, breathing fresh air and blue water, you can both admire the beautiful scenery around and feel the peace between the sea, clouds, and mountains. Surely, this will be a moment that you have been searching for so long amidst the hustle and bustle of everyday life.
Ba Hang fishing village
Location: Dau Go Island, 4 km from Bai Chay port
Ba Hang fishing village (Three Caves fishing village) is located under the high mountains of Dau Go island, close to Thien Cung cave - one of the most beautiful caves in the tourist area of ​​Halong. As a small, rustic, beautiful fishing village located near Thien Cung cave, Ba Hang fishing village attracts many tourists to visit.
The reason for the fishing village's name is because at low tide, mysterious water caves will appear and boats can pass through these caves.
Inside the fishing village, there are more than 50 households living mainly on net fishing and catching seafood. They live on fish rafts and move by boat.
Some large rafts can accommodate from 5 to 10 people. The life of the people here is simple but extremely peaceful, making visitors forget fatigue and anxiety in life.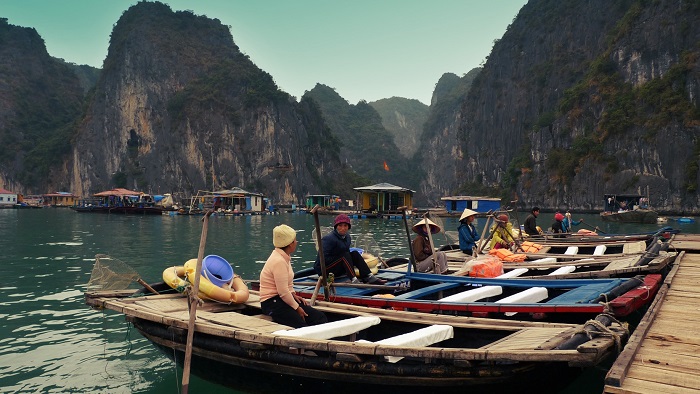 Ba Hang fishing village
The rocky island system of Halong Bay is very rich and magnificent. They are the result of the uplifting and falling of the earth's crust, and they are also covered by the green of the trees.
If you have the opportunity to visit Halong Bay, do not forget to visit islands of The Vang, Quan Lan, Cong Tay, Titop, Cat Ba, Tuan Chau, or Ngoc Vung, etc.
Around the islands are beaches with smooth white sand, is an ideal bathing place for visitors. In addition, some also have interesting and mysterious underground cave systems.
Bai Tho mountain
Location: Halong city
Bai Tho mountain is an important historical and cultural relic. It is the highest mountain in the bay, about 200 m, located close to the sea in the heritage area of ​​Halong Bay.
In 1468, King Le Thanh Tong, also a famous poet, when going to the Northeast, stopped at the foot of this poetic mountain. Impressed by the magnificent nature, the king made a poem and engraved it on the cliff. That's why it was called Bai Tho mountain (Poem mountain).
Climbing Bai Tho mountain is a fascinating game. Standing in the middle of the mountain, we can see from the distance the blue sea, undulating islands, floating sky, and the surrounding trees, forest flowers, birds, etc.
Bai Tu Long National Park
Location: Bai Tu Long Bay
Bai Tu Long National Park is nearly 16 hectares wide with 40 islands, located in the core area of Bai Tu Long Bay and a rich ecosystem both on land, underwater, and in mangroves. It also has a sanctuary of many rare and endemic animals.
With the above resource values, in May 2017, Bai Tu Long National Park became the 6th National Park of Vietnam and the 38th of ASEAN recognized as ASEAN Heritage Garden. Not only possessing a rich ecosystem and animals but Bai Tu Long National Park is also endowed with many caves and ponds with unique landscapes.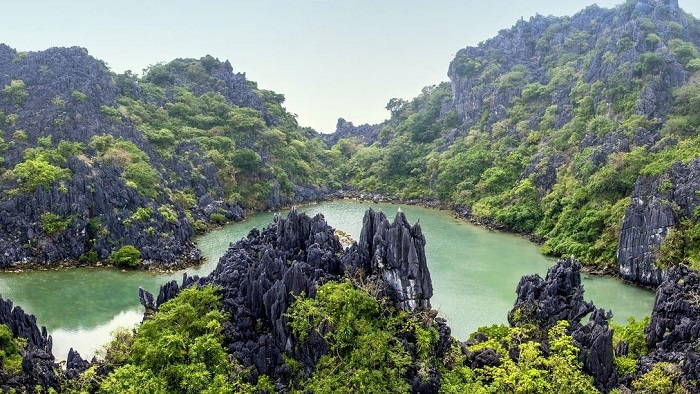 Bai Tu Long National Park
Best time to visit Halong Bay attractions
You can visit Halong Bay at all time of the year but the peak seasons in the bay are still summer (from April to June) and winter (from September to November). If you travel to Halong Bay at these periods, you should take notice of the rise in room and cruise prices and should book tickets in advance at least one month.
FAQs about things to see in Halong Bay
How many days in Halong Bay is enough?
It is the common question for any tourist when planning their holiday in Halong Bay. Actually, there is no certain answer to this question. Depending on your time and your budget, you can choose the most suitable itinerary for your trip.
Day tours are the choice for those who have only one day on the bay. It means you have to come back within a day. It takes you about 3 hours to get to Halong Bay from Hanoi, so it is not worth your trip, especially for foreign visitors.
The more popular choices of tourists are 2 day/1 night trip or 3 day/2 night trip either on the cruise or on land.
It is worth spending at least one night on the bay. The more time you spend there, the more in-depth experience you can get.
What will you see on a cruise Halong Bay?
It is undeniable that taking a cruise is one of the best ways to explore the gorgeous beauty of Halong Bay. Most the tourists choose this type to enjoy their holiday in this stunning bay as there are loads of interesting things you can see and do on a cruise boat.
Beautiful beaches, magnificent caves, or rustic fishing villages are the highlights that cruise trips can bring tourists. But cruise ships won't go all destinations included above. Depending on the cruise itinerary and the length of your stay on the bay, you will have the chance to visit certain spots. You can also consult on the website of the cruise ship before you go.
Which are top places for Halong Bay kayaking?
Kayaking is one of the most popular activities that tourists should not miss when coming to Halong Bay. There are a lot of spots that you can experience kayaking, of which the most ideal ones include Vung Vieng Fishing Village, Cua Van Fishing Village, Luon Cave, Trinh Nu Cave, Cong Do Area, and Co Can Area.
If you take a cruise tour, the cruise operator will provide you the necessary equipment for the activity. However, you should check whether the fee of service is included in the total cost when you book tour.
Or you can easily rent the services near the areas you will take part in the activity. The cost is not too expensive, just around 200,000 VND.
Where is Hospital Cave Cat Ba?
Hospital Cave was a secret, bomb-proof hospital built during the American War and was used as a safe house for VC leaders until 1975.
It is located halfway up the mountain in Khe Sau area, Tran Chau Commune of Cat Ba National Park area, about 13 kilometers from Cat Ba town.
With plenty of things to see in Halong Bay, your trip to Vietnam will be more fanciful and memorable than ever. If you need further information, don't hesitate to let us know. Please like and share the guide with others if it's useful for you. Thank you.