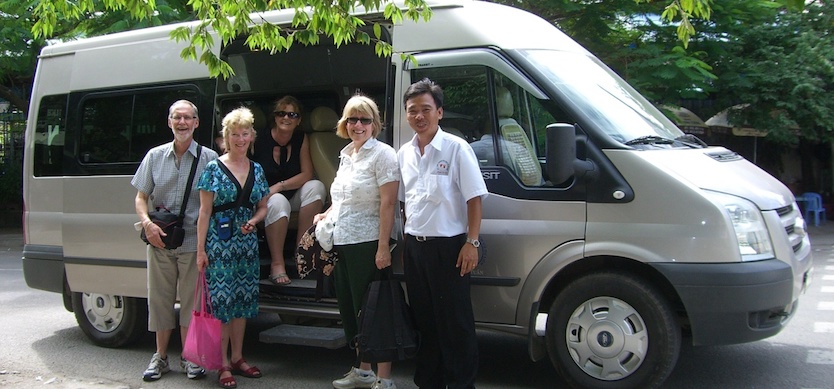 When you want your trip with friends and family to Halong Bay from Hanoi to become more private and comfortable, the ideal way is to rent a private car.
However, private cars also have advantages and drawbacks that may not be suitable for the trip you want.
Therefore, to help you imagine and know how to rent a private car in Hanoi to go to Halong Bay, we will provide the necessary information in this article.
Advantages of traveling to Halong Bay from Hanoi by private cars
Flexible and convenient
Not only can you choose the right vehicle for the number of participants but you can also be proactive in selecting departure times.
Besides, you can visit anywhere you want on the go without affecting other people, such as the most beautiful beaches of Halong.
The process of renting a car with a driver is simpler than renting a car, meeting the needs of many tourists. You do not need to deposit money or personal documents such as ID cards, passports, etc.
Comfortable
You'll be totally comfortable in a private car with your family
The facilities on the cars are very modern and complete such as sofa, air conditioner, phone charger, drinking water, and wifi, etc. Therefore, you and your family, friends will have moments of comfort in the car.
Safe
Private cars are considered as one of the safest transportation means. Today, their quality is always through periodic quality checks to ensure customer safety.
In addition, having a driver will make it safer because if you are not familiar with traffic in Vietnam, you will easily break the law or, in a worse level, have an accident.
Besides that, security is also ensured compared to traveling to Halong Bay from Hanoi by train and other means of transportation. Without many strange passengers, your luggage and property will be safer when you travel with your family or friends.
Fast
Local drivers will be more familiar with the roads in Vietnam, able to travel the shortest and most convenient ways. Therefore, the time that customers need to use the car will be shorter than renting a car.
Drawbacks
Pricey
While it's convenient and comfortable, renting a private car from Hanoi to Halong Bay will be more expensive than driving a rental car or other vehicles like trains or buses.
Anyway, if you go with a large group, it won't be much more expensive when you split the cost.
How to rent a private car to go from Hanoi to Halong Bay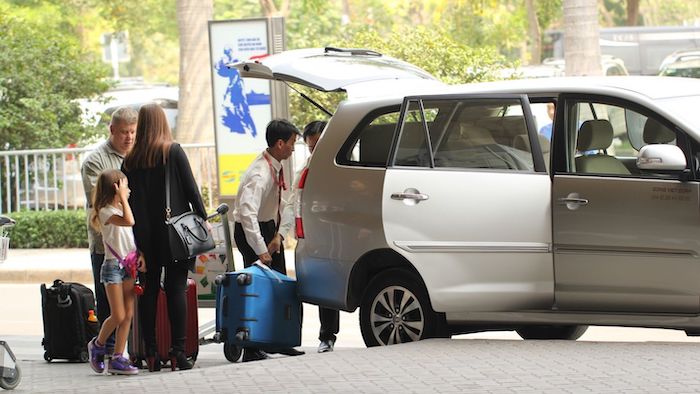 Renting a private car
There are many popular suppliers of car rental for you to get to Halong Bay from Hanoi, such as Hoa Mai (Hotline: 091.321.8772/ 0972.84.7272 - email: [email protected]), Van Hai (Hotline: 024.3993.65.65/ 0969.183.183/ 0903.441.336 - email: [email protected]), DBV (Hotline: (04) 66.61.61.68 - email: [email protected]), Trang Minh (Hotline: 098.98.98.984/ 096.778.5566), and Ha Thanh (Hotline: 1900 2805 - email: [email protected]).
You can call them in advance to ask about their available services and check the quality of the car.
Payment method when renting a car
The payment method can be by bank transfer or cash. Usually, the private car suppliers will require you to deposit 30-50% in advance when you book a car. The remainder will be paid to the driver after the trip or transfer to the company's bank account.
The rent for a 4-seater private car is about VND 1 million and a 7-seater car is about VND 1.5 million.
Note:
Car rental price is listed but it can be changed over time.

The rental price includes the fees of gasoline and driver's pay.

However, the price will vary depending on the travel itinerary, according to gasoline prices, road and bridge prices.
Tips to have a safe and convenient bus experience
Compare the prices of different companies to find the best price. You should look at the information pages of many lines to get a quote, instead of contacting each individual one.

Also, don't forget to check what the quotes include. If you are not careful, at the end of the trip, you will have to pay an amount that is as not cheap as you thought initially because there are additional costs incurred on the way.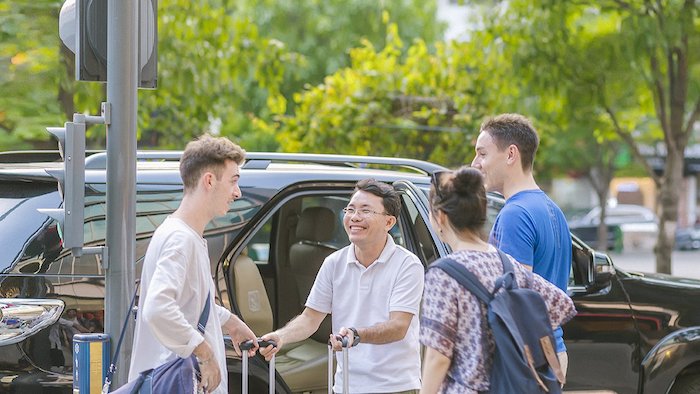 Enjoy the trip with a private car
1-2 days before departure, if the car supplier or driver has not confirmed to you, you should actively call them to make sure there are no errors and confusion about departure time.

When the car picks you up, check to see if it is the same vehicle you booked. If there are any points that do not match the requirements, you must immediately notify the car line and propose changes.

Renting private cars should be limited during holidays and the high season because car rental prices in this time can increase by 20-30% compared to normal days. The best advice is to deposit 20 to 30 days in advance to get the most reasonable price.
Hope that with our guides of traveling to Halong Bay from Hanoi by private cars, your trip will be more convenient and memorable. If you need further information, don't hesitate to contact us. Please like and share the article if it's useful for you. Thank you.