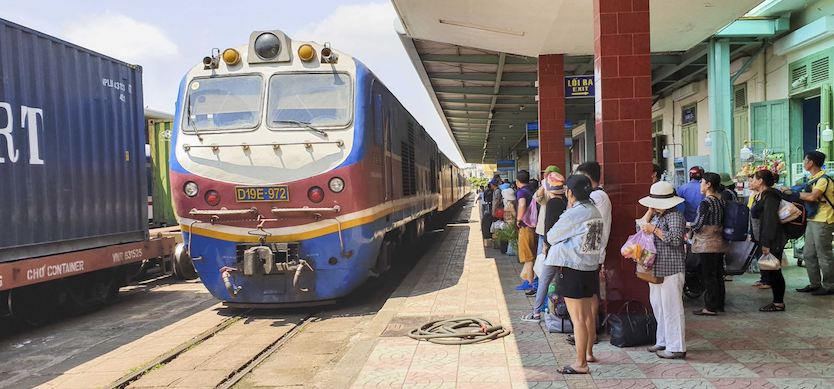 While domestic tourists often travel from Hanoi to Halong Bay by passenger buses, trains are more popular with foreigners. That's because train tickets are easy to buy and the experiences on the go are also great.
However, if you are a first-time visitor to Vietnam, you will probably be confused about how and where to start buying tickets, etc.
Therefore, this article will help you have a convenient trip to Halong Bay from Hanoi by train. Let's find out.
Advantages of traveling to Halong Bay from Hanoi by train
Easy booking
For foreign tourists, traveling by train in Vietnam has become a wonderful experience with the advantages of easy buying. You can choose from 2 methods of bank transferring or paying by cash. In addition, the ticket prices are also fully listed so you do not have to worry about paying a higher price.
If you have never been to Vietnam, you'll need some useful things for first-timers in Halong Bay.
Cost-saving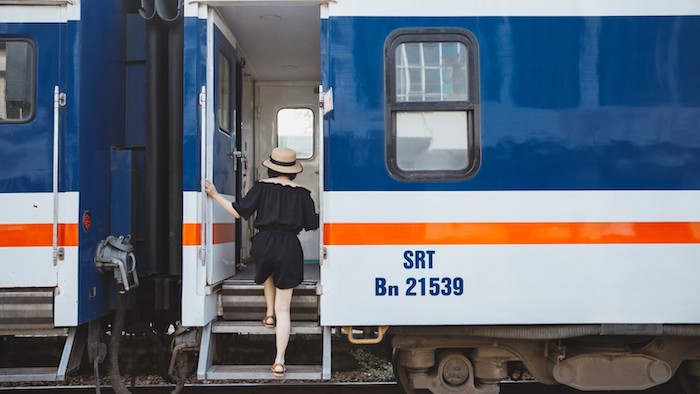 Traveling by train
Normally, taking a train from Hanoi to Halong Bay takes about 5 hours and departs from the morning. If you choose a seat ticket, the price will be much cheaper than a bed ticket. Compared to other means, going by train will help you save a remarkable amount of money.
Fun
Going by train in a large group will be a memorable moment for your trip to Halong. On the way, you can see the streets or village scenes of Vietnam, chat with friends, eat, or play cards.
Drawbacks
Outdated infrastructure
Although the train is quite convenient and cheap, it is true that its infrastructure is quite outdated. Therefore, if you want services that are out of expectation, we recommend you to buy air-conditioned bed train tickets.
It will cost more than a normal seat ticket and even other vehicles like passenger cars. In return, you will be served with the most comfortable services such as blankets, mattresses, air conditioners, dining tables, reading lamps, etc.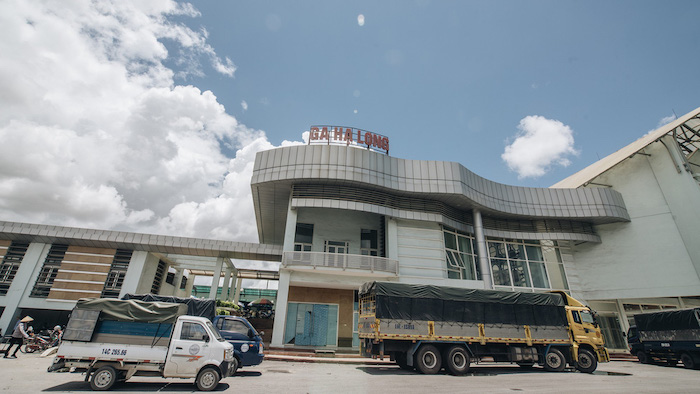 Halong Railway Station
Types of Halong Bay train tickets from Hanoi
There are 2 main types of Halong train tickets, including the seat and the sleeper tickets. The difference in fares is based on the variation in service and experience of these two types.
You can choose a seat ticket to save money. Usually, the cost will be about VND 70,000/guest. In return, you must be in good health because when traveling for 5 hours, you will easily be tired.
We still recommend that you buy a sleeper ticket. The price will be about VND 200,000/guest. Note that the price can be changed over time.
This way will depart from Hanoi railway station through Kep station (Yen Vien) to Halong railway station. Departure time from Kep station, Yen Vien is 05:15 am daily and traveling time is 5 hours. The route is currently being renovated and will become the most modern railway in Vietnam.
Also, the Halong Express train departs from Gia Lam Station (Hanoi) to Halong Station (Quang Ninh) at 07:05 am to serve tourists from Hanoi to Halong. To return to Hanoi, it departs at 03:00 pm from Halong Station.
The train consists of 6 carriages, each with 62 soft seats and 1 carriage serving the need for a bar and food.
How to buy a train ticket to go from Hanoi to Halong Bay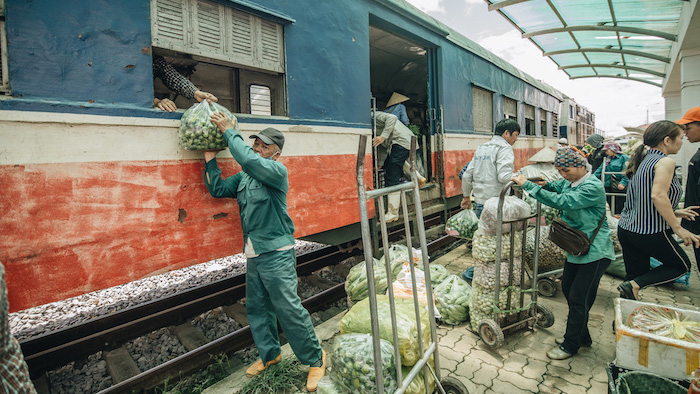 Traveling by train, you can experience the life of the locals
There are 2 ways you can buy train tickets. The first way is to buy directly at Hanoi Railway Station on Le Duan street. It is chosen by many travelers because it does not require them to pay via a bank account.
However, if you travel to Halong during peak seasons or holidays, you will have to queue for quite a long time to buy tickets. Worse, if unfortunately, tickets will run out soon. Therefore, it is best to buy tickets on these occasions 1-2 months in advance.
The second way will be much simpler. You can book tickets in advance via the Vietnam Railways official website of dsvn.vn. You only need to fill in personal information, travel dates, locations and pay via bank account.
Then a bar code will be sent to your email. By the day of departure, you just need to go to the station and scan the code at the check-in counter and you're done.
Hope that with our guides of traveling to Halong Bay from Hanoi by train, your trip will be more convenient and memorable. If you need further information about Halong Bay cruises, don't hesitate to contact us. Please like and share the article if it's useful for you. Thank you.