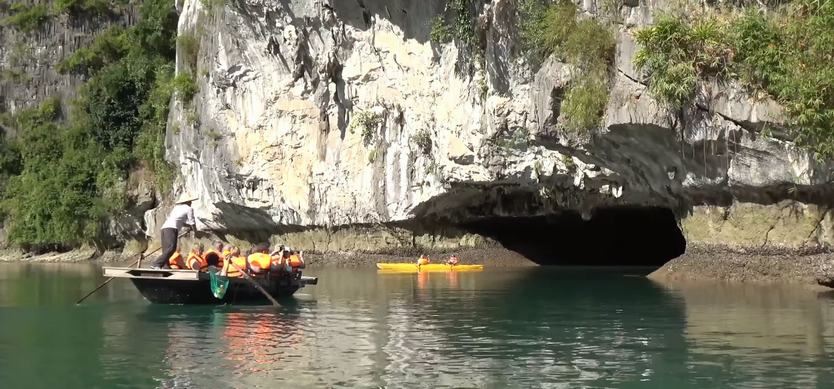 Dark and Bright Cave is one of the less popular destinations in Halong Bay, Quang Ninh. Usually, lots of tours and cruises skip this place in their journey, but surely this place deserves more fame than it is right now. Dark and Bright Cave is becoming popular that some of the tour agencies actually put it on the tour map. Hopefully in the future, Dark and Bright Cave will become a better place for tourism in Quang Ninh.
Introduction
Dark & Bright Cave is a part of Lan Ha Bay that belongs to Cat Ba national park. This amazing place is very suitable for tourists who are interested in kayaking, underground caves and feel the soul of the nature surrounding them. The grotto begins at the water level of an arched entrance that is very distinctive. Behind that entrance is a huge lake that has many huge trees with many orchids and fragrant flowers. In the lake, there are many living organisms such as shrimp, crab, corals, and so on...
This is surely one of the best places you can test your kayaking skill, and you will understand more about Halong Bay just by being here. The Dark Cave is a huge cave with little light that highlights a mysterious beauty to this place. The Bright Cave is easily one of the best caves in Lan Ha Bay when it comes to beauty. Usually, the sunlight will shine through this cave, from the entrance till the end.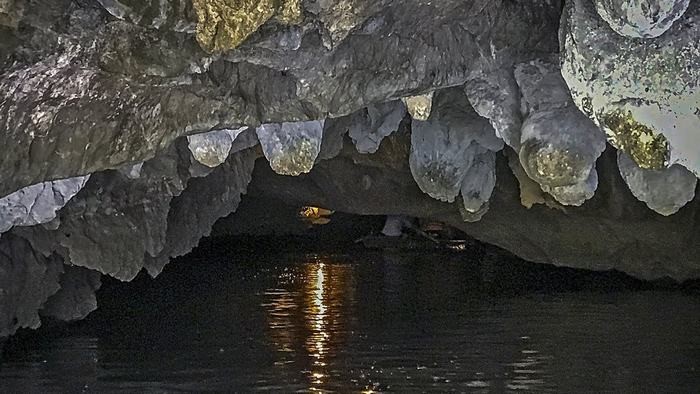 The Bright Cave
Summary of the Dark and Bright cave
This is considered one of the quieter areas of Lan Ha Bay, as there are little cruises goes to this place, so it is suitable for tourists who enjoy the peace. It is not inferior to other crowded areas, as it is equally beautiful and has a variety of animals and plants within the ecosystem. Dark and Bright Cave is formed by other islands that seem to be frozen in time just enough to create this stunning place. Because few visitors come to this place, and it is only accessible by kayaking and rowboat, this place has become an intriguing place to be in Halong Bay.
There is a whole system of islands within this area that formed the caves. This place is also connected to the sea even though it is quite small in reality. The lake inside the grotto is surrounded by huge mountains. Dark and Bright (also known as Day and Night) grotto is famous for its natural habitat and the huge fun when exploring here. There are traces on the cliff of the caves about a fossil of fresh-water snails, which indicates that this place has existed for thousands of year and was inhabited at that time too.
FAQs about Dark and Bright Cave
The name of the Dark Cave: The cave is huge and dark as a pit. You have to use some source of light when crossing this cave.
The name of the Bright Cave: It is quite small compared to the Dark Cave, and you can see the other side of the cave quite clearly.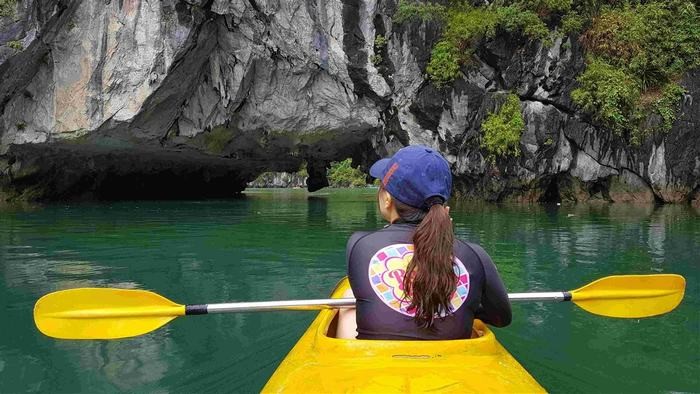 Kayak to explore Dark & Bright Cave
Where is Dark and Bright Cave?
Close the border of Lan Ha Bay, Bai Tu Long Bay, Halong Bay. Just 1km away from the Surprised Cave.
What are the best means to explore Dark and Bright Cave?
Kayaking and swimming should be the best means to explore these wonderful caves. It is usually much harder to into the Dark Cave when the tide level is too high. The Bright Cave, on another hand, is much easier to go into. On the other hand, the Dark Cave sometimes might be swallowed by the tide, and the Bright Cave does not.
Surely you will be surprised by the stunning beauty of the limestone mountains, as well as the freedom this place will give you, as swimming and kayaking (rowboat) seem to be the main way to explore this place.
Check out tips for kayaking in Halong Bay in order to have a smoother experience.
Hopefully Dark and Bright Cave will be your next destination in your journey to Vietnam and Halong Bay! Looking forward to seeing you here! You can visit our website to get more information about other places to visit in Halong Bay. If you have any questions, feel free to contact us. Have a nice trip!