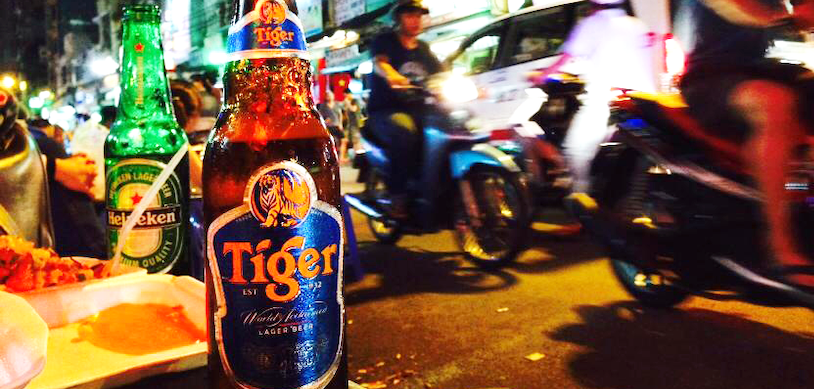 As a tropical monsoon climate country, Vietnam attracts many foreign visitors not only by the delicious foods but also by the unique and diverse drink specialties.
If you have a chance to join authentic Vietnam 12 days, don't miss out on these following extremely famous drinks.
Northern specialties
Ta Hien beer
Hanoi people love beer, especially sidewalk beer. The culture of drinking beer in Hanoi capital is unique in a famous "beer street" - Ta Hien street which is only 100 meters. However, it is the most famous one in the center of the old town with restaurants close to each other.
As soon as sitting down, you can quickly call yourself a beer bottle of all kinds, but a unique thing on this street is the cheap draft beer, "grass beer," cold beer, or "carbonated ice tea" as the way many foreign visitors call it. It is not a nutritious or special drink but interspersing with the sweet, bitter taste of beer is immersing into the Hanoi sidewalk culture. Ta Hien is also a gathering place for many foreign tourists every weekend.
Thai Nguyen tea
Thai Nguyen tea
Thai Nguyen tea is one of the Vietnam famous drinks which has been confirmed by the phrase "Thai Nguyen tea, Tuyen Quang girls." Today, Thai Nguyen tea is still the best in Vietnam unique specialties, distributed throughout the country and abroad. Its taste has been verified by history, so the name of this "legend" specialty is increasingly distinguishing, bringing Thai Nguyen tea to people all around the world.
Central specialties
Hue royal tea
The royal tea belongs to Vietnam's famous drinks in Hue city, helping people purify their bodies, refreshing and protecting them from the pressure of work and daily life. Unlike many other delicious teas, Hue royal tea is a mix of various precious herbs, of which each one has its effects on the body.
In the past, the Kings and the royal family in Hue court used this tea to replace the water every day, and the people considered it a specialty to tribute to the Kings. For now, with its gentle nature without sugar and is entirely natural, Hue royal tea has become a replacement for drinking water of many people.
Can alcohol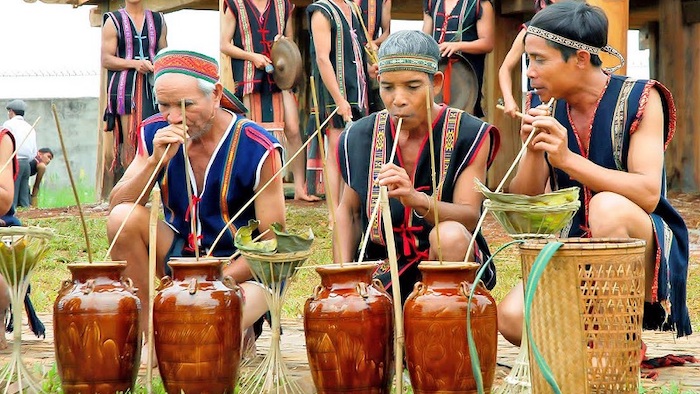 Can alcohol
Can alcohol is a famous specialty of the Central Highlands where many ethnic groups live together. It is also a cultural feature expressing the community of people here. Taking a sip of the Highlands Can alcohol, guests will feel like the taste of the land full of sunshine and wind.
The unique feature of this Vietnam alcoholic drink is that people do not use glass for drinking as other types of wine but use straws to absorb. Especially, drinking Highlands Can alcohol is drinking in the community, expressing the solidarity of a community living together or welcoming guests coming from far away. Can alcohol has become a culture and also a distinct specialty to attract tourists to the Central Highlands.
O Long tea
O Long tea, also known as the "King of tea," is a specialty of the highest quality, one of the Ten Greatest Tea in Vietnamese drinks.
In the past, O Long tea was a rare product that was cultivated only in three provinces of China: Fujian, Taiwan, and Guangdong. After the integration of culture and economic exchange, Vietnamese traders have brought O Long tea seedlings to Vietnam. At present, Vietnam has many vast O Long tea hills, of which the largest is in Bao Loc plateau, Lam Dong province.
Southern specialties
Saigon "bac xiu"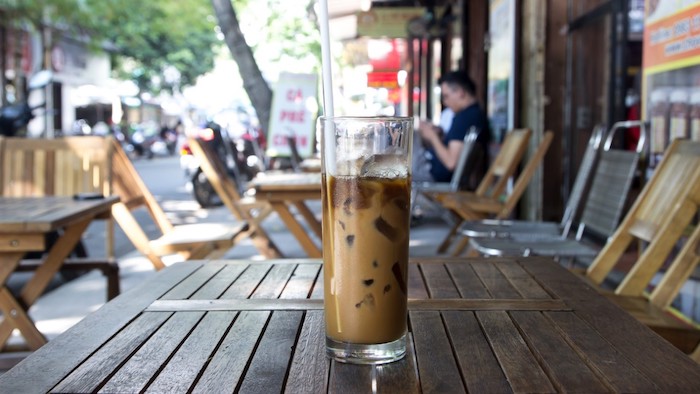 Saigon coffee
Saigon is always seen as a place of convergence of many delicious specialties from all over the country. However, to say about a particular specialty of this city, "bac xiu," a kind of milk coffee, is one of the rare names here.
For many years, the "sitting coffee" - or a corner of the 30/4 park between the Independence Palace and Notre Dame Cathedral (District 1) - is named by young people as "Saigon's largest coffee shop" or "coffee of thousand stars."
Therefore, "bac xiu" has belonged to the category of the sidewalk drinks, bringing the common, affordable flavor and completely "made in Saigon." Until today, no one can equate Saigon "bac xiu" with the Italian latte which is also recognized in the world.
Hong Dao wine
Hong Dao wine is a famous specialty of Quang Nam and Quang Ngai provinces. New paddy (rice of below 100 days after being harvested) is the main ingredient for the good Hong Dao wine in terms of both color and flavor.
Like the Highlands or Binh Dinh alcohol, Hong Dao wine is also brewed with jars and leaves for fermentation, added slices of ripe peach, and buried underground for about three months. The final Hong Dao wine will have an iridescent red color that is very fragrant and delicious.
Bau Da alcohol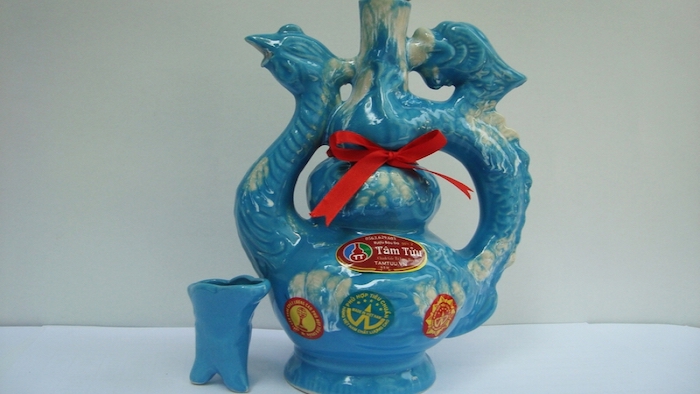 Bau Da alcohol
This Vietnam alcoholic drink is a famous Binh Dinh specialty, distinguishing for many years to the world. However, not everyone knows that the origin of Bau Da alcohol is a small village of An Nhon district, Binh Dinh province.
Even though Bau Da alcohol has a very high concentration of up to 50 degrees, many people still drink it regularly. According to local people, it is because of the secret of making alcohol inherited from generation to generation.
To have an "authentic" bottle of Bau Da alcohol, the makers must strictly adhere to several standards from rice selection, rice cooking techniques, yeast and rice ratio, water ratio to type of water taken from laterite well, not from the cement well, etc. Because of these unique ingredients, when drinking Bau Da alcohol, people can taste the sweetness in the neck and pungency from the tongue down to the stomach.
With Halong Bay cruise detailed guide of the most Vietnam special drinks, hope you will have the relaxing moment to sip these specialties while enjoying the beautiful scenery and featured culture here. If you want to find out the fantastic Vietnamese foods that leave you stunned, don't hesitate to contact us. Thank you.