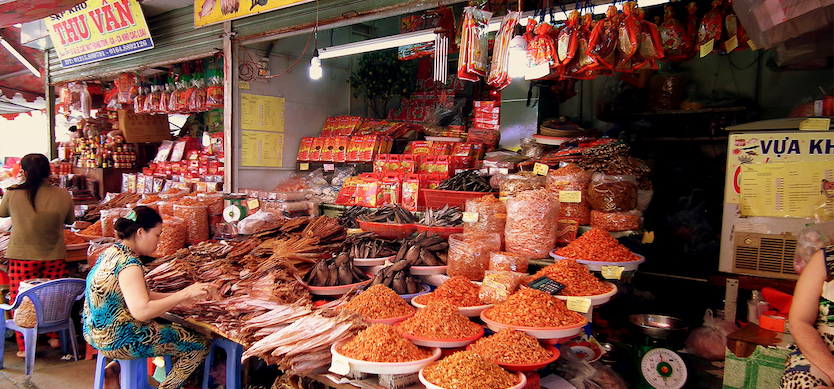 Halong is a famous city with the World Natural Heritage of Halong Bay. With this abundant resource, it is also a place for travelers to go shopping.
Shopping can be an enjoyable activity for anyone. In Halong, many forms of markets have developed since the beginning of its tourism development. While recently, shopping malls have been built up a lot in Halong and become a part of the locals, the traditional markets still offer many useful tools for your trip and fresh fish, etc. Besides, you can explore the daily life of the locals in these markets via a Hanoi - Halong 3 day tour.
Where to shop in Halong Bay?
Floating markets
Flea markets
Halong night markets
Halong shopping centers
Floating markets
The kermises - a regular market type in Halong hotels where people sell fresh fruits and raw food, Swiss army knives, clothes, sandals and much more with inexpensive prices. This market is held every day, mostly in the morning, and people often choose the ports to sell their merchandise.
If your cruise stops at those ports, you may have a chance to interact with Halong floating markets, standing on the floating boats and picking some goodies. Does it make you fascinated? But before taking a trip to visit these markets in Halong Bay, checking the weather and ideal times is recommended.
Flea markets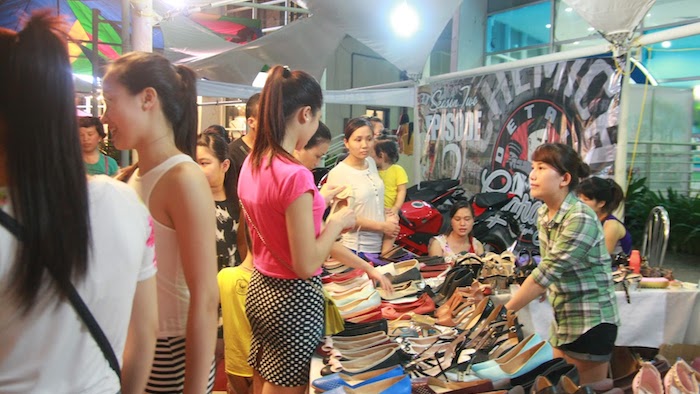 Flea markets in Halong
No, there isn't flea here, it's just a name originating from the history of poor people's market in the 1880s in Paris. It is one of the most popular market types in Vietnam. For those who want to explore by themselves, this is the place that most useful food resources are placed.
Flea markets in Halong are the purest form of Vietnamese cultures and also the most lively place that you can see people who are always bargaining for everything they buy.
You will be impressed by how meticulous people are. They spend time choosing every single piece of meat or fruit. If some Vietnamese friends go along with you, they will show you how to choose fresh meat or sweet fruits from just the appearance or by knocking the watermelons. The process of selecting materials to have the best meals is a unique activity that can only happen in Vietnam.
Halong night market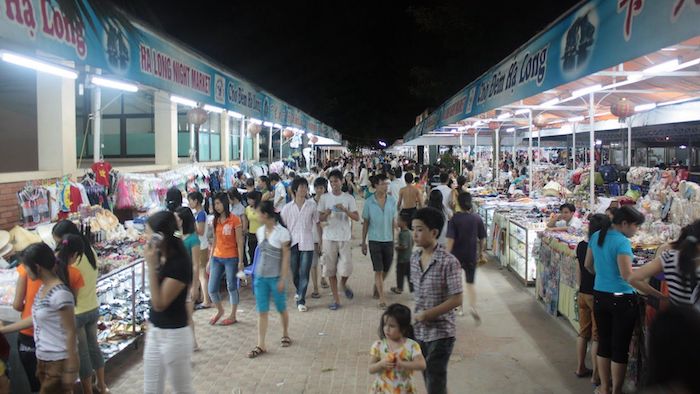 Halong night market
There's another type that occurs at night or early morning in Halong - the night market. The night market is held at Bai Chay beach and starts from 6.00 p.m until midnight. It perfectly suits those who seek quiet meals beside the beach after a short trip exploring Halong city at night
Overall, this place has anything you need with half of the cost you spend in the day market, but what will impress you the most will probably be the specialties and airy atmosphere. You can find a lot of delicious seafood store that has a view of the sea and enjoys the dishes with the sound of waves.
Halong shopping centers
While the traditional markets can make you more enjoyable with the rustic beauty of Halong, the shopping centers will bring you a more dynamic and modern picture of life here.
Sun World Park is the first one I suggest because it has some top-notch games of Asia, such as the signature 215-meter Sun Wheel. At its top position, you can see the panoramic view of the sea.
Another one is a Queen cable car that holds 2 Guinness records for its 133-meter height and 2-kilometer length. Samurai sliding will bring you the most exhilarating feeling at this park.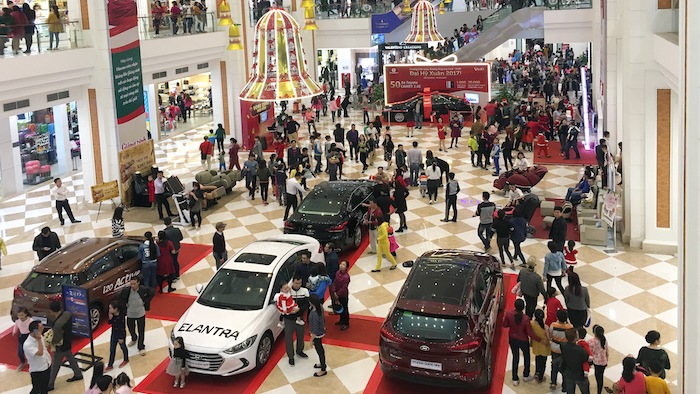 Vincom Center Halong
Besides, the newly Vincom Center Halong which is the largest shopping center in Quang Ninh province has some extraordinary extravaganzas and distinct features that you can easily recognize such as skiing stadium, cinemas theater, arcade games world, and famous-brands fashion, perfume stores.
But If you want to find a place where all essences of Halong city concentrate, you should look for Halong Marine Plaza, the heaven of shopping, cuisines, entertainments, and celebrations. What you find out about this place is not only the vastness and elegant designs but also the world of water and beach. The annual carnival and music concerts choose Halong Marine Plaza to take place, so this is where the fun begins.
We hope that with our top markets and shopping centers, your trip will be more exciting than ever. For further information, don't hesitate to let us know. If you like the place, please like and share the article with others. Thank you.