Seaplanes are quite popular in many famous beach destinations such as the Maldives or Palm Beach of Sydney. They bring unique and unforgettable experiences for visitors there.
However, you do not need to go to the expensive and remote Maldives but can still experience the view of the sea and mountains right in Halong Bay, the natural wonder of the world in Vietnam.
If you've never traveled to Halong Bay from Hanoi by seaplanes, you shouldn't miss this guide.
Seaplane services from Hanoi to Halong Bay
Currently, in Vietnam, Hai Au Aviation is the first private airline to provide seaplane services with high-class sightseeing flights.
These seaplanes come with 2 seats for pilots and 12 seats for passengers. The spacious windows help tourists not only enjoy the beautiful view from the plane but also record the memorable moments of the trips from Hanoi to Halong Bay that are 150-3,000 meters above sea level.
You will have the opportunity to fly by American Cessna Caravan seaplane, see firsthand how pilots fly the plane, feel the immense sea and rocky islands in Halong Bay.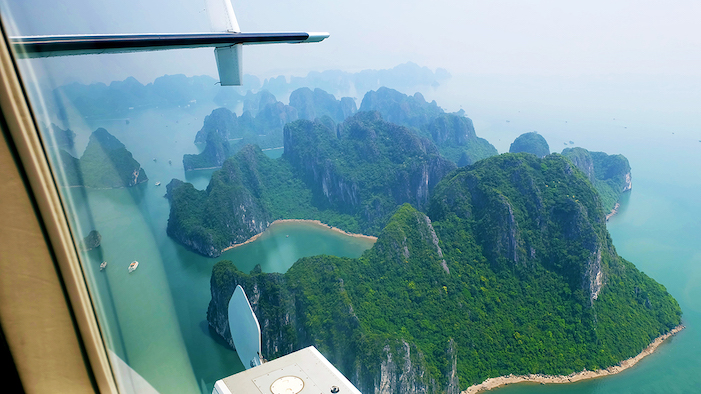 Experiencing Halong Bay from the seaplane
Advantages of traveling to Halong Bay from Hanoi by seaplane
Unique and fascinating
This type of vehicle is not popular in the world, especially in Vietnam. However, if you have the opportunity to travel from Hanoi to Halong Bay by the seaplane, it will be one of the unforgettable memories on your trip that not everyone can experience.
You will watch the wild, majestic nature from above. These are the scenery of the Red Delta, Halong city, blue rock cliffs floating on the water, sailboats, and fishing villages leaning against cliffs, etc.
Fast
Of course, the seaplane will take you here many times as fast as traveling to Halong Bay from Hanoi by luxury bus. From Hanoi to Halong Bay, it only takes you about 45 minutes instead of 4-5 hours as usual. Thanks to that, you will also have more time to explore Halong beauties. Also, the seaplane will take you to fly around the bay for about 15 minutes before landing.
Safe
Not only is it fast but the seaplane is also very safe. Its quality is always through periodic quality checks to ensure customer safety.
Additionally, moving to Halong Bay by seaplane will eliminate the risks of road travel accidents.
World-class services
This is one of the well-invested projects for Halong tourism, so its service is also guaranteed about standards and quality. If you travel to Halong Bay from Hanoi by seaplane, you will be transported by private car to the airport and do check-in quickly.
In addition, the facilities on the seaplane are also very comfortable, giving you the most pleasant experience when watching Vietnam from above.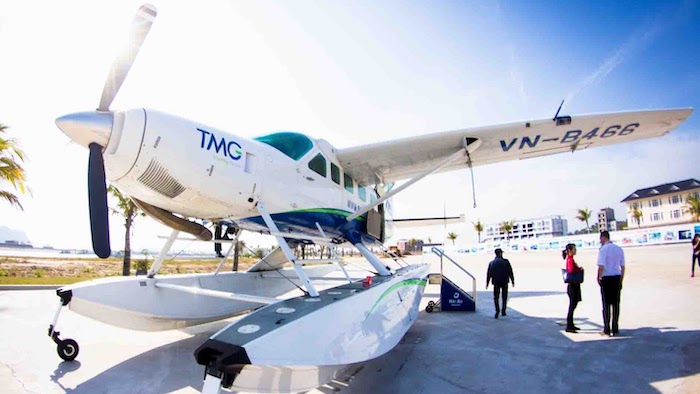 The Halong Bay seaplane
Drawbacks
Expensive
While it's convenient and comfortable, traveling by a seaplane from Hanoi to Halong Bay will be much more expensive than driving a rental car or other vehicles like trains or buses.
The good news is, if you are planning to stay on a Halong Bay cruise, you should combine the purchase of a yacht and seaplane combo that you can have a more preferential price.
How much is it to go to Halong Bay from Hanoi by a seaplane?
Currently, Hai Au Airlines is having many promotions with preferential prices of only from VND 2 million/passenger. The most expensive is about more than VND 10 million/passenger. Note that the price can be changed over time.
Fares will vary based on the product or service you choose. There are 4 main products, which are scheduled flights, sightseeing flights, charter flights, and tour packages.
You can go to Hai Au's official website www.seaplanes.vn to book tickets or contact them directly.
Hope that with our guides of traveling to Halong Bay from Hanoi by taxi, your trip will be more convenient and memorable. If you need further information, don't hesitate to contact us. Please like and share the article if it's useful for you. Thank you.