Summer is around the corner. It's time to spend your holiday on beautiful beaches.
If you haven't chosen a destination yet, look no further than Halong Bay - the World Natural Heritage.
But, how's the weather in Halong Bay in June? What do you need to prepare? Check out the post below.
Weather in Halong Bay in June
Temperature
Summer has officially arrived in Halong Bay in June with the average temperature of 29 degrees Celsius, a bit higher compared to the weather in May.
The temperature can increase up to 30 degrees Celsius and low to 24 degrees Celsius.
With such warm temperature, tourists can get involved in a lot of interesting activities such as kayaking, diving, swimming, cruising or cave discovering…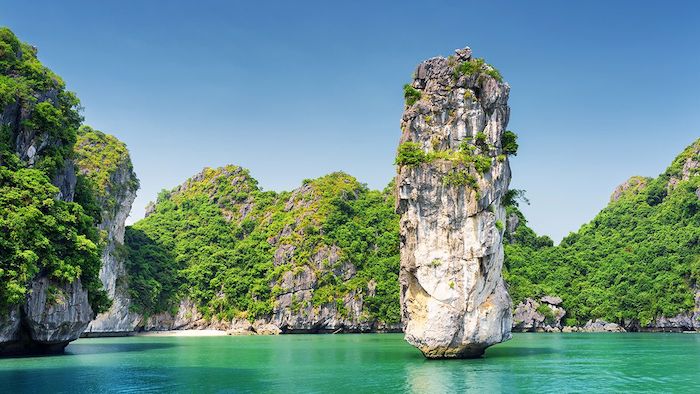 Halong Bay's beauty in June
The sea temperature in June is around 27 degrees Celsius.
Humidity
Compared to May, the humidity levels in June are a bit higher, ranging about 75-80%. It is wetter than other months, so Halong Bay in June attracts fewer tourists than usual.
Rainfall
The average monthly rainfall in June is about 172 mm. It's just 3 mm lower than the previous month and will be much lower than the following months (July and August) because of the storm season.
Also in June, bad weather conditions like typhoons and tropical storms often occur, so you should check the weather forecast, and double-check with your cruise operator if there's bad weather on the way.
Sunlight
The average hours of sunshine a day in June is eight hours - the highest one along with November, December, March, and April and May. With the long sunshine hours, you would expect plenty of time of outdoor activities, but remember to check the weather forecast for rain.
Advantages and drawbacks when visiting Halong Bay in June
Advantages
The warm temperature gives visitors a great time to enjoy a cooling swim or an adventure by kayak.
June is considered to be the off-peak season in Halong Bay, so visitors can expect fewer tourists than usual and may even be able to avail of some special offers from the cruise companies.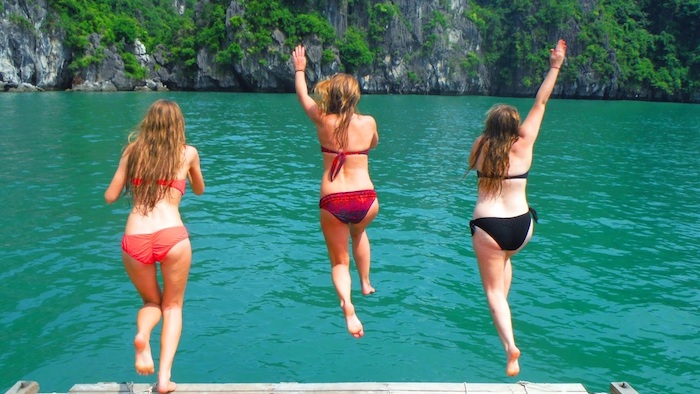 Summer is the ideal time for traveling to Halong Bay
Drawbacks
If you are not familiar and feel unforgettable with heat, Halong Bay in June is not a perfect choice because of the high temperature.
There's a higher chance of rain in the summer months, so your cruise booking could be affected by bad weather. Do not forget to check the weather forecast before you go.
What to prepare when coming to Halong Bay in June
The sunshine in June is very strong, so you should bring sunglasses and sunscreen to avoid sunburn.
Be careful with jellyfish. Most of the jellyfish in Halong is harmless except fire jellyfish. Take proper treatment can ease the pain.
Check the weather forecast regularly
When you go kayaking, please follow instructions from your tour guide. Don't go into any cave without guidance.
What to do in Halong Bay in June?
Swimming
Of course, swimming is always in the top things to do when coming to Halong Bay in summer. The cool seawater will bring you the most relaxing time.
Do not forget to bring your swimsuit. You should avoid going swimming when the sunlight is so strong, especially at mid-noon.
Sunset watching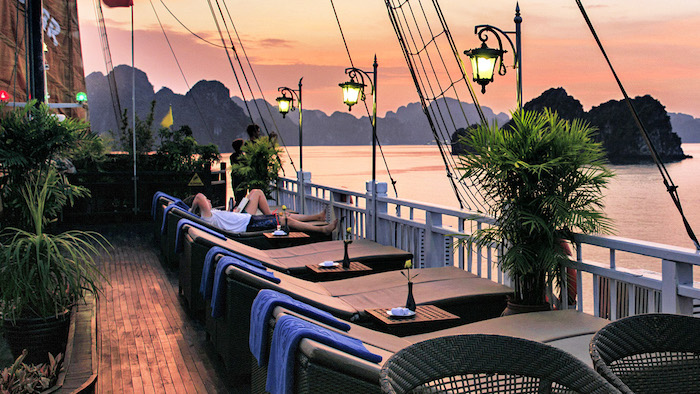 Admiring the beautiful sunset on Halong Bay cruises
Halong Bay becomes more fabulous at the sunsets. Sitting on the balcony with a glass of drink while watching the beautiful sunset will be an unforgettable experience for you.
We hope that with our information above, your Halong Bay tours will be memorable. Because June comes with storms and typhoons, do not forget to check the weather forecast before you go.