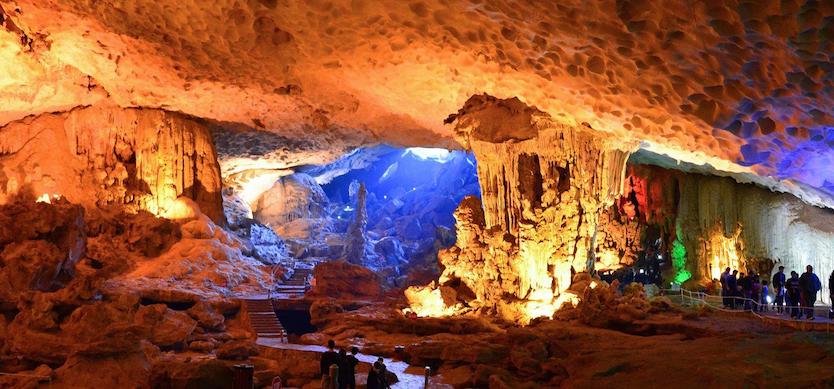 As one of the most famous tourist destinations in Vietnam, Halong Bay is always in the bucket list of any traveler who is planning their holiday in Vietnam.
With the favorable weather, March is considered the best time to visit Halong Bay.
But, what's the weather like in March?
Keep reading to know more!
A quick look of Halong Bay weather in March
Temperature
March is the end time of the winter, so it will be warmer and have more sunny days. The average temperature in March is about 20 degrees Celsius with the lowest is 18 degrees Celsius and the highest one is up to 23 degrees Celsius. You can even feel more pleasant in the last days of the month.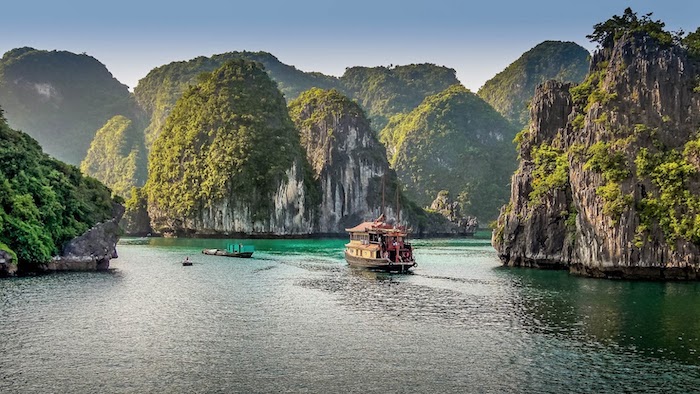 Halong Bay weather in March
With such cool weather, you can spend time with a lot of outdoors activities.
Sunlight
The sunlight levels do not change much throughout the year, ranging between seven to eight hours of the day. In March, the sunlight level is eight hours per day.
Humidity
Although the temperature slightly increases, the humidity still stays the same until May, about 75%.
Rainfall
The average rainfall of March is about 53mm over 13 days. It is a bit higher than one in February but slightly higher than one in April.
The wet days of the month are around 13 days.
Advantages and drawbacks when coming to Halong Bay in March
Advantages
With a pleasant temperature, it will be warmer but not too hot.
The low humidity gives tourists more chances to join outdoor activities without worries about the wet.
The low rainfall levels can minimize tour cancellation due to the bad weather conditions.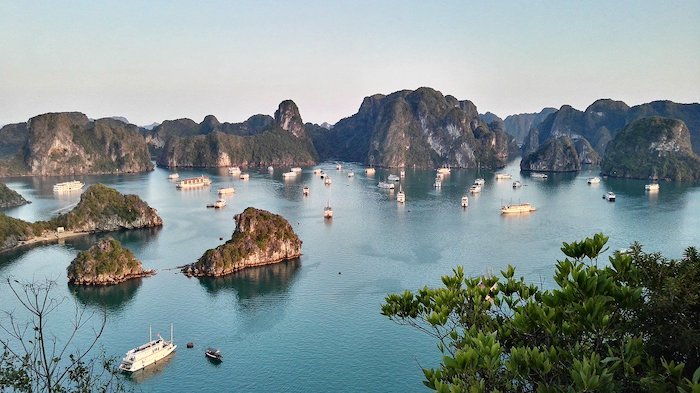 You can stay on a luxury cruise to enjoy Halong Bay
Drawbacks
As the peak season of Halong Bay, the number of tourists in March is high, so tourist destinations are crowded. Also, the hotels and cruises can run out of rooms, so you should book in advance if traveling to Halong Bay at this time.
What to prepare for your trip in March?
As the weather is getting warmer, pack light clothes with you. But, do not forget to bring a light sweater because the temperature can drop low in the evening.
A swimsuit is an essential thing because you may join a lot of water activities such as swimming, diving or kayaking.
Do not forget your sunscreen. The sunlight in March can be strong and you can get sunburning.
What are the exciting activities in March?
Swimming, kayaking, and diving are favorite activities of tourists when coming to Halong Bay at that time as the sea temperature is warmer.
Halong Bay weather in March is also perfect for a bicycle tour on Cat Ba Island or just walking up and down steps of large caves.
March is the month after the Tet holiday, so there are a lot of festivals. You can combine your holiday in Halong Bay with a trip to Yen Tu Religious Complex.
Are you ready to visit Halong Bay in March? We hope that our article will give you useful information for your next trip there. You can share it with others or contact us if you have any questions. Thank you and have a nice trip!