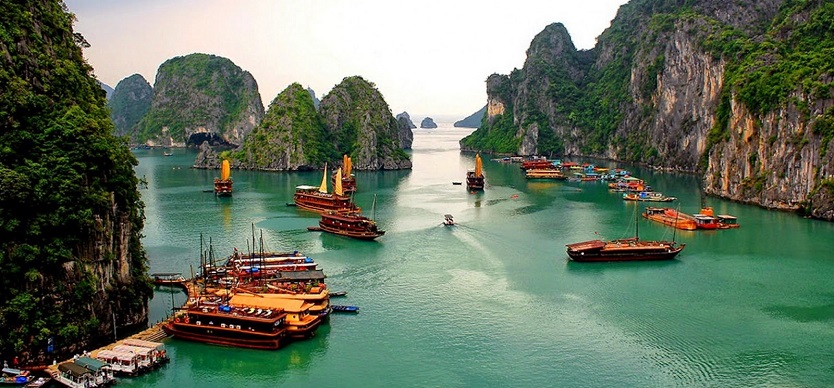 Halong Bay is one of the most favorite choices of many tourists in summer due to its beautiful beaches and scenery.
But, what about winter? Is it worth visiting Halong Bay in winter? What can you do when coming there at that time?
If you're planning your trip here in December and wondering what the weather is like, then take a look at our article below.
The overview of Halong Bay weather in December
Temperature
Winter truly arrives in December but it is not too cold for westerners because Vietnam is a tropical country. The average temperature in December is about 19 degrees Celsius with the highs of 21 degrees Celsius and the lows of 15 degrees Celsius. It is still warm enough to enjoy outdoor activities like hiking or cave exploring.
Rainfall
Compared to the rainfall level in the previous month, the average rainfall in December increases slightly with the reams of 23mm over seven days.
It is much drier than summer months when the average rainfall level is about 250mm.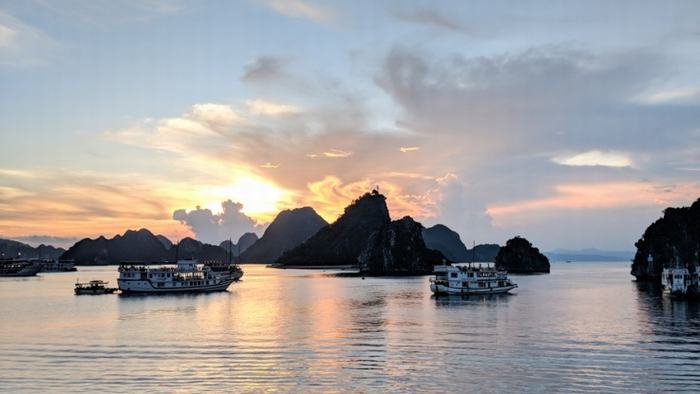 Sunset in Halong Bay
Humidity
The humidity in December drops one of the lowest levels of the year, about 69%.
Sunshine hours
The sunshine hours in December are 8 hours per day - the highest in the year along with March, April, May, June, and November.
The warm temperature and full day of sunshine make it ideal for tourists to enjoy explorations.
Advantages and drawbacks when coming to Halong Bay in December
Advantages
In spite of being a winter month, December is still warm enough to take part in exciting outdoor activities such as hiking and exploring caves.
The humidity level is low so that outdoor activities will become more delightful.
The long sunshine hours give you more chance to enjoy loads of activities.
Drawbacks
Because it is winter month, the temperature can drop lows of 15 degrees Celsius, so it is freezing and your trip can be a bit affected.
December is the peak season in Halong Bay, so the cost is much higher and tourist attractions will be crowded.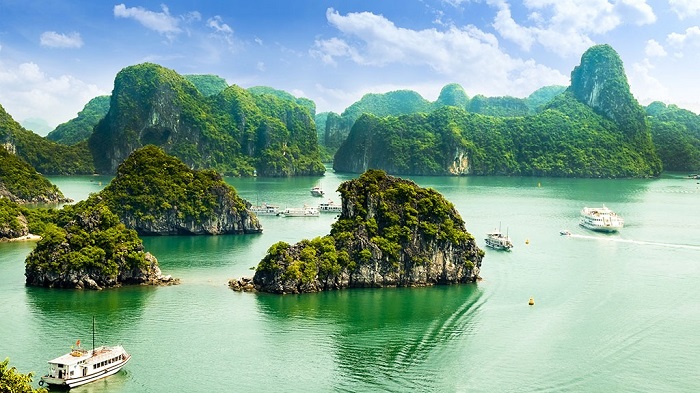 The beautiful scenery of Halong Bay
What to prepare for your trip in December
Although it is in winter, the sunlight is still strong, do not forget to bring your sunscreen and sunglasses.
The temperature is chilly, consider to bring your jacket and sweater.
In December, it can have heavy fog and drizzle, so you should bring a lightweight and waterproof jacket.
What to do in December in Halong Bay
The ideal weather with less rainfall and dry air make it perfect for relaxing at beautiful beaches. The sea temperature is not too cold, so you can also enjoy swimming.
Kayaking is one of the most popular activities for tourists all year round. Nevertheless, remember to row slowly to avoid getting wet.
Taking a cruise trip is one of the best ways to explore Halong Bay. The cruise offers you a lot of interesting activities such as cooking class, swimming, kayaking… You can also visit floating villages where you can see how local people catch fish.