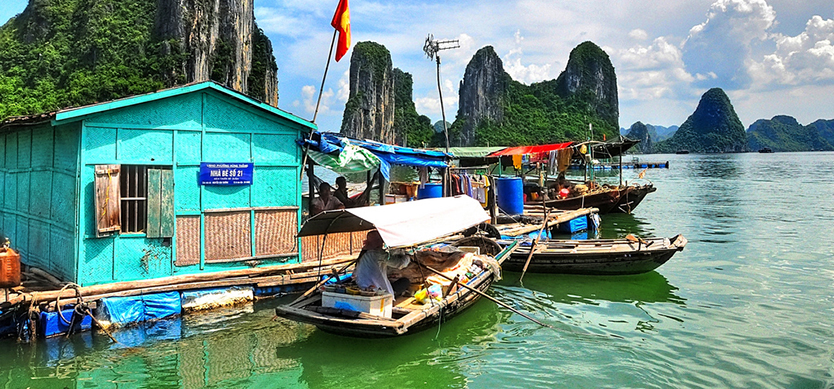 Halong Bay always has somethings that keep you busy, from the charming beaches, magnificent caves, and gorgeous scenery.
It can be said that taking a cruise trip is the best way to explore this stunning bay since there are numerous exciting activities the boat offer.
I remember my first cruise here - everything was overwhelming although I spent just one day on a boat. This post will help you figure out what to do on a one-day cruise.
Top exciting activities of the one-day Halong Bay cruise tour
Relax on boat
Explore floating villages
Visit beautiful caves
Climb on Titop mountain
Swim in beautiful beaches
Kayak in Luon cave
Keep reading to get the details!
Relax on boat
This is the activity that anyone coming to Halong Bay will experience. A small cruise or a boat will take travelers to many of the most famous tourist sites on the bay, bringing an enjoyable and relaxing feeling among the space of greenery, rocky mountains, sandy beaches, islands, and quiet green water. Halong Bay is a unique creation of nature with a rich density of flora and fauna, along with the people living on the water creating an attractive destination for visitors.
Explore floating villages
The floating villages are one typical characteristic of the culture here. There are many ancient villages in the region such as Cua Van, Vung Vieng, Ba Hang, etc, of which Cua Van village is the oldest one which is over 100 years old. The charm of these villages comes from the scene of interlinked houses floating on the sea and the peaceful surrounding atmosphere.
Coming to Halong Bay for one day, travelers still have a chance to visit these floating villages, admire the labor scene of the fishermen around the floating fish rafts, and taste the fresh seafood processed by the local as well.
Visit beautiful caves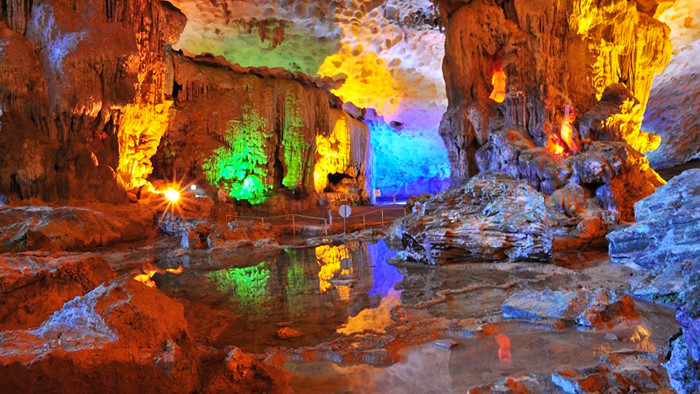 Sung Sot cave
Caves of Sung Sot, Dau Go, Trinh Nu, Thien Canh Son, or Thien Cung, etc are the most beautiful caves of Halong, with the scene of the unique and sparkling system of stalactites and stalagmites created for millions of years. These stalactites and stalagmites have various shapes, reminding people of the images of a bird, an elephant, a fairy, etc.
Each cave is connected with a compelling story of the age of forming that travelers should not ignore. With the full-day boat tour, visitors will be stunned by the beauty of Sung Sot cave as in heaven. Inside the cave, there is a freshwater lake reflecting the sunbeam, creating a gorgeous picture of nature.
Climb on Titop mountain
Located at a prime location in the middle of Halong Bay, Titop mountain has about 400 terraces leading from the beach to the view tower on the top of the mountain. This is the place where visitors can admire the beauty of Halong Bay at different heights. All the effort to climb to the top of the mountain is worthy that standing here, travelers will be overwhelmed before the vast space of the sea and feel the cool breeze.
Although there are many boats anchored here, Titop mountain is still a destination that is considered quiet, a new and wonderful spot to admire the bay.
Swim in beautiful beaches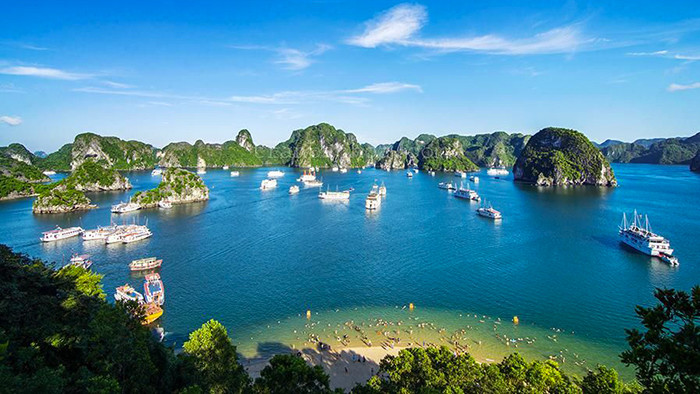 Titop beach
Apart from being a climbing sport, Titop island also owns the silky white sand and beautiful beach, ideal for swimming and sunbathing. Contributing to the marvelous beauty of Halong, Titop beach is a harmonious combination of sky and water, bringing a unique masterpiece landscape, enchanting any soul to visit.
Titop's white sand is not very large. In return, it is often washed up by tidal water, so it has a pristine beauty. Looked from above, Titop beach has a shape like a moon gently embracing the whole small island in the vast sea.
Kayak in Luon cave
Kayak is a sport that is very popular among foreign tourists, so if you come to Halong skipping this experience, it is extremely a shortcoming. Sitting on a small kayak, rowing the oars on the emerald green water, and watching the magnificent mountains and rivers, travelers can feel the absolute peace of nature.
Luon cave is located south of Halong Bay, about 14 kilometers southeast of Tuan Chau island. Located on Bo Hon Island and only 1 kilometer from Sung Sot cave, Luon cave is an open cave. Visitors can only travel by boat or kayak to get here. The cave is essentially a group of islands that build a lake about 1 kilometer away.
To enter the cave, visitors must pass through a 100-meter-long, 3-meter-wide, and 4 meter-high arch. The arches are formed by erosion for millions of years. Once they pass the arch, travelers will admire the limestone cliffs immersed in the clear lake water, as well as feel the peace while kayaking around the lake area.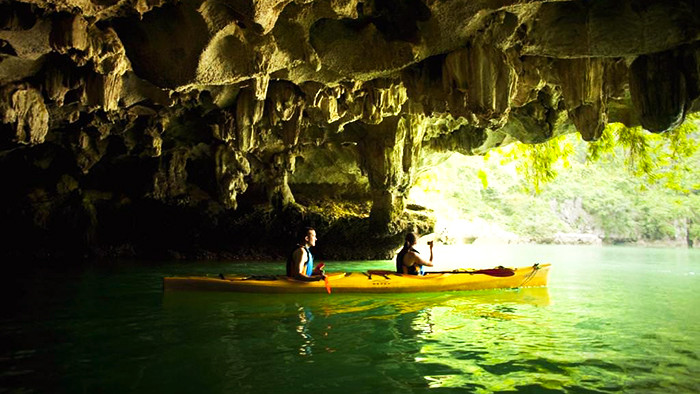 Kayak through Luon cave
Even within one day, Halong will satisfy any fastidious tourist coming to the bay. If you have more plenty of time, you should choose to stay in an overnight cruise. For further information, feel free to contact us or visit our website. Like and share the article with others if it is useful for you. Thank you and hope you will have a great time here.