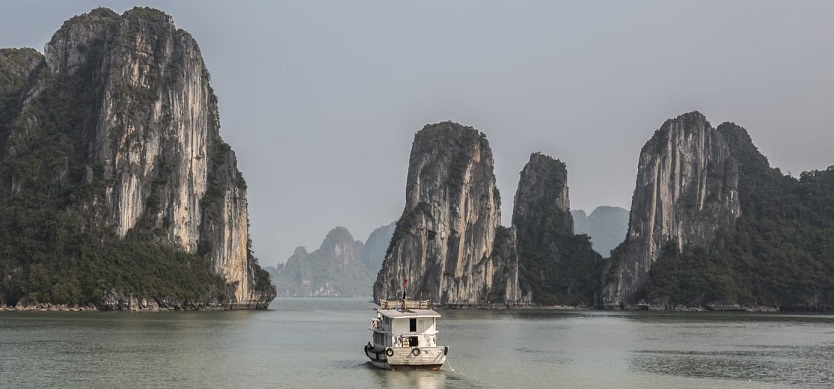 You're planning your upcoming trip to Halong Bay in January and wondering what the weather is like?
January is in the winter, certainly, but is it too cold to visit? Which activities are suitable for such weather? What to prepare for your holiday there?
You may find useful information you're looking for in our post below. Keep reading!!!
The detail information about Halong weather in January
Temperature
Although it's winter, you don't have to wear gloves and warm clothes. There is still sunshine sometimes.
The average temperature in January is around 17 degrees Celsius. It can rise to 20 degrees Celsius and decrease to 14 degrees Celsius.
With these temperatures, tourists can still participate in outdoor activities.
Sunlight
The average hour of sunlight per day in January is around seven hours - the second highest one of the years besides February, July, September, and October.
Humidity
The humidity in January in Halong bay reaches the lowest level of the year at 65%.
With this humidity level, tourists can take part in a lot of outdoor activities or explore beautiful beaches and islands.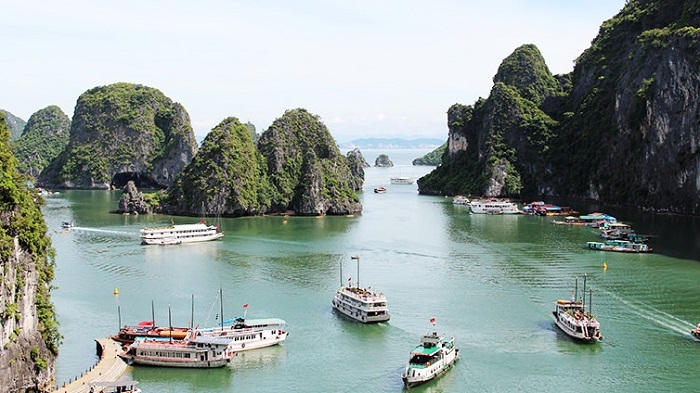 The beautiful scenery of Halong Bay
Rainfall
As the driest month of the year, the rainfall in January is only 18mm.
Advantages and drawbacks when coming to Halong Bay in January
Advantages
With a pleasant temperature, Halong bay in January is a perfect time for tourists to get involved in loads of fascinating activities such as swimming, kayaking, climbing…
Because of the low rainfall level, your booking reservation is dependable and unlikely to be canceled due to the weather conditions.
Drawbacks
The ideal weather will attract lots of tourists, so Halong Bay at that time is more crowded than usual.
In some days, the temperature might drop off very low, so it will be freezing.
What to prepare when coming in January?
Of course in winter, warm clothes are must-have items.
There are still sunny days with sun rays, so do not forget to bring your sunscreen to avoid getting a sunburn.
What to do in Halong Bay in January?
Swimming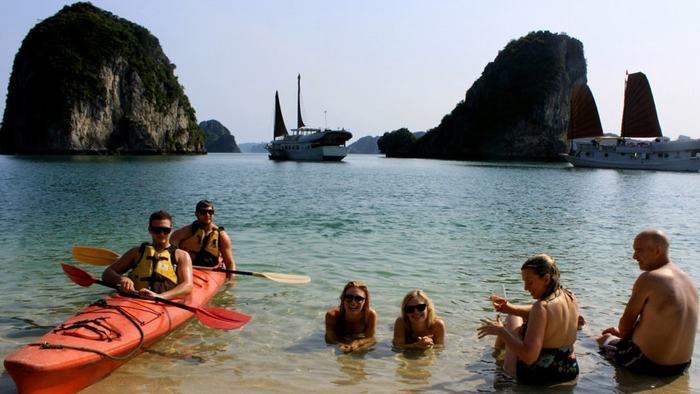 Swimming in Halong Bay
For foreign tourists who are familiar with the cold weather, the sea temperature in January is not too cold to swim.
Before swimming, you need some warm-up activities to reduce the shock effect caused by the cold water.
You should not spend too much time in the water. Come out of the water when your fingers and toes are numb.
Prepare a dry towel and warm clothes after you finish swimming.
Taking a cruise ship
It is undeniable that taking a cruise ship is the best way to admire the breathtaking beauty of the bay.
In January, it may be sometimes foggy, but it will make the scenery more gorgeous and romantic.
There is nothing better than sitting on a lounge chair in your cabin while sipping a glass of drink or reading a book amid a beautiful bay.
Because winter is the peak season in Halong Bay, you should book the cabin in advance. There are also a lot of cruise choices for you, depending on your budget.
In short, traveling to Halong Bay in January will bring you unforgettable experiences. So, why don't you take a trip right now? We hope that this article will help you understand more about the weather in January and make your preparation much easier. If you find this post useful, please share it with others. Thank you!