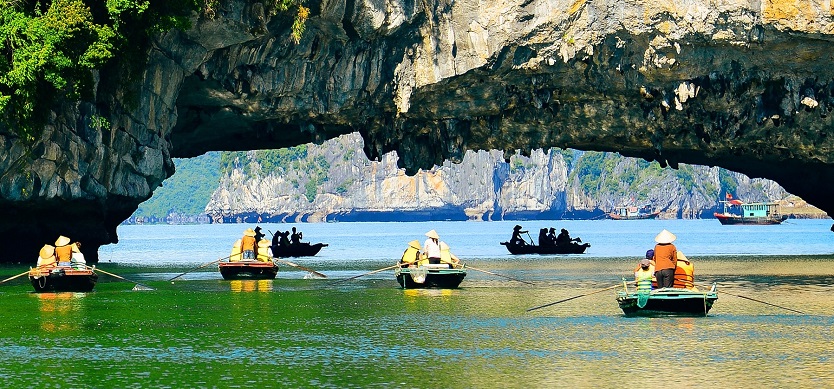 If it raises the question "When is the best time to visit Halong Bay?", then there is no certain answer for it. Halong is beautiful all year round. Each season has its own pros and cons, so you should consider carefully before deciding when to go.
What about Halong Bay weather in November? Is it the peak season? Is it worth visiting in November?
Find more information in the post below.
A brief look of Halong Bay weather in November
Temperature
Winter starts from the end of October, so the temperature in this month drops low, about 22 degrees Celsius. The lowest temperature is about 18 degrees Celsius and the highest one is about 24 degrees Celsius.
This temperature is suitable for outdoor activities such as exploring caves or spending time on beautiful beaches and islands.
Humidity
In November, Halong Bay is quite dry, compared to previous months. The humidity level is about 70% while the average levels of the year are 90%. As the second driest month of the year, tourists coming to Halong Bay in November can have a great chance to enjoy outdoor activities.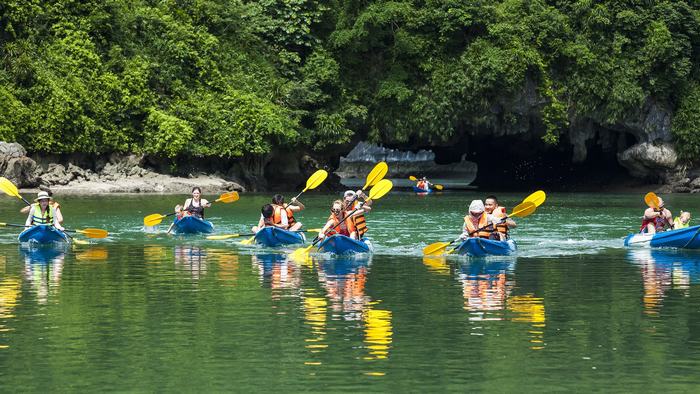 Kayaking in Halong
Rainfall
Along with the humidity, the rainfall amount in November is also lower than in other months, just 12mm over 8 days.
Sunshine hours
Tourists can expect 8 sunshine hours a day in November - the highest hours in the year along with December, March, April, May, and June. The long sunlight makes your discovery much more enjoyable.
Pros and cons when visiting Halong Bay in November
Advantages
The dry weather in November gives you sunny days to enjoy outdoor activities.
Although the temperature is low, it is still warm enough that you needn't wear heavy clothes.
Drawbacks
There are also freezing days in November.
This month is the peak season in Halong Bay, so the numbers of tourists coming there are high and tourist destinations will be crowded.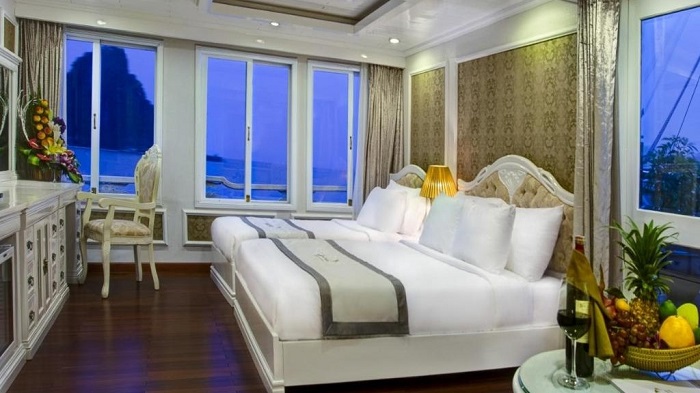 Cruise ship in Halong Bay
What to prepare for your trip
Although the temperature is pleasant, you should still bring a light jacket or sweater in chilly days.
The sun is not as strong as in summer but bring your sunscreen.
Halong Bay in November is the peak season, the tourists are more crowded than usual, so you should book the accommodation or cruise ship in advance.
What to do when coming to Halong Bay in November?
Taking a cruise
There are a lot of interesting activities that a cruise operator can offer tourists such as kayaking, swimming, cooking class, cave exploring, visiting floating villages or bicycling.
Exploring caves
Halong Bay is home to many beautiful caves of which the most famous ones are Sung Sot Cave, Thien Cung Cave, Dau Go Cave, and Luon Cave. Entering into these caves, you can admire magnificent stalactites.
Night squid fishing
Squid fishing is one of the most popular activities for tourists when taking overnight cruise tour. You will provide a fishing rod and try your luck when fishing.
You can also enjoy a barbecue after you caught squid prepared by the staff on the boat.
We hope that with our information above, you can know more about Halong Bay weather in November and make the right decision of when to visit. For further information about this place, you can visit our website and leave any questions. If you find this article helpful, please share with others. Thank you.