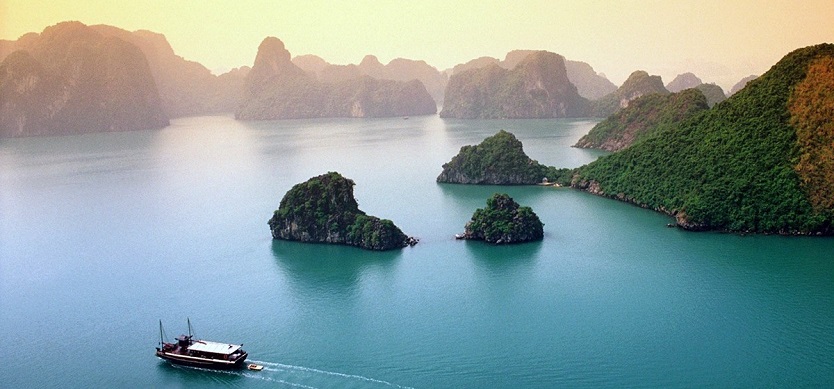 Halong Bay - the World Natural Heritage is always in the bucket list of tourists when thinking about Vietnam tours thanks to its gorgeous beauty.
Choosing an appropriate time for a trip is one of the most important things before you go.
If you're planning your trip to Halong in September and wondering about the weather, then our article below may help you.
What to know about Halong Bay weather in September
Temperature
Although September marks the end of summer in Halong Bay, the temperature still remains high with an average of 28 degrees Celsius. It is the second hottest in the year, along with the average temperature in May.
The highest temperature can reach up to 31 degrees Celsius and it can drop a low of 24 degrees Celsius.
Rainfall
In September, it still has frequent rain showers and typhoons, so the rainfall level is relatively high with an average of 190 mm over 14 days. It is significantly lower than the previous month with an average of 265mm over 16 days.
Sunshine Hours
During the summer month, you will get an average of 7 hours of sunshine which is the second-highest in the year along with October, January, February, and July which also has 7 hours of sunshine.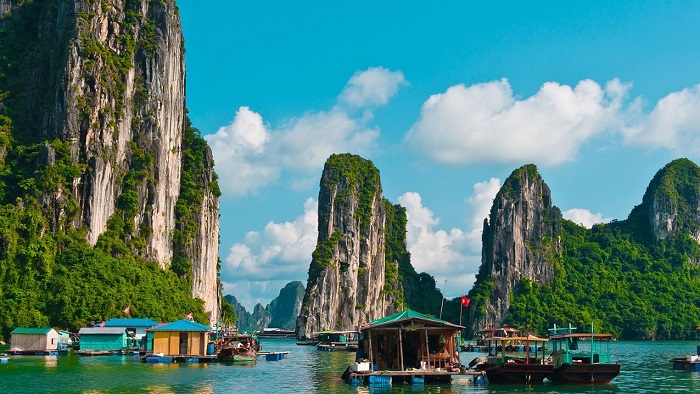 Floating village in Halong
Sea Temperature
The average sea temperature in September is a very warm 27°C which is actually the second-lowest in the year along with October, June, and July. It is very suitable for those who are into swimming and diving.
Advantages and drawbacks in September
Advantages
The warm temperature in September creates an ideal condition for tourists to take part in water activities such as swimming, snorkeling, kayaking, or diving.
September is the low season, fewer tourists are coming to Halong Bay, so you can get good deals and promotions from travel companies. Also, the services are better.
Drawbacks
The weather is still hot and it might be uncomfortable for some kinds of tourists.
The frequent rain can affect your outdoor activities and cruise trip.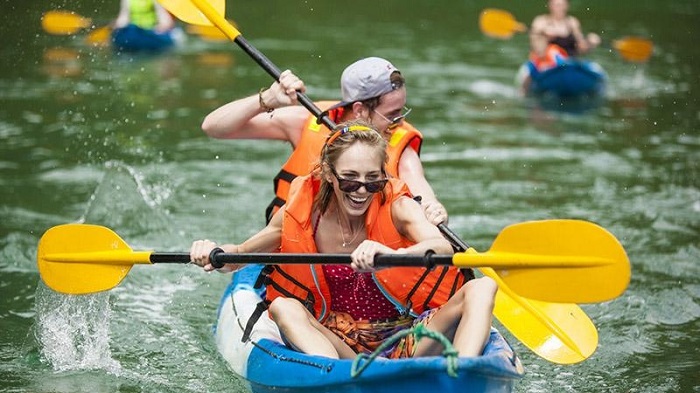 Kayaking in Halong Bay
What to prepare when coming to Halong Bay in September
Carefully check the weather forecast: In September, bad weather like typhoons or storms can still happen which can cause your cruise trip canceled. You should also keep contact with your cruise operator to confirm the trip will go ahead.
The weather in Halong Bay at that time is still hot, so you should pack light and breathable clothes.
You will enjoy water activities, so bring your swimsuit.
The sunlight in September is still strong, so do not forget your sunscreen to avoid sunburning.
The Halong Bay scenery in autumn is more marvelous. Bring your camera to capture beautiful moments.
In short, September is a quite good time to visit Halong Bay. For those who have a limited budget but still want to get special promotions and services, traveling at that time is a good idea. With a pleasant temperature, you can participate in loads of fun activities. But, please check the weather forecast carefully to make sure you have a safe and unforgettable trip.