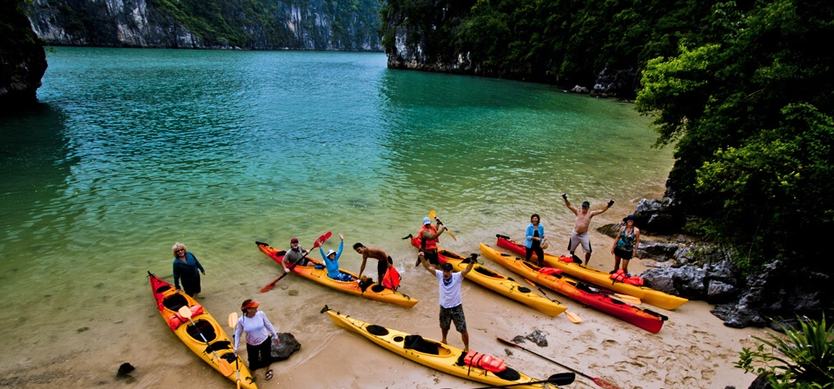 About Vietnam tourism, it can't be a lack of Halong Bay - the Natural Heritage of the world. Besides the breathtaking scenery, the bay also attracts tourists by a lot of fascinating things to do.
To have a more lively imagination, take a look first at this infographic.
It'll list all the most exciting experiences you'll surely want to join.
What to do in Halong Bay?
Go kayaking to explore Halong Bay
Stay overnight on cruise ships
Go squid fishing at night
Experience giant cable car
Discover stunning caves
Climb on mountains

Here is the more in-depth relating information which will help you attain a wonderful vacation in Halong Bay.
Go kayaking to explore Halong Bay
It can be said that kayaking is one of the most popular activities for tourists when coming to Halong Bay. It was once voted by National Geographic magazine as one of the topo 25 kayaking destinations in the world. Wanderlust travel magazine also assessed that Vietnam is the top spot for kayak lovers.
Sitting on the small boats, you can glide gently on the emerald green water to discover the mysterious rocky caves in Halong. Also, tourists can freely visit fishing villages like Vung Vieng and Cong Dam, discover the beautiful scenery on the bay as well as the life of the people here.
Stay overnight on cruise ships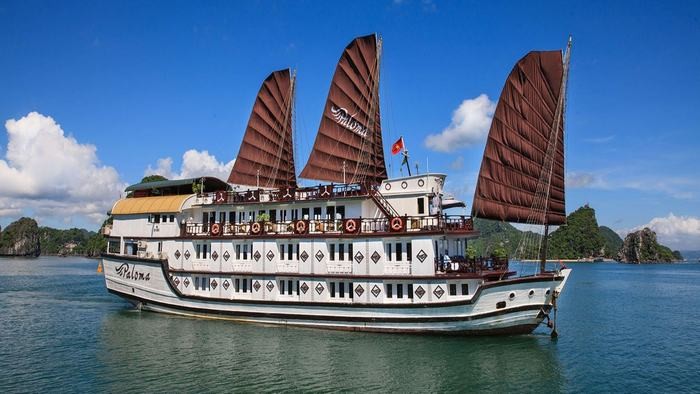 Halong bay cruise ship
Staying overnight on a cruise ship in Halong is one of the best experiences that you should try once in your life when traveling there. The moment of watching the dawn or sunset promises to bring sublimated emotions that you certainly cannot find anywhere else.
When the night falls, you can see the limestone mountains bobbing on the blue water through the large window while relaxing in your own room. Dropping your soul into the fanciful space, watching the stars shining and immersing yourself in the sea breezes while lying on the sundeck is a perfect choice for a wonderful night.
Go squid fishing at night
Halong not only has mysterious unspoiled nature but the people here are very gentle. They live in the scattered fishing villages in the bay such as Vung Vieng fishing villages, Cua Van fishing villages or Ba Hang fishing village. Their daily life creates a very peaceful space, a unique culture of Halong Bay.
Spending an entire evening in fishing villages, visitors can travel by rustic boat, immerse themselves in a quiet and peaceful space, admire the majestic natural scenery and learn about the cultural life of fishermen or learn how to row. However, the most favorite experience of visitors here is squid fishing with fishermen then enjoy the dishes made from which you have caught.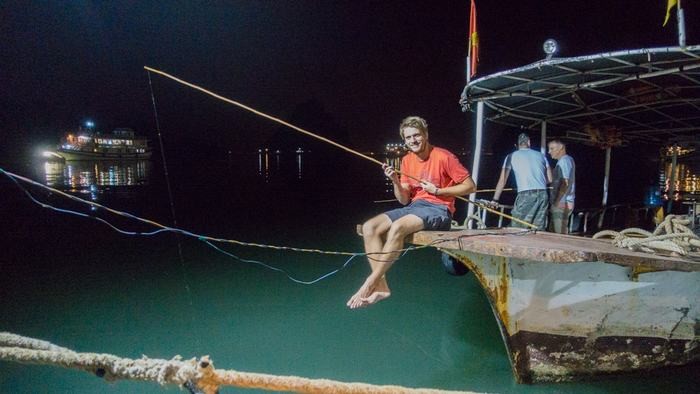 Night squid fishing in Halong Bay
Experience giant cable car
The Queen's cable car is made with the advice and design of two world-famous designers, Doppelmayr (Austria) and Garaventa (Switzerland). The cable is 2,222 m long with 2 cable columns. Unlike previous cable car systems, the Queen consists of only 2 cabins with a transport capacity of about 2,000 passengers per hour.
Experience the Queen cable car, you will cross Cua Luc bay, from Bai Chay beach to Ba Deo mountain (Hon Gai). This work has received two Guinness world records: the largest cabin (230 people/cabin) and the cable with the highest cable head over the ground (T1 cable tower 188.88 m high).
Discover stunning cave
Halong Bay is the convergence of beautiful caves such as Thien Cung cave, Sung Sot cave or Trinh Nu cave. Thien Cung Cave is located southwest of Halong Bay. Coming to the cave, you will be surprised by the vivid beauty created by the stalactites. On the east side of the cave, there is a huge monumental picture with soft and flexible lines and extremely delicate to every small detail.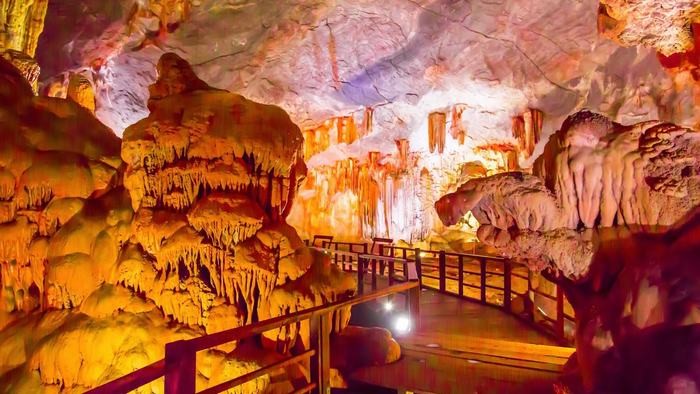 Halong Bay Cave
Sung Sot Cave is one of the largest caves in the cave system. On the way to the cave, there are many stones crowded together, giving the guests a very real feeling as if conquering the peak. Inside the cave, there are tiny concave pictures printed on the cave to make the cave in strange, giving visitors have an incredible experience.
Climb on mountains
Not only intrigued by charming beauty, but Halong Bay with diverse and dangerous terrain is also a challenge for tourists who are into mountain climbing. Even the athletes affirmed that Halong Bay is a paradise of interesting mountain climbing because it owns thousands of islands, and hundreds of climbing points.
After kayaking to the mountains, visitors will conquer the steep cliffs and then jump down when the mountain ends. This sports activity is quite safe provided that climbers have to swim quite well and observe the falling point before implementation.
Normally, visitors are recommended to climb only about 30 m for training or entertainment purposes. If you want to go higher or in dangerous areas, they must use belts to ensure safety. If you are a fan of this extreme sport, surely the thorny cliffs and the magnificent corners of the mountains in Halong Bay will give you a desire feeling to conquer.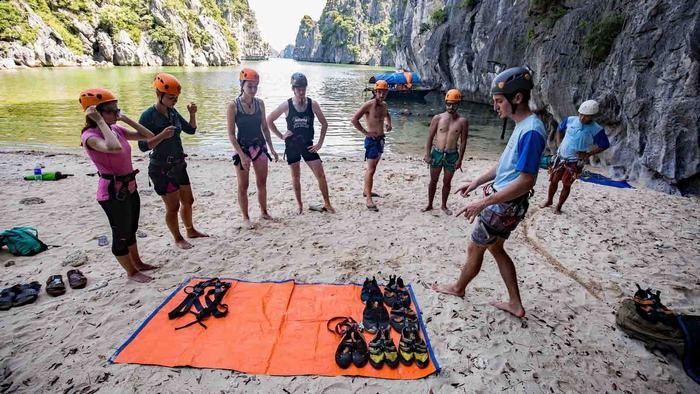 Climbing in Halong Bay
There are also a lot of interesting things waiting for you in Halong Bay. Let's take your backpack and travel now to explore how exciting Halong is. Visit our website to get further information and leave any questions. If you find this article helpful, please share it with others. Have a nice trip!