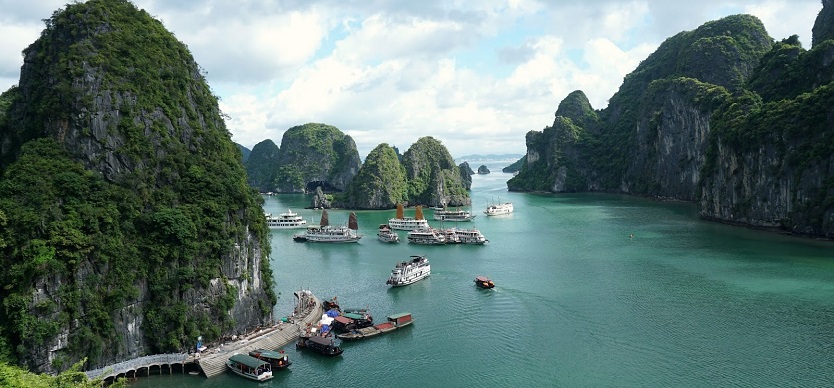 Halong Bay is one of the most famous tourist attractions in Vietnam which attracts millions of international and domestic visitors.
October is considered the best time to visit this world natural heritage.
But, what's the weather like in October? What should you prepare for your trip?
All you need to know can be found in this article below.
An overview of Halong Bay weather in October
Temperature
October marks the end of summer in Halong Bay, so the weather is still warm with an average of 25 degrees Celsius. The highest temperature is up to 28 degrees Celsius and the lowest one drop to 21 degrees Celsius.
With this temperature, the weather is cool with fresh breezes which is ideal for cruise trips.
Humidity
The humidity level of Halong Bay is quite high throughout the year, about 90%. However, the average humidity level in October is about 72%.
Rainfall
Although the average temperature doesn't change much since the previous month, the rainfall level considerably drops, just 54mm of rain over 11 days.
The dry climate brings tourists an ideal time to enjoy outdoor activities and exploration of beaches and islands.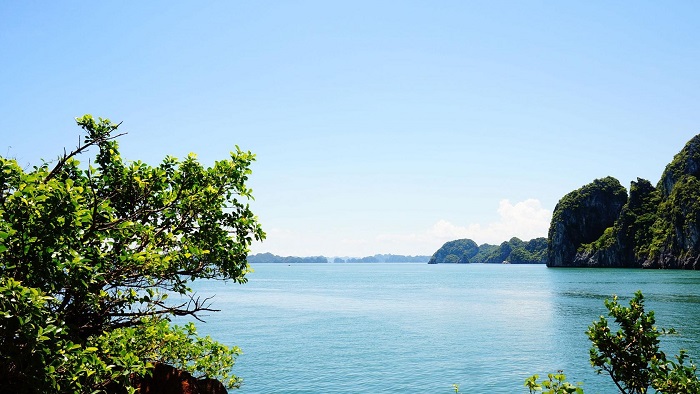 The beauty of Halong Bay
Sunshine hours
In October, the sunshine hours of the day is seven hours - the second-highest of the year along with January, February, July, and August.
Advantages and drawbacks when visiting Halong Bay in October
Advantages
The pleasant temperature makes Halong ideal to visit in October. Tourists can take part in loads of activities with worrying about the strong heat of summer or freezing of winter.
The reduce of rainfall and long sunshine hours gives you more time to enjoy outside.
October is not the high season in Halong Bay, so tourist attractions are not crowded and the cost is not too expensive.
Drawbacks
You may experience the Northeast monsoon at the end of the month. As winter is coming, there are some chilly days.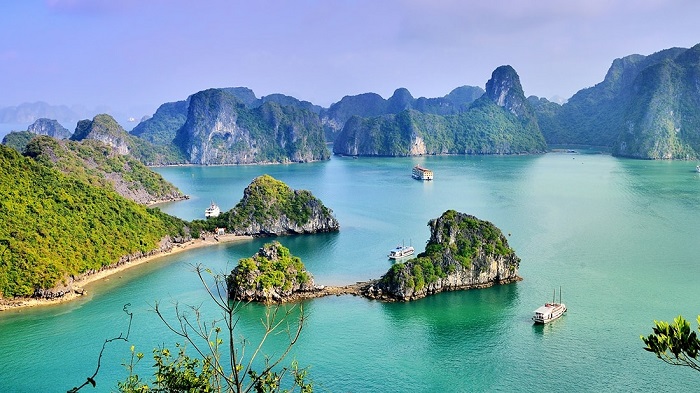 Halong Bay
What to prepare when coming to Halong Bay in November?
As October is one of the best time to visit Halong Bay and you can participate in a lot of water-based activities such as swimming, diving or snorkeling, you should bring your swimsuit and a waterproof bag for your phone or camera in case you want to take photos of the underwater world.
It isn't cold yet in October, so pack breathable clothes like shorts and T-shirts. You can bring a light jacket as the temperature can drop low at night.
It is still sunny and you spend much time outside, so do not forget to bring your sunscreen.
What activities you can do in October?
Swimming: Of course, with such warm temperature, why don't you enjoy swimming cool water of Halong Bay. There are so many beautiful beaches such as Ba Trai Dao, Titop, Tuan Chau or Bai Chay beach.
Kayaking: Sitting on the kayak boat, you can admire the stunning view of Halong Bay while creeping through karst caves. The boat can be easily hired near the beach.
Taking a cruise ship: There are a lot of cruise ships in Halong Bay, from the superior cruises to the budget one. Choose the most suitable one for you and start your journey to explore the breathtaking beauty of Halong with many interesting activities such as cooking class, visiting floating villages, squid fishing, etc.