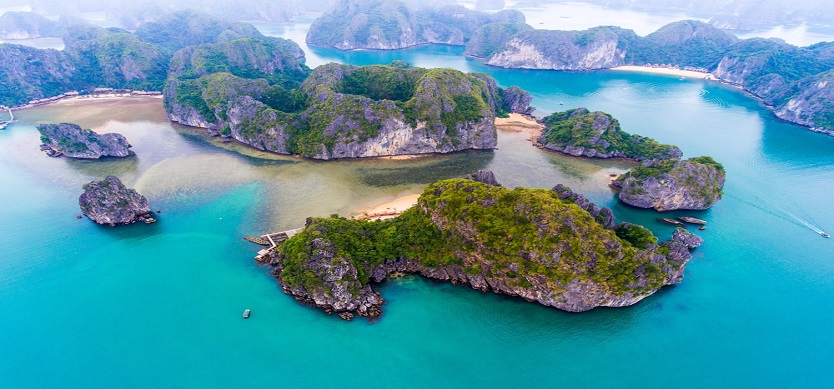 Halong Bay is one of the leading tourist destinations that you should not miss when spending the holiday in Vietnam.
As a traveler, how to do visit Halong Bay? What are the best activities to do there?
If you're looking for something fascinating things to do for your upcoming trip there, then you're in the right place.
Since I've visited there three times and written a guide book to this place, I want to share four activities to do in Halong Bay in 2019 for tourists.
Check it out!
Top Halong Bay activities
Experience SunWheel
Visit the Queen Cable Car
Kayak through the bay
Discover the underwater life in Lan Ha Bay
Experience SunWheel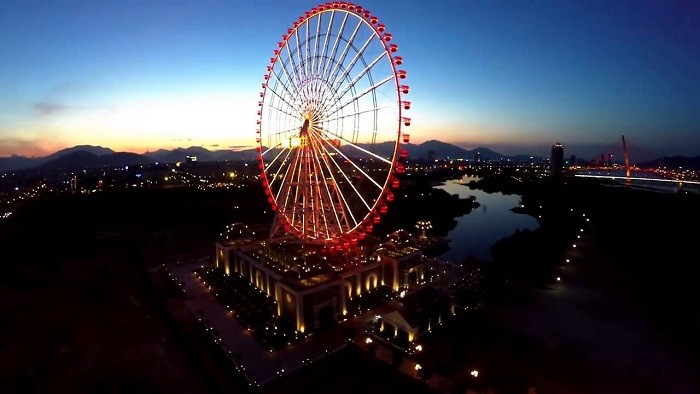 SunWheel
Located in the SunWorld park complex, the special SunWheel is worth it to have a separate place on this list. The giant roundabout SunWheel is a destination that provides a stunning visual view of Halong Bay that you cannot miss. With a height of 215m from the sea surface, SunWheel is one of the two largest rotations in Vietnam.
Located on the top of Ba Deo at an altitude of 215m above sea level, Sun Wheel is one of the highest sightseeing rounds in the world. You will want to sit on this wonderful wheel twice to see the most complete Halong. After that, you should try it once during the day, when you really see the surrounding nature. Then try again in the evening, when the night sky becomes the perfect backdrop for the sparkling lights of Halong. The romantic space will surely embrace this unforgettable experience.
Visit the Queen cable car
This is another tourist attraction in the park complex of SunWorld Halong Park. The Queen Cable Car gives visitors a wonderful view of Halong nature. As you walk along the cable, you will not be able to hold back and record every moment.
Furthermore, tourists will admire the whole beauty of Halong Bay because nowhere brings such a great experience. Besides young people, children will also enjoy the opportunity to cross the sea with a unique means. When enjoying the Queen cable car, tourists can see the sky above and sea. This experience is the right choice for all travelers.
The Queen cable car
Kayak through the bay
One interesting and attractive thing in Halong Bay for enjoying is kayaking. Halong vacation cannot be complete without spending time on water activities.
If you want to experience the feeling of sailing around the most beautiful place in the region, you can join the journey to explore the bay on a kayak or bamboo boat. Therefore, you don't forget to bring a waterproof camera to capture the best moments of the journey. Furthermore, you should make sure that you bring protective gear for your device.
Kayaking
There are many ways to participate in kayaking experience in Halong because a lot of different travel and yacht companies offer this service. Kayaking is often accompanied by tours and other recreational activities. You can rent and kayak all day without a tour. There will be lifeguards watching and ensuring your safety throughout the journey. Therefore, you should feel free to explore and enjoy Halong's natural landscape by your way. It is the reason why when visiting Halong Bay, tourists don't forget to enjoy kayaking activity one time.
Discover the underwater life in Lan Ha Bay
Besides Halong Bay, traveling to Lan Ha Bay is also wonderful and attractive things for enjoying. Leisure activities not only stop on the sea surface but also hide under the ocean. Lan Ha Bay is a beautiful place with picturesque beaches with many beaches for tourists to relax or play all day. Furthermore, when visiting Lan Ha Bay, in addition to sea kayaking services, companies also provide other interesting activities for visitors to experience.
Lan Ha Bay and the surrounding areas are ideal for diving. The seabed scenery of the bay will definitely not disappoint you. Thousands of brilliant coral reefs are along with countless fish species including sergeant fish, sea anemone fish, and etc. This is a prominent feature that makes Lan Ha Bay the most popular diving destination. Therefore, when just search Google, images of this service will appear before your eyes, then you can imagine the interesting things that you are about to experience.
Scuba diving is a suitable activity to record the mark with the whole family. However, visitors should note that not everyone can afford this activity for a long time. Furthermore, scuba diving is an interesting choice to learn more about marine life. In addition, remind visitors about the importance of taking care of the marine environment. Therefore, when you have the chance to visit Halong Bay in general and Lan Ha Bay in particular, you should spend time enjoying the interesting and attractive activity.
Underwater activities in Lan Ha Bay
Besides scuba diving, tourists can also enjoy surfing which is setting captures the best experiences in the sun. It is very suitable for adventure travelers who want to try new things. Therefore, when visiting Lan Ha Bay, tourists can enjoy a lot of wonderful and attractive things.
Hope that after the post, tourists will have the full and necessary information for traveling in Halong Bay about interesting and attractive things for enjoying. Furthermore, if you need more important information, you don't forget to visit our website to get more useful information.