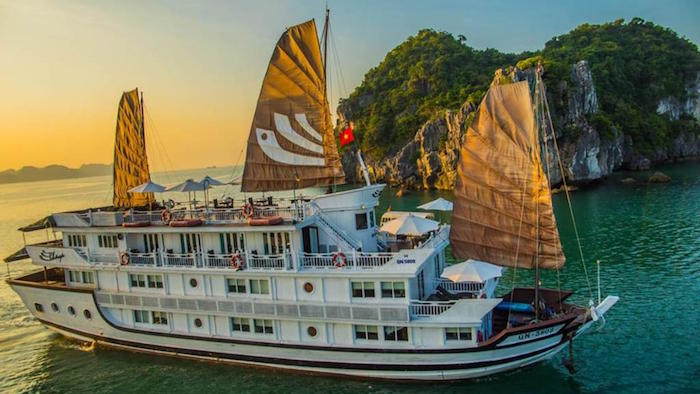 If you've read our previous post of things to do in the one-day cruise tour Halong Bay but look for a longer itinerary, then you're in the right place.
Of course, on the two-day cruise, you will have more time to participate in interesting activities and get unforgettable experiences.
In fact, there is no shortage of cruise agencies for you to choose from here. It depends on your budget and how you want to explore the bay.
Whether you choose the high-end boat or the budget one, these activities for two-day itinerary below are the things that you should not miss.
Top exciting activities of the two-day Halong Bay cruise tour
Have a night on the cruise
Fish squids at night
Admire sunset at an outdoor bar
Enjoy tasty seafood barbecue
Discover Cat Ba National Park
Have a night on the cruise
What will be more memorable than staying overnight in the midst of the beautiful Halong Bay and feeling the cool and fresh breeze from the sea? For now, the types of cruise and services on cruises are diverse from 3 to 5 stars. Depending on different demands and amount of money, travelers can choose the best option of making their trip unforgettable.
For example, Halong Bay luxury cruises are considered ideal for the newlyweds on their honeymoon, or for birthday people, etc. With the exquisite and luxurious design, they will make visitors feel like a high-class hotel on Halong Bay with modern rooms. The rooms are fitted with jacuzzi, where visitors can relax massaging their skin and enjoying the view of the bay, etc.
Especially, these cruises will help organize the themed parties or events on the sea on request, so if you are planning a celebrating occasion, don't miss out the special experience on cruises in the midst of this romantic Halong Bay.
Fish squids at night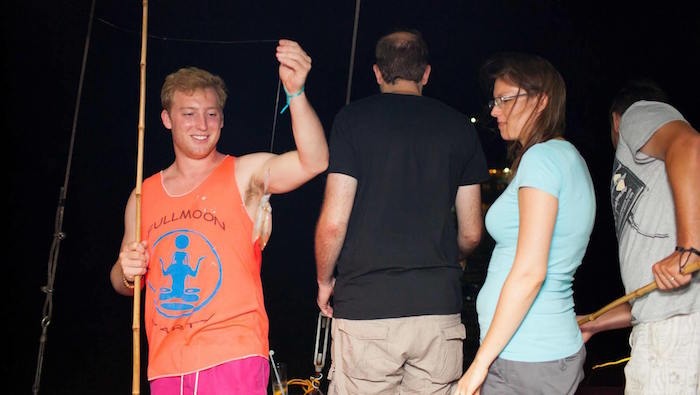 The joy of fishing squids at night
Fishing squids is a simple way of entertainment on Halong cruises at night. Especially, those who are lucky will have a meal with fresh squids on Halong Bay. The crew of the cruise will prepare a water lighting system and provide guests with fishing rods and nets. If travelers visiting here in the right season of the year, when there are lots of squids in Halong, they will have a "bumper" evening and full of laughter.
A bit of patience and a bit of luck will help visitors get the big squids, but many tourists share that in addition to catching squids, the experience of sitting on the railing of the ship, watching the mysterious night, laughing and saying, dispelling the silence of heaven and sea at night is also a very interesting memory in the bay.
Admire sunset at an outdoor bar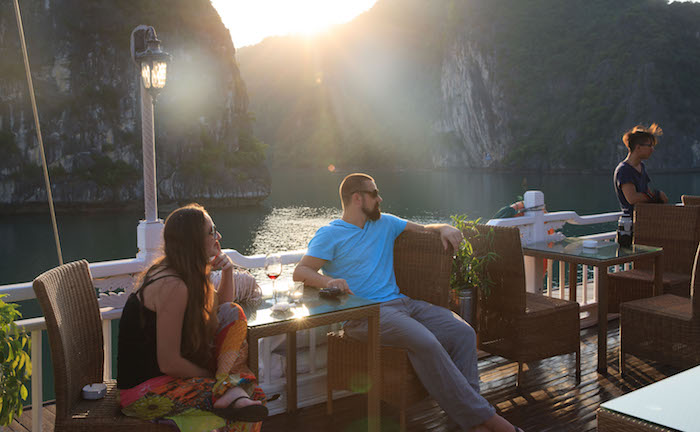 Sunset on Halong cruises
It would be great to sit on a yacht and watch the bay but it will be a novelty of experience to watch the sunset on Halong beaches. The sky turns red, shining down the blue water, making the space more poetic than ever. The lights from the Halong yachts reflect on the water surface creating a vivid picture with many magical colors.
Choosing for yourself a chair on the sundeck to watch the sunset, enjoying a few cans of beer or a glass of smoothies, and closing your eyes to feel the gentle sea breeze and fresh air, these are really something you should not ignore when coming to Halong.
Enjoy tasty seafood barbecue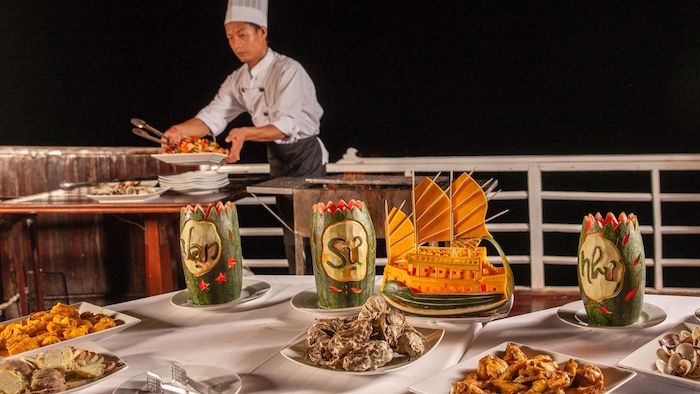 Seafood barbecue is one attraction of Halong cruise tour
Halong Bay is a rich source of seafood, providing tourists with fresh and tasty dishes such as fish, shrimp, crabs, scallop, etc. Visiting Halong on an overnight cruise, guests will have a chance to take part in the cooking lesson learning how to cook traditional Vietnamese dishes like spring rolls and enjoy the attractive seafood barbecue with friends on the sundeck in the afternoon. The delicious food, romantic space, and joyful atmosphere on Halong Bay cruises will definitely make the vacation of travelers memorable.
Discover Cat Ba National Park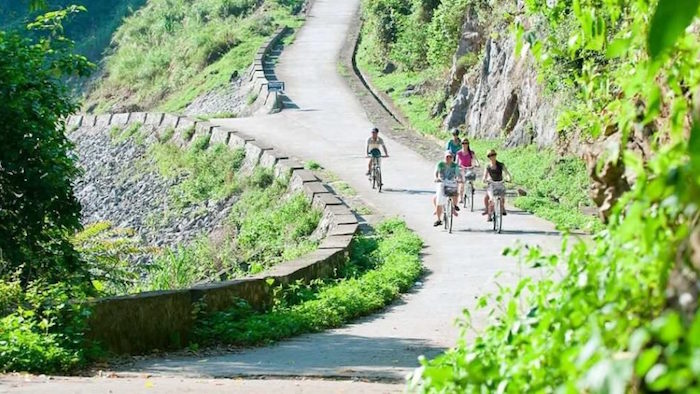 Biking in Viet Hai fishing village
Cat Ba island is where the sea and the forest meet each other creating a rich natural population with many rare plants and animals. Cat Ba National Park is located on Cat Ba island which is a must-visit trekking point for young passionate discoveries. With a cruise tour, visitors will explore the beautiful nature in Ao Ech - a highland submerged forest area, discover the historical Military Hospital cave, and admire the peaceful life in Viet Hai fishing village. If having plenty of time, travelers will have a chance to make a bike tour around the village.
Visiting Halong Bay on cruises with various attractive spots and fascinating activities is really an experience you should not ignore in Vietnam. For further information, feel free to contact us or visit our website. If you love the peaceful and wild beauty here, don't hesitate to like and share with others. Thank you.