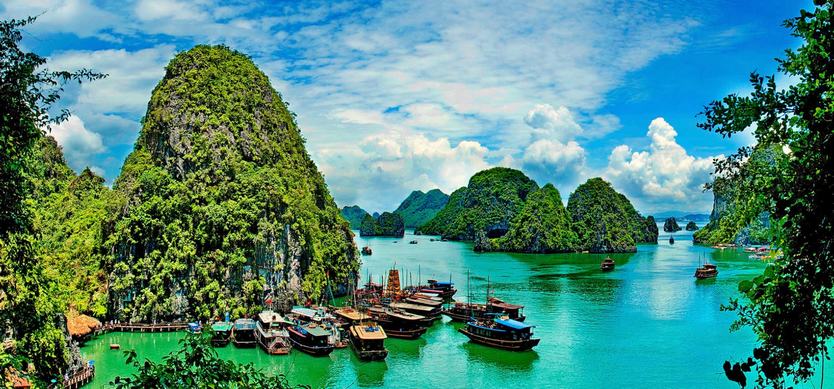 Are you exciting for your trip to Halong Bay? Do you know how to travel there, where to stay and what to eat, or how to save costs and time while visiting places the most? If you do not know, these following guides will give you all the information you need for your trip so you can travel better, longer and cheaper.
General information about Halong Bay
Halong Bay is one of the UNESCO world natural heritage sites. It is an invaluable gift that nature gives Quang Ninh province as well as Vietnam tourism. Halong Bay has clean air, beautiful landscapes, delicious seafood, and other specialties. In general, you will feel extremely interesting when traveling to Halong Bay.
The best time to visit Halong Bay
Halong Bay is a part of Gulf of Tonkin which has 4 distinct seasons: spring, summer, fall, and winter. Winter is from November to March next year with the cold weather and summer is from April to October with the hot weather.
Choosing the best time to travel to Halong Bay is also very important because it will affect your trip. As a whole, Vietnamese often travel to Halong in summer and foreigners often visit there in winter. However, the best time to travel Halong Bay is from August to November because of beautiful sunshine, cool weather, and few storms.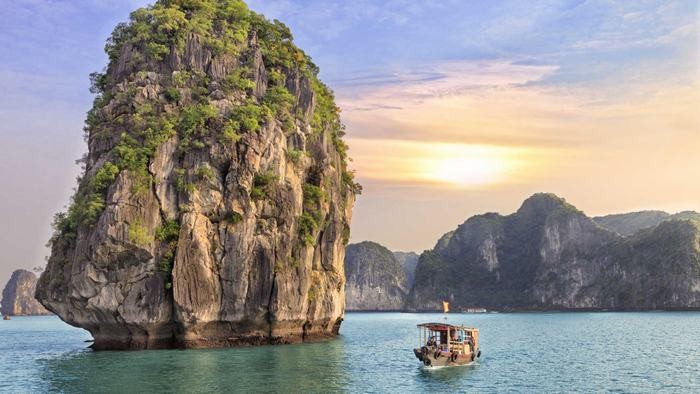 Halong Bay in sunset
You should not visit Halong in June and July. The reason is that this is the peak days, the number of tourists is very crowded so the price of services is often higher. In addition, this period has a lot of storms in the Gulf of Tonkin and Halong Bay. Be careful if you have to travel to Halong Bay in June and July.
Luggage preparation – the necessary items
What to bring when traveling Halong Bay? Preparing clothes, sunscreen, medicines, bikinis, and sandals are all things that you need to do for your trip.
Because of sunny and hot weather, you should bring sunglasses and sunscreen that usually has an SPF of 30 or more to protect your eyes and skin. Swimwear is the most essential item for swimming. So be prepared from home if you do not want to hire swimwear with the high price. Do not forget to bring the camera to capture beautiful photos.
Transportations
Halong Bay is far away from Hanoi about 170km. It takes 3 to 4 hours to go there by car. If you travel to Halong Bay by car, you can go to My Dinh or Luong Yen station. The first departure is at 6 a.m and the last one is at 5 p.m. The ticket prices range from 100.000VND/person(seat) and 200.000VND/person( bed).
If you want to go to Halong by motorbike from Hanoi, you can move from Noibai Airport - Bac Ninh - National Highway 18A through Pha Lai - Sao Do - Dong Trieu - Uong Bi - Ha Long with a total length of about 160km. You can also choose the train to travel Halong from Gia Lam station which takes about 5 hours with the price of 100.000VND/time/person.
Hotels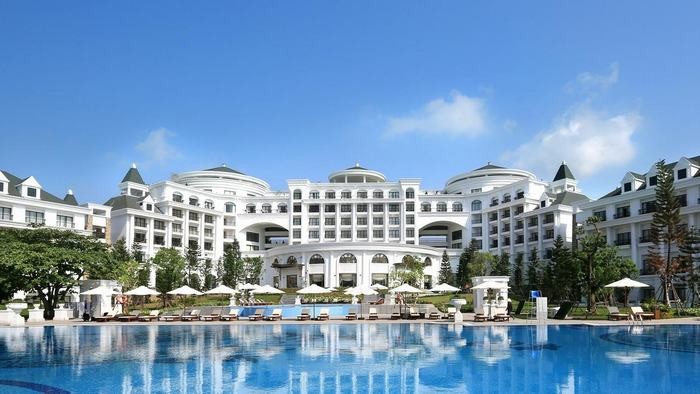 Hotel in Halong Bay
Halong has many hotels in the tourist area. You should go in early or mid-week to avoid high room price because the price will cost an arm and a leg on weekend. You should hire a hotel located in Bai Chay for the convenience of traveling and eating. The price of a 3-star room is from 474.000 VND/ day. In addition, you can rent accommodation with an average price of 150,000 VND / day.
Some best–price hotels are Halong Plaza (08, Halong Road), Halong Dream (10, Halong Road), Mithrin (Hung Thang Road), Halong Pearl (Bai Chay).
Yachts
Today, overnight Halong Bay tours are booked by a lot of Vietnamese tourists. It is extremely wonderful if you experience a night on the yacht with interesting activities such as enjoying a meal, admiring the beautiful landscape, kayaking, karaoke and fishing squids,... The night tour last 2 days and 1 night or 3 days and 2 nights depending on the journey of each yacht. 3-star cruise ships such as V'spirit, Majestic, Calypso, Halong Sails, Oriental Sails, Glory ... is from 2,200,000 VND or more for a two-day cruise, including all services. In addition, there are many 4 to 5-star yachts such as Au Co, Bhaya, Emeraude, Paradise, Starlight.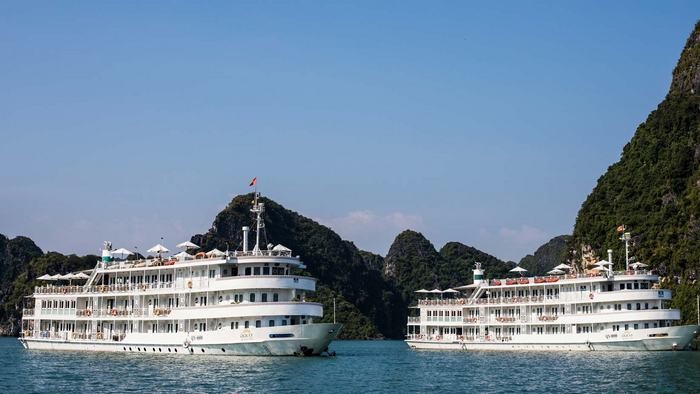 Au Co Cruise
Places to enjoy delicious seafood
You can enjoy seafood on cruise tours. The prices of the main seafood dishes such as oysters, fried squids, grilled shrimps,... range from 120.000 to 200.000 VND/ person. You also have a lot of restaurants to choose from. Seafood in Halong is quite expensive so remember to ask the price before eating.
There are many popular and high-class restaurants in Halong such as Mithrin(Hung Thang, Bai Chay), Sea Food Restaurant (Halong Road), Thu Huong(Ha Long street), etc.
Attractive destinations
Halong Bay has various beautiful islands with different shapes and sizes such as Dragon island, Trong Mai Island and La Vong Island. Bai Chay Resort is the ideal destination that you should not ignore. With the location of Halong Bay, it is suitable for tourists to swim and relax. Besides, Co To island retains the wild and peaceful tranquility among the busy life of Halong Bay with beautiful coral reefs. In particular, Tuan Chau is considered as the most beautiful island in Halong Bay, you can join interesting underwater activities there. Sung Sot Cave, Thien Cung Cave, Dau Go Cave are the top attractive caves in Halong Bay.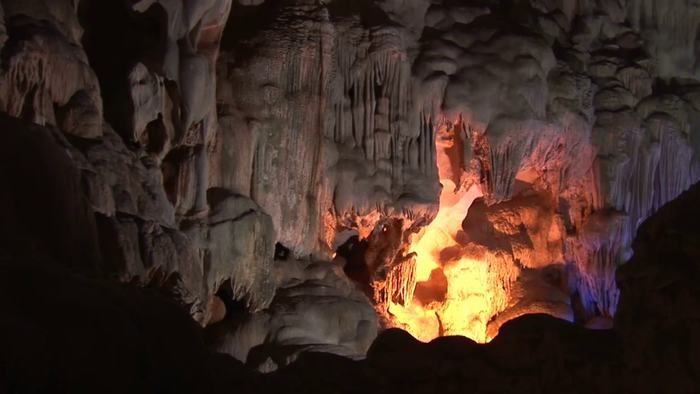 Dau Go Cave
Moreover, Sun World Halong Park has an area of 214ha, is a new complex of the world-class amusement park with many fun games. The price for an adult is 300.000 VND /ticket and 1 - 1.3m children is 200.000 VND /ticket. The children under 1m are free. (Price includes the package for Queen Cable Car, the Sun World, and games on the Three Pass Hill).
Some notes when traveling to Halong Bay
-When you purchase, remember to check the weight carefully because most of the weight is not accurate ( the best way is to bring a 550ml water bottle to try the weight)
-If you sleep on the boat or yacht, do not bring food or drinks because you will be charged very expensive.
-Do not throw waste in the tourist area.
It is undoubted that careful preparation before traveling will make your trip perfect and more interesting. If you want to get more information about Halong Bay tours, feel free to contact us via our website. Share it if it is helpful to you. Have a great trip!