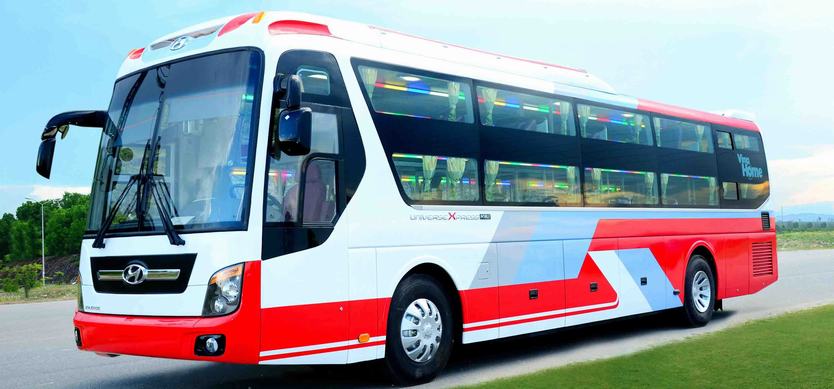 Halong Bay is one of the tourist destinations that every visitor should come to once in their life.
Halong is famous for its beauty and arrogance as a magnificent water-lily painting with thousands of small islands.
Taking Halong Bay cruises right now to see some of the best scenery as well as many other amazing characteristics that this place has to offer to its tourist.
Going to Halong by buses/coaches, why and why not?
When traveling to Halong from Hanoi, from the My Dinh bus station there are many high-quality passenger cars to Halong, the car runs until night. This is also one of the cheapest ways to get to Halong. The buses can be very cheap when choosing the right coach, but like any other public transportation in Vietnam, a coach has many disadvantages. This makes foreign visitors less selective when choosing this type of transportation.
It is recommended to take high-quality car Kumho, the car is very standard, fast, does not pick up more guests, clean and modern, enthusiastic staff service. In general, this is quite a safe choice.
The car starts from My Dinh, Luong Yen or Giap Bat Bus Station and usually arrive in Halong Bay, Cua Ong, etc…
Low price - about 100,000 - 130,000 VND
Travel time: 4 hours • Main route: Ha Noi - Hai Duong - Hai Phong - Bai Chay (Halong)
The foreign tourists should really consider when choosing this type as not many drivers and bus valet understand English or foreign languages. Also, in the event of a bus failure or misses, you will probably lose the whole trip. For visitors who only have one day, this is not the best option. Due to leaving Halong Bay early to move, your journey will not be complete.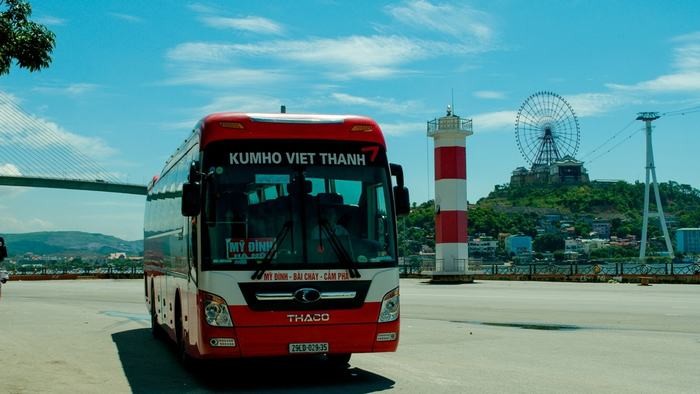 Kumho Viet Thanh Bus
If there are children or large families, you should rent a car separately, the price may be slightly higher than the buses, but it is more comfortable for the family. Not to mention some of the buses often pick up more guests, often leading to getting cramped, or maybe stop abruptly in the middle of the road, making the guests feel uncomfortable. But of course, not all buses are like that.
In order to have a safer and more enjoyable trip, please refer to useful tips for travelling in Halong Bay.
The prestigious coaches in Hanoi
Name

Destinations/ Time of work/ Price

Phuc Xuyen

My Dinh Bus Station: 5h45 depart -> 17h45 returnBai Chay bus station: 5h45 depart -> 16h45 return

Each 30 minute, there is a new coach.

Destinations: Ha Tu - column 6 - Nguyen Van Cu - Cao Thang - Loong train - Bai Chay bus station - Inner Uong Bi - Mao Khe station - Dong Trieu center - Restaurants 559 Chi Linh - Bac Ninh - Thang Long bridge - My Dinh bison and vice versa.

Price: 100 000 VND

Quy Ngoc

Luong Yen Bus Station: 5h30 depart – 11h30 return.

Price: 100 000 VND

Sinh Thanh

Luong Yen Bus Station to Cam Pha : 5h30 depart - 11h30 return, 3h20 departs – 12h15 return.

Price: 100 000 VND

Duc Phuc

Luong Yen Bus Station (Hanoi) to Tien Yen Bus Station (Quang Ninh)

Departure time: 10: 30

Arrival time : 15: 30

Kim Lien

Ha Noi -> Quang Yen

Departure time: 13: 00

Arrival time: 15: 45

Kumho Viet Thanh

Destinations: My Dinh Bus Station - Hoang Quoc Viet - Co Nhue Intersection - Thang Long Traffic Station - Bac Ninh Flyover - Yen Phong Bridge - New Bus Stations - Phap Lan - 3 Da Do Red Cross - 99 Thanh Quan - Dong Trieu - Mao Khe - 3 junction to Hai Phong - Uong Bi - Bai Chay bus station - Loong Toong gas station - Hon Gai bus station - Cam Pha

Departure time: 5: 30 -> 17: 30 (Consecutively each 30 minute)

Ka Long

Departure time:

From My Dinh Bus Station: (19: 00, 19: 30, 20: 30, 21: 30)

From Mong Cai: (18h00, 19h00, 19h30, 22h00, 22h40)

Tuyen Nam

Departure time

Giap Bat Station (Hanoi): 14: 40 Cua Ong (Quang Ninh): 7: 15

Hoang Long

Nuoc Ngam Bus Station (Hanoi) -> Cua Ong (Quang Ninh): Consecutively from 5: 00 to 19: 00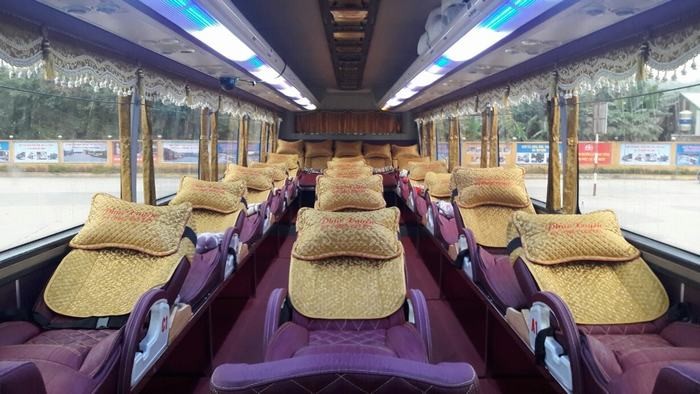 Phuc Xuyen bus
Halong Bay is surely one of the best destinations to be in Vietnam. The visitors who come here for their holiday will surely have valuable and fond memories of this place as well as Vietnam. Remember to arrange the correct transportation service for yourself and your loved ones, and if you want to experience some local culture, by all means, please try out the buses in Vietnam. Hopefully, you will be able to remember Vietnam as a friendly and beautiful country, so that in the near future, you will have the urge to come back here to experience everything one more time.
Hopefully, you will be able to enjoy your time in Halong Bay as this is one of the most memorable places to be in Vietnam. Visit our website to get more information about Halong and leave any questions. Share this article with others if you find it helpful. Thank you!