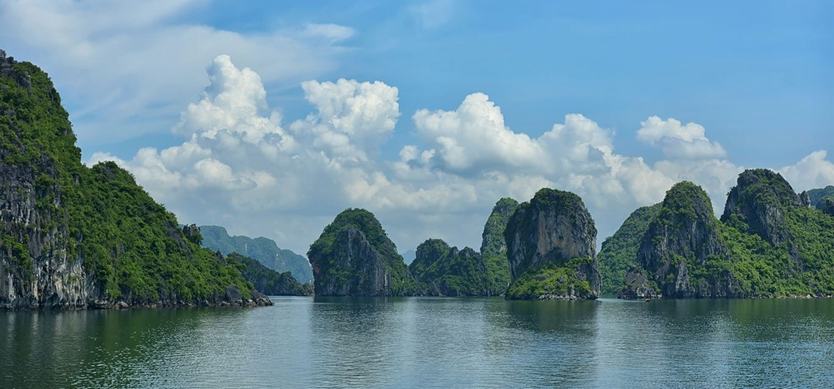 Coming to Halong Bay right now, there are some things that you should consider before booking a trip in Halong Bay this summer.
It will not hurt to be prepared a little before coming to one of the most beautiful bays in Halong Bay.
But make not a mistake, because Halong Bay is not your peaceful destination!
Top 9 common questions when traveling to Halong Bay
When should you visit Halong Bay?
What to bring to Halong Bay?
What is means of transportation?
Where to stay in Halong Bay?
Should I try cruising in Halong Bay?
Where to eat in Halong Bay?
What to see in Halong Bay?
Where to buy seafood?
Should I take food to the bay?
1. When should you travel to Halong Bay?
Halong is a part of the Gulf of Tonkin, where there are four distinct seasons, especially winter (from November to March). The weather is very cold and summers (from April to October) the weather is very hot. You can travel to Halong at any time, but it is best from April to October and from December to February. In winter, the weather may be a little cold and cloudy so it is not suitable for sightseeing.
2. What to bring to Ha Long Bay?
Before you travel to Halong, you need to prepare some things such as sunscreen (with an SPF of 30 or more), shower gel, shampoo, eye drops, sunglasses, towels, swimming goggles, swimwear, shorts, wide-brimmed hats, casual clothes with thin material, cooler, slippery slippers ... If you have children to accompany you need to bring more float, float chairs, snacks, drinking water.
If you are a frequent traveler, take a suitcase of high quality, but the suitcase must be large enough to store clothing, personal items from 2 to 5 days. Be sure to bring raincoats and sun umbrellas in case the weather changes abnormally.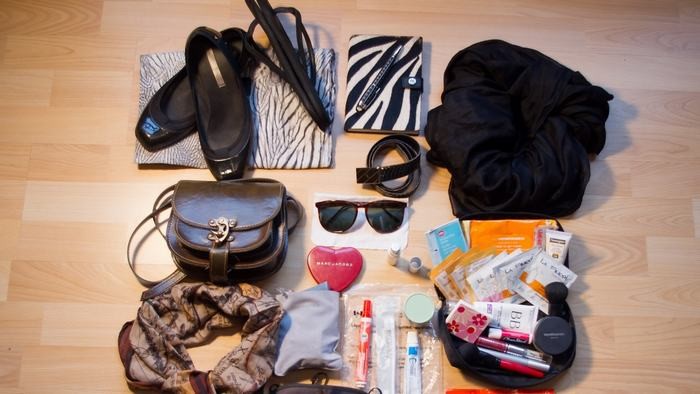 Personal items to bring
3. What is the route and means of transportation?
The means and route of Halong tourism depends a lot on preferences and economic conditions.
If you are in Ho Chi Minh City, you can take the train to Hanoi and then from Ha Noi to Halong by bus. Another option is to take a bus from Ho Chi Minh City to Haiphong and then to Halong. Going this way saves money but takes too much time. If you have the economic conditions can take the plane from Ho Chi Minh City directly to Haiphong or fly to Hanoi and then take the car to Halong City.
4. Accommodation
Hotel service in Halong is very highly-developed so finding a getaway is not too difficult. The 3-star hotel is priced at 474,000 dongs per day, 4-star hotel is priced from 1-2 million, 5-star hotel is over 2 million.
For an easy rent, you should book early in the week or midweek, according to the experience of many people, from Friday to Sunday weekly, Halong often crowded so the price is often raised at this time. Therefore, please make a reservation before arriving in Halong.
If you are economically able to choose a 5-star hotel, although the price is a little expensive the quality and service will make you feel more comfortable.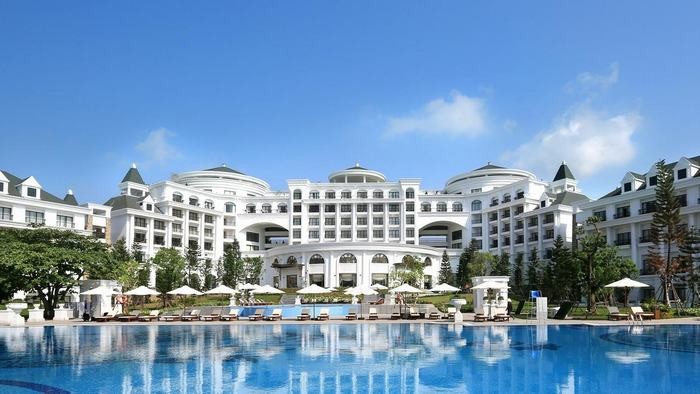 Luxurious hotel in Halong
5. Experience cruising on Halong Bay?
Today, Halong Bay nightlife on the bay is not only the favorite experience of foreigners that the domestic customers also choose this luxury. This experience will give you the freshest feeling. On the voyage, you will admire the beautiful Halong sunset or sunrise, join the kayak, bathing on the bay, then karaoke, squid when the night falls ...
You can contact the travel agency immediately to book and get the best price, especially in the summer will apply a lot of promotions for the Vietnamese.
6. Where to eat in Halong Bay?
In terms of eating, you do not worry too much because there are many restaurants from high-end to affordable for you to choose when to Halong. At the Halong Wyndham Legend Halong, there are also 3 restaurants serving Asian and European dishes. The dishes are tastefully matched, cooked by the most skilled chefs in Vietnam.
7. Some places to have fun and some entertainment
Halong Bay cruise: The ship will run for hours, long trips, you will be visiting many places, especially caves. If you are interested in this experience then go in the morning for sunshine!
Sun World Halong Park: This is the largest recreational and entertainment complex in Ha Long including Dragon Park, Sword Park, Three-Zone Recreation Area, Sun World, and Food & Shopping. Experience the Queen's cable car and the Sun World, in the Three Gorges
In the evening cyclo sightseeing sea: This is also the new fun of many young people, the price is about 100 thousand if cyclos and coaches are 200 thousand offline!
Bai Chay Bridge: You should come here in the evening, take the elevator on the bridge, the dark sky on this look down will have a different feeling. Elevator ticket price about 4000VNĐ.
Shopping at the night market: Here are selling many fine art items. You can buy these things as gifts for friends, relatives. However, the price is a little high, you can bargain.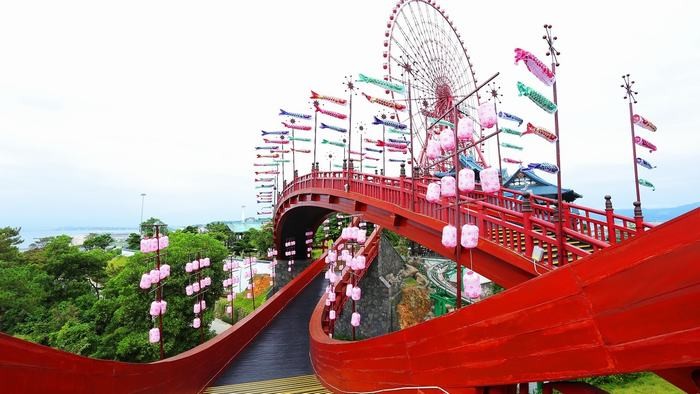 Halong Sun World Park
8. Buying seafood in Halong Bay
Remember to check the balance when buying seafood: The best way is to bring bottles of mineral water about 550 ml. Before weighing and after weighing you put the water bottle up if the correct weight is 550g, then he is the right balance.
9. Should you take some food to the bay?
Do not bring food or drink on the boat to the bay because the fee will be expensive.
10. Other notes
+ Put the trashes inside the garbage bin.
+ Follow all rules of the guide to have a safe, fun trip.
Hopefully, this article will help you have a convenient trip to Halong Bay. If you want to know more about this famous destination, please visit our website. Do not hesitate to contact us if you have any questions. Have a nice trip!