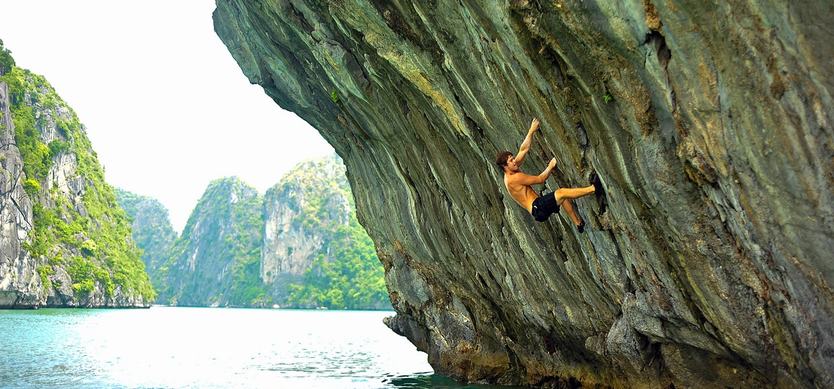 Halong Bay is the top tourist destination for both domestic and international visitors.
Tourists traveling there is not only attracted by the beautiful beaches, the pure air, delicious seafood but also the impressive large limestone mountains and caves.
Conquering and standing on the top of a high mountain is the best way to fully feel the beauty of the Northeast sea of Vietnam.
So, where are the best places to satisfy your conquering desire?
Explore more in the post below!
Where to conquer limestone mountains near Halong Bay?
Poem Mountain
Cat Ba Island
Butterfly Valley
Ben Beo Mountain Cliff
Lan Ha Bay
Poem Mountain (Bai Tho Mountain)
Poem Mountain is about 200m high, located in the center of Halong City. Although this is not a big mountain, it is considered as "the roof of Halong Bay". From there, you can see its important position in this city. It is true to the name "Poem", very poetic and majestic.
You should climb Poem Mountain in the early morning or late afternoon to catch the sunrise and sunset which cover the entire Halong city. The scenery here forms a virtual view that you cannot ignore.
If you want to go to Poem Mountain, you have to pay 10,000 VND to get through the alleys of the households there, then through a stair that is built by the local people. The road to the mountain is about 300m long. There are many rocky areas that make travelers difficult to go to.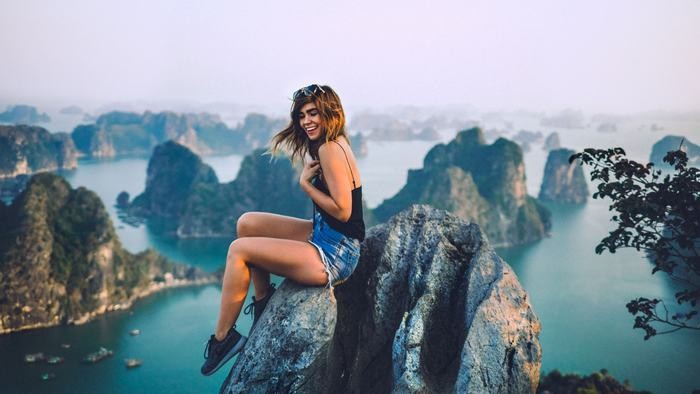 Conquer Bai Tho Mountain
In fact, conquering Poem Mountain is a difficult challenging for many people. If you have reached the top of the mountain, you will have the feeling of endless happiness. You win not only many people, but you also win for yourself. Besides, you can enjoy the wonders of the city from the high view and the sea at the bottom.
Cat Ba Island
Cat Ba Island is located 30 km south of Hai Phong City and 25 km from Halong City. It has been recognized by UNESCO as a biosphere reserve in the world. If you travel to Halong Bay and book a Cat Ba Island tour, try to challenge yourself in the following two sites:
Butterfly Valley
The valley is located in Lien Minh village, where has only 12 houses. It takes 30 minutes to travel to the valley by car from Cat Ba town. Butterfly Valley is still wild and intact the original features that have not been impacted by the human. If you love mountain climbing, Butterfly Valley is the best place on the island. The tranquil nature will make you satisfied.
Mountain climbing fee: 50.000 VND/ person. Climbing with every level and the difficulty level is from 4- 8b+. After finishing your mountain climbing, you should enjoy the local specialties as bamboo shoot because it has a delicious and unforgettable taste.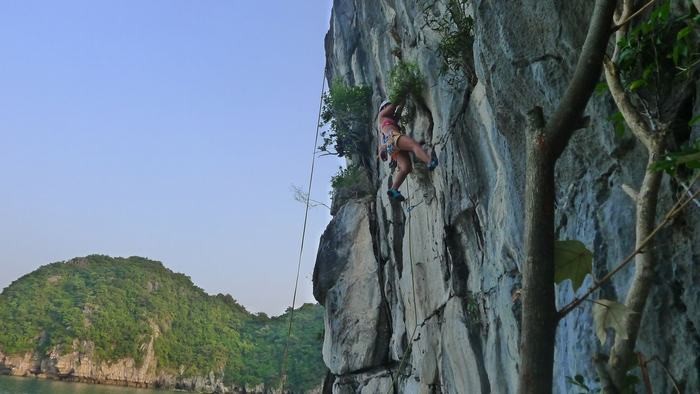 Climbing in Cat Ba
Ben Beo Mountain Cliff
Ben Beo Cliff is located along Ben Beo Port. There are 5 climbing routes with the levels from 7a to 7c +. When you climb the mountain, the whole harbor is in your sight. You can climb in the afternoon or early morning to watch the breathtaking sunrise or sunset. Ben Beo is not far away from Cat Ba town so traveling is easy. It takes only 5 minutes to go there by motorbike and about 15 minutes by bike, or 30 minutes by foot. The entry fee is 60,000 VND.
Lan Ha Bay
Tiger Beach
Lan Ha Bay is located in the south of Halong Bay. Tiger Beach is an interesting climbing place with a lot of surprises. This is the first area to be invested and developed for climbing on this bay. The difficulty climbing level is from 5a to 7c +. You can travel from Cat Ba town to Tiger Beach by boat in 20-30 minutes or by Kayak in 45 - 60 minutes. The ticket price is 50,000 VND. The number of climbing routes is 10.
Moody Beach
Moody Beach is peaceful, uninhabited and near Tiger Beach. You can take a boat or swim for about 10 minutes from Tiger Beach. There are easy and medium climbing levels on Moody Beach so it is convenient for tourists to conquer limestone mountains.
The difficulty climbing level is from 4+ to 6b +. The number of climbing routes is 6. It takes about 20-30 minutes to sail from Cat Ba town and 45-60 minutes by Kayak. The entrance fee is sponsored by Asia Outdoors.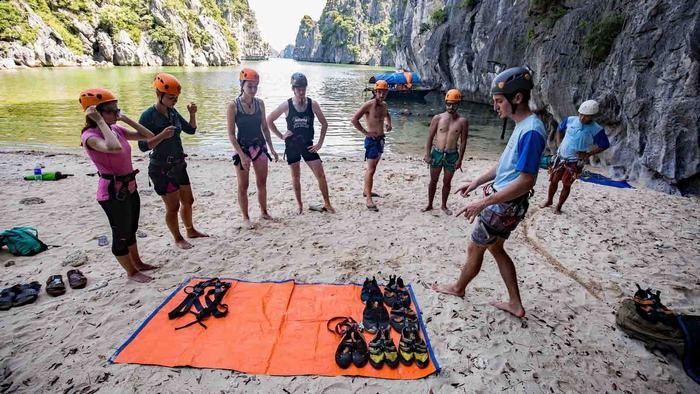 Climbing in Lan Ha
Pirate's Belly
Pirate's Belly is located on the left of Tiger Beach, which can only be reached by boat for 20 - 30 minutes and by kayak for 45 - 60 minutes. Pirate's Belly has two paths, one of which is multi-pitch. The difficulty level is 5 - 7a +. The entry fee is 50.000 VND.
Whatever destinations you choose for your trip, it will give you an unforgettable experience. For more information about Halong Bay tours, don't mind connecting us via our website. Share this article if it's useful to you. Have a nice trip!