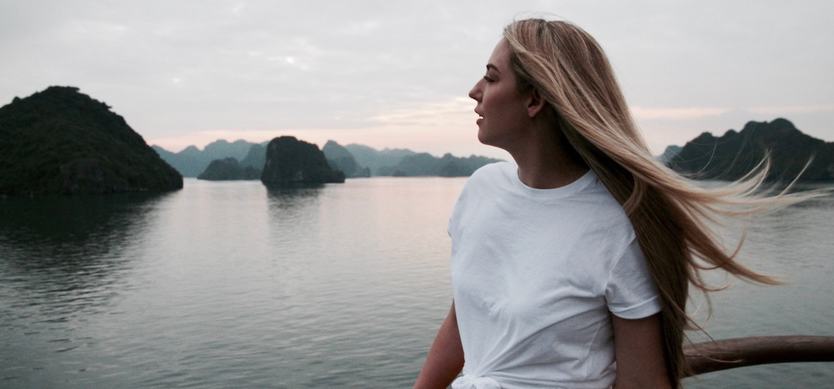 Solo travelers in Halong Bay should remember these tips on how to choose the correct tour for their trip. There are a lot of tours in Halong Bay right now, and choosing the right one might be hard. Luckily, we are here to give you some tips on choosing the correct tour as a solo traveler in Halong Bay.
Traveling to Halong alone
Do you feel anxious because there are no relatives or companion friends, you are afraid of facing the trip alone? Or are you not!
Your beautiful discovery of Halong is sure to bring you interesting things and you can do everything well, you will understand yourself, understand your own interests and abilities. If you are confused, we are always ready to accompany you, willing to become a good listener to listen to your problems while traveling.
Travel alone today is no stranger to the tourists to Vietnam, especially the young. This is a new form of exploration that anyone wants to experience. Halong Bay is recognized as a world natural heritage with full of harmonious natural beauty combined will definitely bring you the most wonderful experience. You will find in Halong Bay a new source of energy and vitality, a new and deeper look at Vietnam, the Vietnamese people in this dear land.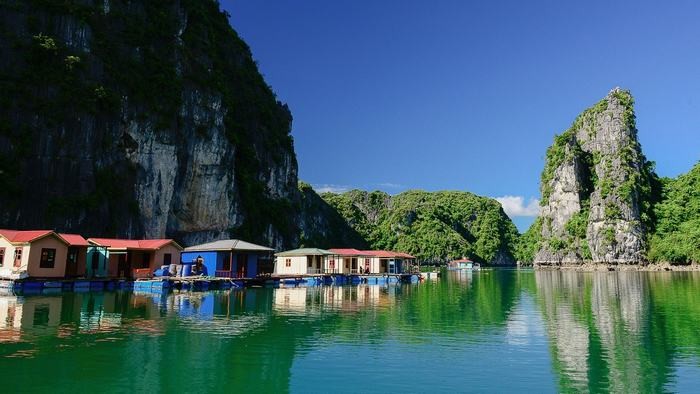 Fishing village in Halong Bay
Come to Halong and experience the life of the people here, you have a comfortable time, meet the local people to live and work with them. You will be visiting the unique fishing villages as romantic Vung Vieng fishing village, Cua Van ... You will find a quiet place on the windy beach with smooth white sand spreading as Three-Fruit, Quan Lan, Van Don ...
Some things to note when traveling alone to Halong
Do not swim in solitary or forbidden beaches.
Leave a detailed schedule for your friends and family about your trip. They can be contacted by brief phone calls.
Pay attention to clothing, avoid going alone in deserted places. While traveling alone, you need to restrain yourself, do not drink too much alcohol - beer.
Remember and save the phone numbers of some essential travel agencies, emergency services, and relatives.
Know what to eat with seafood, avoid allergies and abdominal pain. Bring more medications if needed.
The ideal time to go to Halong is from April to September.
Do not spend all the money in one place, split it and spend it in many places
Bicycle rental in Halong is about 20,000 VND / hr.
Do not forget to bring a camera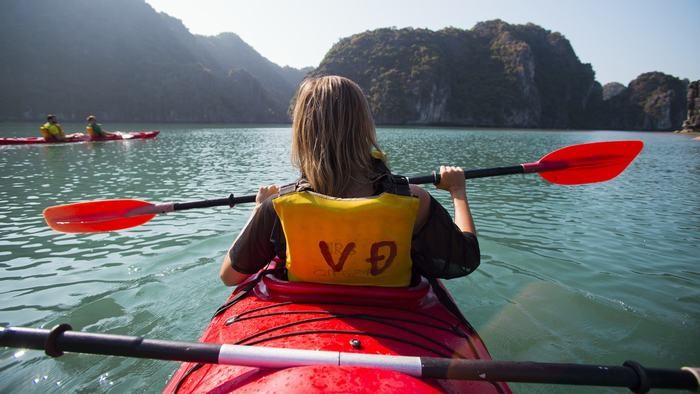 Experience kayaking in Halong Bay
Tips for choosing the right tour
While the couples and honeymooners would want some luxury experiences for a romantic trip, the solo travelers should consider choosing budget tours to reduce the expenses. By reducing the expenses, solo travelers can travel to different places and be able to experience more destinations. Just be sure to double check the price and choose the right kind of tour, because you do not want to spend more than your budget can afford. Also picking tour combos/packages can also be a smart choice, consider the benefits and the value of the packages are usually higher than normal tours.
Coming to Halong Bay as a solo traveler is not an easy thing to do, but certainly, after the articles, you will have a brief understanding on how to choose a tour as a solo traveler. Hopefully, you will have a wonderful holiday in Halong Bay! If you find this article useful, please share with others. You can also visit our website to get further information about traveling to Halong Bay. Thank you!