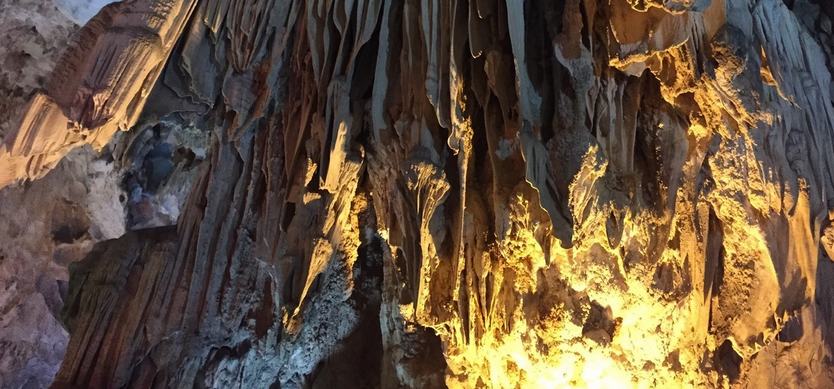 Dau Go Cave (Wooden Stakes Cave) was found on the same name island, about 6 kilometers from Bai Chay Wharf, Halong. This is the biggest and also the most beautiful grotto on Halong Bay. With Halong bay Vietnam tours, you have a chance to discover this majestic cave.
The history of Dau Go Cave
Dau Go Cave was created in Pleistocene epoch around 2 million years ago. The cave is 27 meters above the sea level. The entrance is 12 meters wide and 17 meters high. Inside the cave is a huge space with a size of 5.000 square meters. The height of the dome is 25 meters.
From afar, the cave entrance is a jellyfish look-alike 90 steps stair. Into the cave, a massive system of stalagmites and stalactites resembling stony waterfalls would make anyone feel like being one with nature.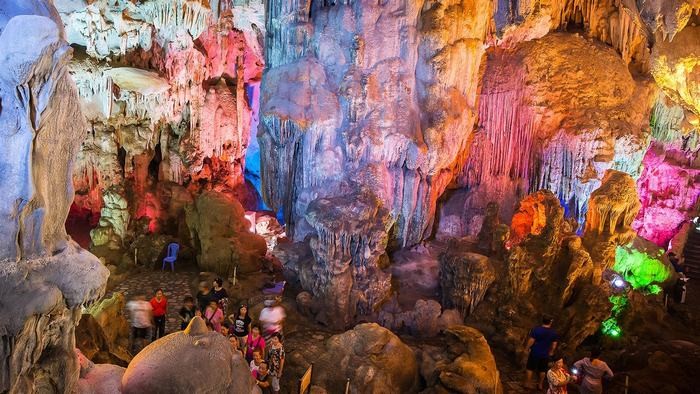 Dau Go Cave
What to explore in Dau Go Cave
The cave has three main compartments. The first area has a curved shape which is filled up by natural light. The celling of this area is a giant oil painting describing primitive landscapes with rows of stalagmites and stalactites changing their color upon the intensity and angle of the light. Many tourists love letting their imagination go wild with all the light reflecting on those stalagmites and stalactites.
Passing the first area by going through a narrow entrance, tourists will get to the second part. It is a little bit lack of light, but it has a more intriguing ambiance of the fuzzy picture formed by the harmonious combination of light and stalactites that stimulate your curiosity but also be a little bit creepy.
There several versions of the story about the cave's name were told by local residents of Halong. One of them is linked with a historic battle against Mongolian invaders under Tran dynasty in the 13th century. The story told that Dau Go Cave was the place hiding wooden stakes before they were driven into Bach Dang River. These stakes created a trap to destroy the enemy's ships. Therefore, the cave then is called "Dau Go" (wooden stakes).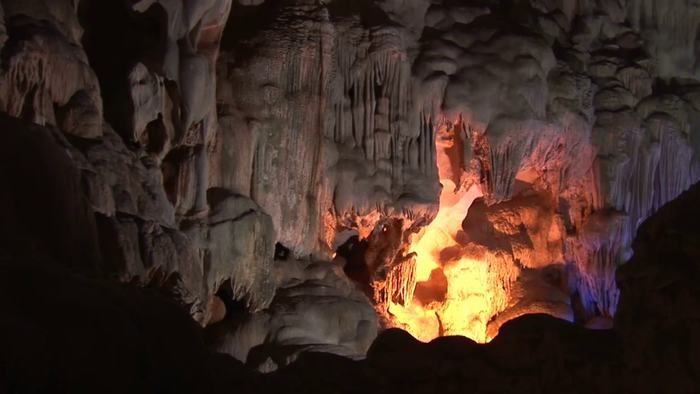 Dau Go Cave
There are also a lot of interesting things to do waiting for you in Halong Bay. Do not hesitate to take a trip there and visit our website to get more information about Halong. If you find this article useful, you can share with others. Have a nice trip!