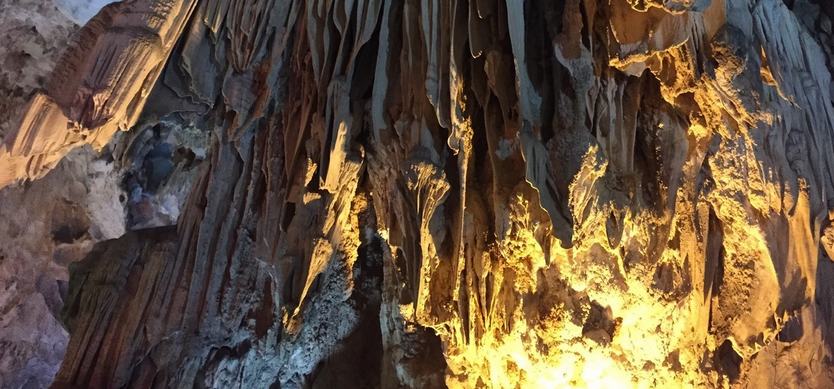 Dau Go Cave (Wooden Stakes Cave) was found on the same name island, about 6 kilometers from Bai Chay Wharf, Halong. This is the biggest and also the most beautiful grotto on Halong Bay. With Halong bay Vietnam tours, you have a chance to discover this majestic cave.
Halong Bay is home to countless mysterious caves inside rocky mountains, including Dau Go (or Wooden Head) cave.
You might think that this name is so normal compared to Paradise cave, Maze cave, or Virgin cave. Dau Go cave has indeed the simplest name among all the caves in Halong Bay, but compared to those spots, it is no less attractive.
With Halong bay Vietnam tours, you have a chance to discover this majestic cave.
You'll find out all the beauty of Dau Go cave in this article. Also, we'll provide the historical story and many more behind its simple name. Let's find out!
Where is Dau Go cave?
Dau Go cave is one of the most beautiful ones in Vietnam, located on Dau Go island, Halong Bay, about 4 km from Bai Chay tourist port.
Dau Go cave is about 5,000 m2 wide. The door is 17m wide and 12m high. The cave is 27 meters above sea level. The name of Dau Go cave is formed in association with 3 different interpretations.
The explanation on the name of Dau Go cave
About the name of Dau Go, there are currently three different explanations.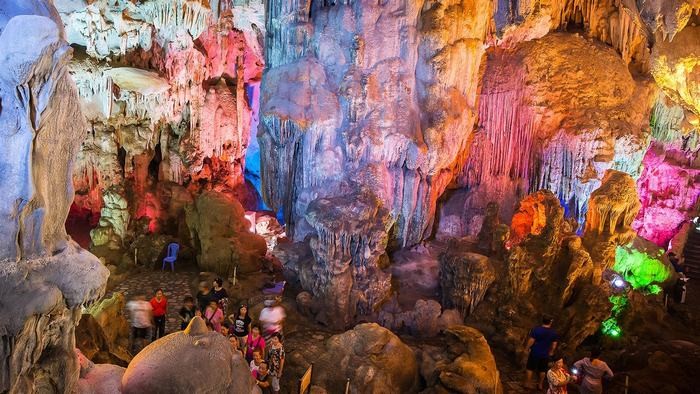 Dau Go Cave
In the first theory, Dau Go cave was originally named Giau Go (Wood Hiden) cave because in the resistance against the Nguyen Mong invaders in the 13th century, Dau Go cave was where Tran soldiers hid wooden stakes before bringing it to place under the Bach Dang River.
In the second theory, Dau Go islands have a quiet area in front of Dau Go cave, so fishermen often gathered here and repaired their boats. Hence, there are many blocks of wood left. Perhaps the name of Dau Go is formed from this incident.
The third theory explains that because Dau Go island is like a giant log from far away. So, based on the shape of the island, people named the cave on the island as Dau Go.
The beauty of Dau Go cave
Dau Go cave is rated as one of the most beautiful caves in Vietnam. Therefore, it's undoubtedly that the beauty of Dau Go Cave really brings to tourists impressive experience on the Halong tour.
Outside of Dau Go cave
Dau Go cave is like gathering an ancient structure community. Coming to Dau Go cave, visitors will really feel the ancient, pristine and extremely quiet beauty. At the cave, there are many stone pillars, small and high stalagmites.
Compared to many other caves in tourist destinations in Halong, Dau Go cave is more unique with a rich flora and fauna system. Due to the wide opening of the cave, the high humidity in the cave, along with the impact of the sun rays, has facilitated the diverse development of flora such as moss, poplar trees, and woody plants, etc.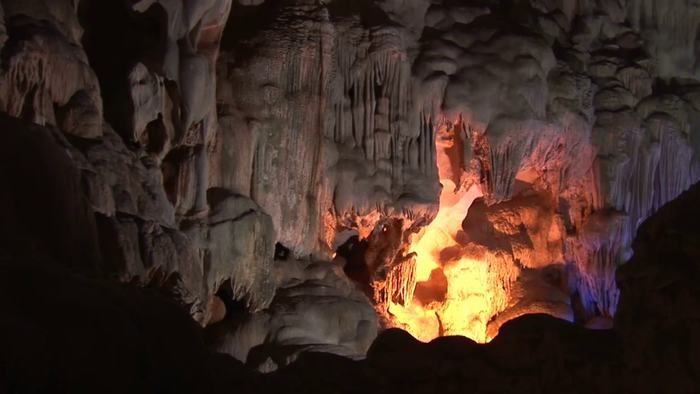 Dau Go Cave
Inside the cave
Discovering the inner beauty of Dau Go cave is truly a wonderful thing. Dau Go cave is extremely mysterious and surprising. Visitors entering inside Dau Go cave will surely feel like they are lost in a fairy-tale place because this place brings an incredibly beautiful scenery.
The structure of the cave is divided into 3 compartments. Coming to the first compartment, travelers will come across many stalactites of all colors. All will bring them the impression of a familiar picture of life with the image of lions, pythons, turtles, etc.
Entering the second compartment, you'll see the image of the rocky islands in the water waves.
At the last compartment, it is the image of giant stone pillars that are pretty and soft.
After taking the time to fully explore the Dau Go cave, you can visit Luon cave tourist spot. Luon cave is a tourist destination quite close to Dau Go cave. This is also one of the beautiful caves in Halong that you should not miss during your Halong Bay trip.
There are also a lot of interesting things to do waiting for you in Halong Bay. Do not hesitate to take a trip there and visit our website to get more information about Halong. If you find this article useful, you can share with others. Have a nice trip!