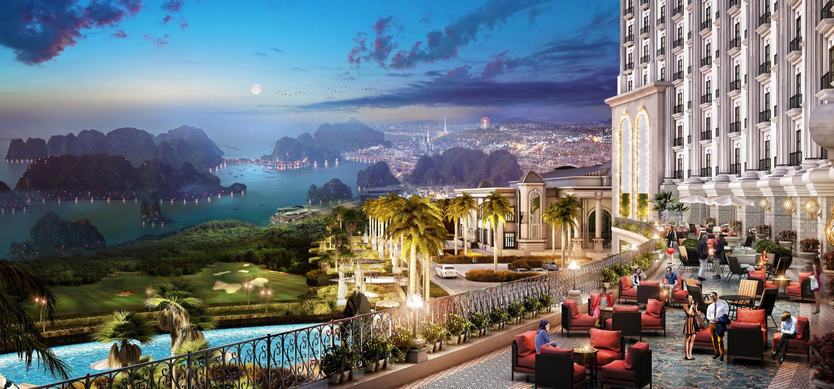 There is no doubt that Halong Bay is always the top choice of tourists when thinking of Vietnam package tours. It offers numerous exciting experiences that will never disappoint you.
So, what are the best hotels to stay when traveling there?
Depending on the reviews of many tourists who have been there on reputable sites, we've picked up the top 5 ones that ensure to bring you the most desirable places and get unforgettable moments.
Check it now!
Where to stay in Halong Bay?
Halong Paradise Suites Hotel
Vinpearl Resort and Spa Halong
Novotel Halong Bay
Royal Lotus Halong Resort & Villas
Wyndham Legend Halong Hotel
Halong Paradise Suites Hotel
Paradise Suites is the first and only boutique hotel in Halong which would be an ideal choice for you. It is ranked based on service quality and amenities because it fully meets the standards of a boutique hotel concept.
Paradise Suites is a 4-star international standard with 158 luxurious rooms that are fully equipped and designed in the cozy European style. The European furniture is exquisitely constructed with the main materials of natural wood, marble, and high-class leather. All spacious suites have air-conditioning, flat-screen smart TV, dark wood furniture and large windows overlooking the sea. There is also a private marble bathroom with an open shower and free toiletries.
Coming to Paradise Suites, you are also served by the friendly and professional staff. Taking quality as a basis, Paradise Suites is proud to bring visitors the most complete experience when coming to Halong.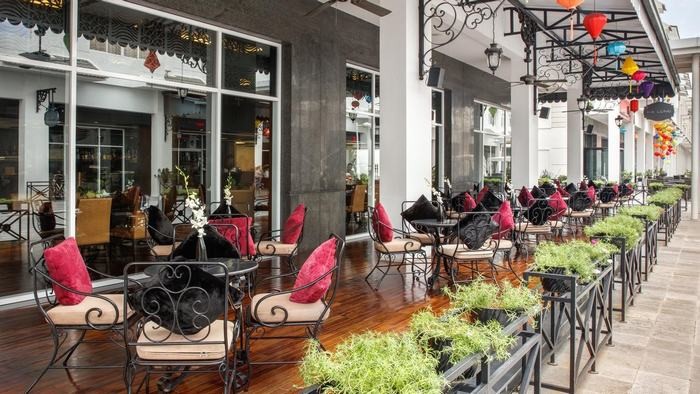 Halong Paradise Suites
Vinpearl Resort & Spa Halong
Located on Reu Island, Vinpearl Halong Bay Resort is one of the best places to stay when traveling to Halong. Covering a total area of 49,600 square meters, the resort is invested with the scale of high-class rooms, a chain of restaurants, the international convention center, the spa area, the gym, and the entertainment area.
The resort includes 384 luxurious rooms from the design to the interior furniture. The hotel area has a private beach, indoor and outdoor pools, and sun terraces. The gym, yoga rooms, and kid's play areas are equipped with many advanced machines and supplies.
Coming here, you can also experience the extraordinary culinary art. The Bayview restaurant serves both Vietnamese and international dishes. Akoya restaurant brings a menu of bold Vietnamese identity mixed with exquisite Japanese cuisine. The Pavilion restaurant gives you the opportunity to enjoy fresh seafood with an attractive BBQ party.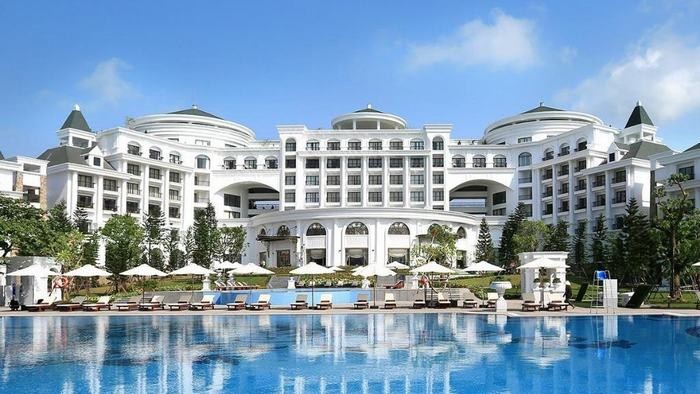 Vinpearl Resort & Spa Halong
Novotel Halong Bay
Another hotel we want to introduce to you in this article is Novotel Halong Bay. Novotel Halong Bay is a 4-star hotel located in the heart of Bai Chay Ward. It offers views to the World Heritage Halong Bay. From the hotel, you can easily get to other famous destinations here such as Halong Night Market or Sun World Halong Park.
Novotel Halong is designed in modern style mixed with the traditional Oriental features. The hotel offers 255 luxurious rooms of which each room is equipped with air-conditioning, personal safe, wardrobe, and a private bathroom with a shower and free toiletries. Some have a private balcony with spectacular views.
The poolside The Square restaurant serves a variety of international dishes. Guests can enjoy views of the pool and Halong Bay while having meals.
The hotel staff can arrange cruise excursions for guests who want to visit Halong Bay.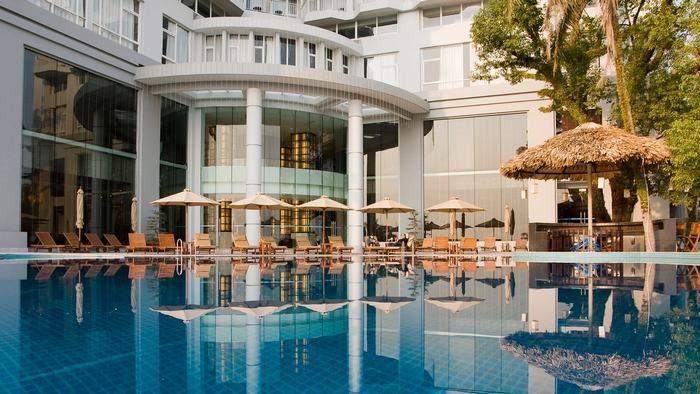 Novotel Halong
Royal Lotus Halong Resort & Villas
Situated at the heart of Halong's busiest sections, Royal Lotus Halong Resort is a good choice for those who are looking for a desirable place to stay in Halong Bay. The hotel is a harmonious combination of the modern Western furniture and warm colors of the East that creates a relaxing space for guests.
Including 500 rooms and 100 villas, each room has air-conditioning, flat-screen cable TV and private bathroom. Slippers, bathrobes and free toiletries are also available.
The hotel also has an outdoor pool, bars serving premium beverages and free private parking.
Wyndham Legend Halong Hotel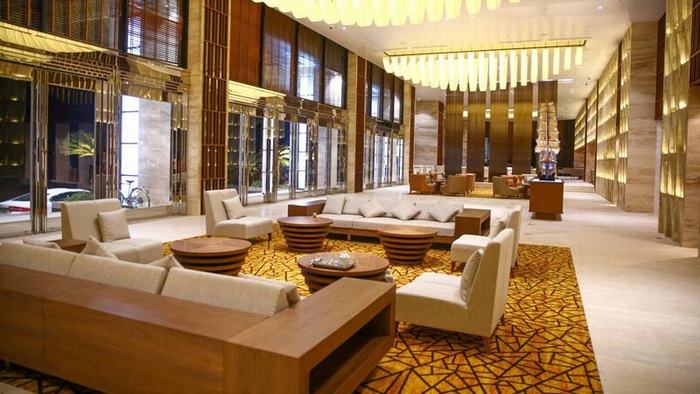 Wyndham Legend Halong
With a convenient location on Bai Chay Beach road, overlooking the World Heritage Halong Bay and Bai Chay Bridge, Wyndham Legend Halong Hotel is accessible to the beach entertainment area. This is the first 5-star hotel in Bai Chay of Wyndham Group.
Wyndham Legend Hotel Halong consists of 217 rooms (23 floors) with modern equipment and furniture. Most rooms are designed beautifully with views of the sea / Halong Bay. The room is equipped with a flat-screen satellite TV, a private bathroom with a bath or shower, bathrobe and slippers. Some rooms also have a seating area.
The Blue Bay Restaurant offers all-day dining with an open kitchen counter serving a variety of authentic Vietnamese dishes and attractive international dishes. Sakara Restaurant specializes in Japanese cuisine with sushi and a private dining room.
The hotel also has an outdoor pool for guests to relax after a long day, 2 restaurants, 2 bars, a club lounge, and a fitness center.
We hope that with our suggestions above, you will have the most suitable choice for your holiday in Halong and get unforgettable memories with your beloved. If you concern more about Halong Bay overnight cruises, you can visit our website. Do not hesitate to contact us if you have any questions. Share this article with others if you find it useful. Thank you!