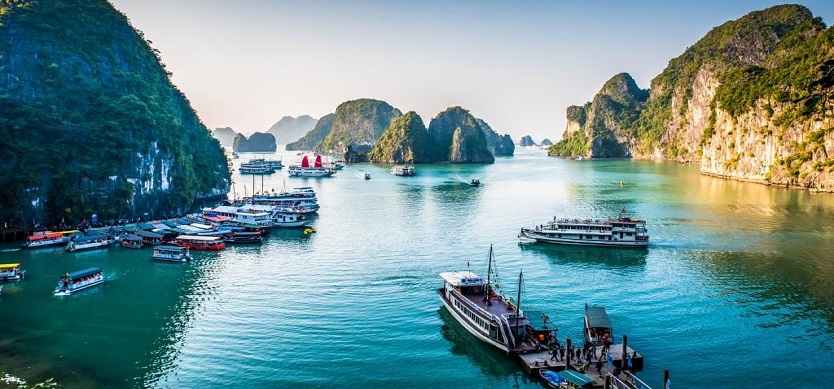 Halong Bay has become the leading tourist destination in Vietnam. If you have a chance to take Vietnam beach holiday, you will know why Halong Bay is an overwhelming spot for the reasons below.
The wonderful scenery
Located in the Northeast of Vietnam, Halong Bay is part of the Gulf of Tonkin, including the sea area of Ha Long City, Cam Pha Town and a part of Van Don Island District. The bay borders Cat Ba Island in the South-West, the East is the sea, and the rest is adjacent to the coastline of 120 km. Recognized as one of the seven world natural heritage by UNESCO in 1994, Halong Bay has been one of the most famous tourist destinations in Vietnam for decades. It is because it has many beautiful sceneries such as Bai Tu Long Bay, Con Coc Islet, Ga Choi Islet, Ngoc Vung island, Ti Top island, Tuan Chau island, Sung Sot cave, Dau Go cave, Thien Cung cave… all create a vivid and attractive picture for Halong Bay, which is not in anywhere else.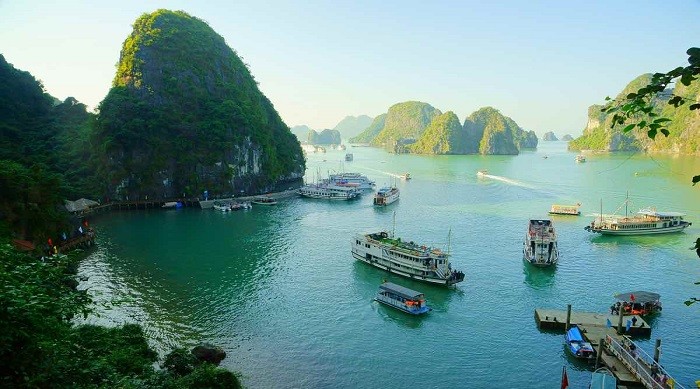 Top reasons why tourists should visit Halong Bay
The marvelous scenery here is marked with pillars, domes and limestone caves. The rocks have been formed by up-down sea level for 500 million years. The bay consists of 1.600 large-small islands but they are mostly uninhabited. According to the legend, the dragons created thousands of large-small islands to protect Vietnam from the invasion.
Developing tourist service
In recent years, Halong Bay has attracted more investment capital, which results in that the material facilities and tourist services develop significantly.
1, Lodging service
Halong is one of the major tourist centers in the country, the number of tourists coming to Halong Bay has been rising significantly each year. Therefore, the lodging service here is getting more and more developed and it becomes an indispensable service which plays an important role in Halong Bay. In Halong Bay, the lodging services are very diverse including hotels, pleasure-houses, lodging houses, private houses and camping on the beach… According to the statistic, the lodging service in Halong today is very attractive and growing. There are about more than 500 lodging hotels with nearly 9000 green-rooms. Many of them are rated stars here. However, coming to Halong Bay in festival occasions, weekends, or peak days, available rooms can be over.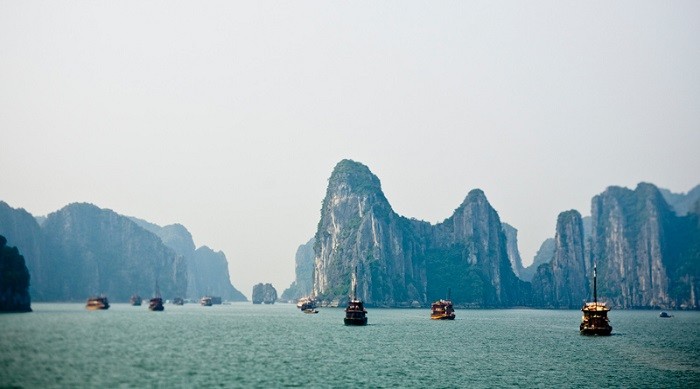 Top reasons why tourists should visit Halong Bay
2, Luxury and delicate yachting service
Being one of the most interesting and attractive experiences in Halong Bay today, luxury and delicate cruises are chosen for tourists to explore this nice bay. Halong cruises are designed modernly with great capacity, full facilities, and attractive services. Tourists will enjoy the space and the most relaxing and wonderful moments in Halong Bay. When using yachting service in Halong Bay, tourists will be used many useful services which seem to be on land only. You can not only relax but also admire the vast open ocean scenery. Not only that, tourists can also use high-class restaurants, sports with exercises – "Tai chi" on the terrace of the sea, cooking classes, and other services such as squid fishing, Kayaking rowing ... All will be fully equipped for visitors.
3, Attractive entertainment service
Along with many interesting tourist services, Halong Bay has a series of special and famous amusement parks for both adults and children. Coming here, tourists can relax and discover the dynamic and fun. Especially coming to Sun World Halong Park – the most modern entertainment paradise in the North of Vietnam will give you amazing moments. With a total area of 214ha, Sun World Halong Park has many interesting games for tourists. The modern game system with an immense space will definitely give visitors a great experience. Besides it, Halong Bay also has many other interesting entertainments on the sea such as yachting, swimming, snorkeling, coral reefs, surfing ... all will be the memorable experience for your holiday in Halong. You can rent a motorbike and double bike to cycle around Halong City. With this experience, visitors can feel the slow pace of life in Halong – an interesting land with blue sea sand and golden sunlight.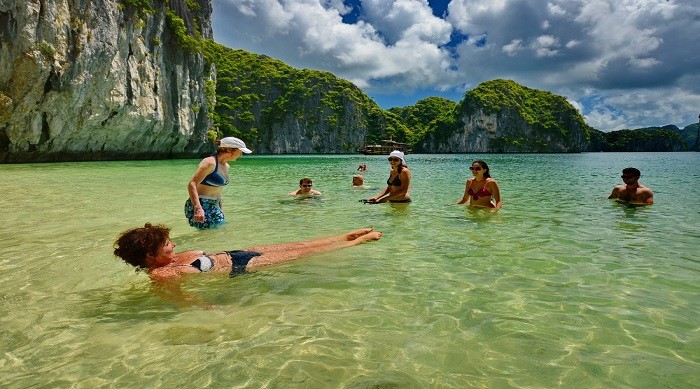 Top reasons why tourists should visit Halong Bay
Fresh and delicious seafood dishes
Halong is dubbed the culinary heaven of seafood in the North. Visitors can enjoy many attractive and delicious seafood dishes with many specific processing ways. Tourists will have a chance to try Cha Muc – squid sausage which is a unique dish in Halong. Besides, tourists can try Sa Sung – peanut worm which is rich in nutrition. Moreover, coming to Halong, tourists can also enjoy many seafood dishes such as shrimps, crabs, fish, oysters…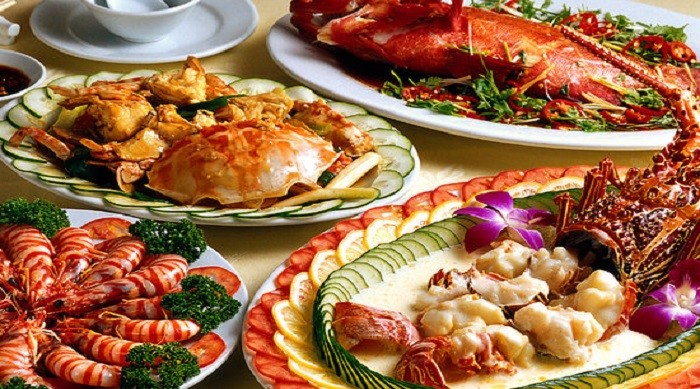 Top reasons why tourists should visit Halong Bay
Hope that after the post, tourists will have useful and necessary information for traveling in Halong Bay. If you need more information, you don't forget to visit our website Halong-bay-tours to get more.