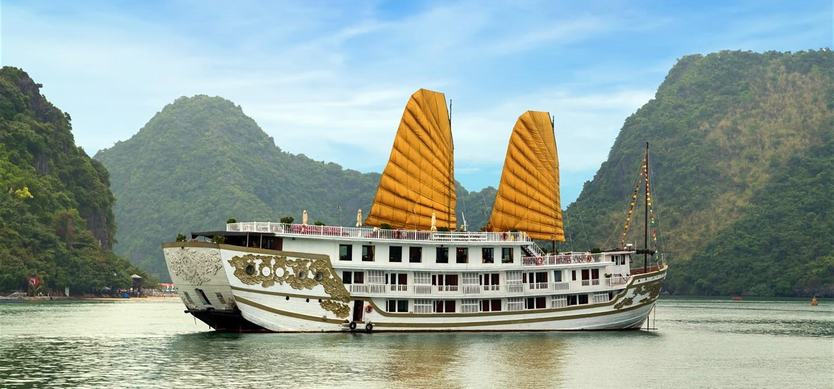 Halong is known as the "must-see" destinations in the north of Vietnam, therefore there are a lot of tourists visiting the place each year.
It is the reason why many tourists complain about fraud or increase service rates of cruises in there.
Therefore, the post will introduce the tips for avoiding scams when booking and enjoy Halong Bay cruises which will help you have an amazing and safe time in the pretty bay.
Useful information
Before taking about common scams and the way to avoid them, you should know some useful and the most important thing.
Halong located far Hanoi about 170km; you can transfer to Halong Bay very easy by car or seaplane. However, the most common way of transferring is a car; you will have to spend at least 2, 5 hours for transferring. Furthermore, if you do not book tour for visiting, you should ask local about the price of staying at a hotel or products before buying. If you have any complains or difficult in Halong Bay, you can contact directly with Bai Chay Tourist Board Port Authority: 02033.846592 or Tourist Information Center at Bai Chay Port: 02033847481
How to rent a cheap cruise?
Visiting Halong Bay by wooden boat is a tourist experience should be in Halong; this is the point that makes the attraction for Halong. In order to rent a cheap boat in Halong, visitors can refer to the following experience:
- Book tour for travelling
In fact, you can book cruise tour by your own quite easy but there are some tourists told that headaches and the most time spent in Halong Bay are probably the tours of the bay. Furthermore, when travelling alone, no visitors are chopped but also have to wait for the train and agreement in advance if they are to join the train will be run. The service onboard is less than Halong boats should you note.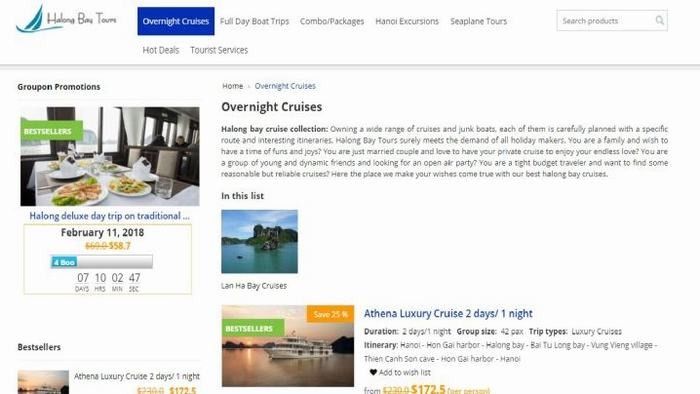 How to book a tour
In addition, following the tour, the company has prepared in advance from the charter, prices and agreed services, so when arriving Ha Long, visitors only need to board and visit. Moreover, following the travel companies, with the mass of people in the delegation, visitors will reduce the cost. Therefore, you should take the tour when taking Halong bay cruise, you can refer to a reputable travel agency like Halong-Bay-Tours.
- Choose reputable cruise
If you still don't want to go with a tour agency, you should try to choose a reputable cruise for travelling. In Halong, there are over 500 cruises to enjoy, therefore, the way to choose a cruise for visiting the bay is the most important things. If you do not choose the truth cruise, you will probably have to pay the price for cruise higher than usual and get bad service. Therefore, you should spend time searching and asking experienced travellers to help you choose the best one to make sure about price and service.
- Choose a suitable time for travelling
If tourists go to Halong Bay during peak days such as weekends and holidays, the price of the boat may be cut higher than normal days. Therefore, you should choose a soft time like weekdays, weekdays to Halong.
How to avoid scams on Halong Bay cruises
In Halong, there are many cruises operating to serve visitors to the bay to visit. The cruises operate unruly, competing fiercely and even cutting mercilessly tourists. Therefore, if you travel alone and want to book a cruise for visiting the bay, you should read experiences for avoiding a bad situation.
First, you have to ask price and negotiate price carefully as well as deal with the ship-owner both onboard services to avoid being disturbed before boarding. In some cases, you should ask ship-owner to write commit about price and service and the boat to avoid changing on the boat. In addition, you also should ask the receptionist in your hotel to help you find a reputable cruise. They will help you contact with a truthful cruise. However, visitors should note, there are many receptionists have agreed in advance with the ship, they will have commissions in this so you should also refer to the price on cruise website to make sure that you do not have to pay price higher than usual.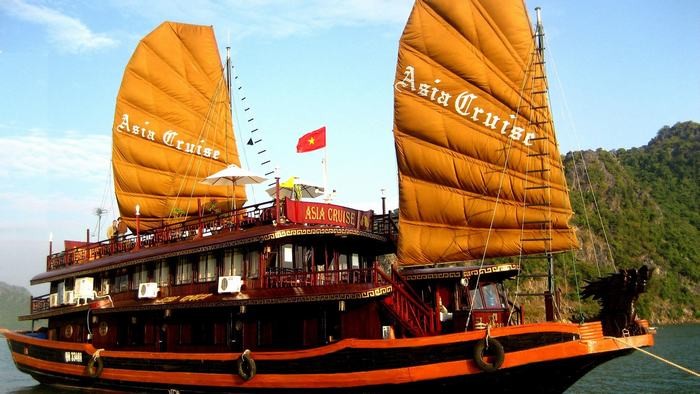 Asia Cruise
Besides that, you can also book a cruise online which will help you get more promotions and choices than a book when arrival. You can search for the cruise tour and visit its website to refer to price and service. In order to make sure that the cruise is reputable, you can read reviews of the cruise on Tripadvisor or some famous travel websites. For example, the reviews of tourists on the website of Halong-Bay-Tours
Furthermore, you don't forget to read out the policy of the cruise in an unexpected situation which is also one of the points to determine the reliability of the cruise. I will take an example from the policy of the real Halong-Bay-Tours for your referring:
Cancellation from travellers
For most of our tours, once a tour is confirmed and fully paid but for one reason they cancel the tour, the following charges will apply in the event of cancellation prior to tour commencement:
- More than 30 days before arrival: No charge
- 15-30 days before arrival: 10% of total tour price.
- 7-15 days before arrival: 50% of total tour price.
- 4-7 days before arrival: 75% of total tour price.
- Within 3 days before arrival: 100% tour price.
Notes:
There will be no refund given for any unused or missed ground arrangements, sightseeing, meals or hotel accommodations.
For no showcases, there will be no refund.
All cancellations must be in person or in writing and received by Halong Bay Tours
Children discount:
Under 4 years: Free of Charge.
From 4 to under 8 years old: 50% of adult's fare and sharing bed with parents.
From 4 to under 8 years old: 75% of adult's fare and using his own bed (on request)
Over 8 years old: 100% of adult's fare and using his own bed.
Privacy policy:
Personal information about you such as name, address, phone number, or email address is subject to our Privacy Policy. We are committed to protecting the privacy and security of any personally identifiable information you provide us.
Your personal information will not be released unless the law permits it or your permission is granted.
In addition, absolutely, you do not buy tickets for predators or taxis, motorbikes because they are very vulnerable to tigers, and hire a boat that is not reputable and poor quality.
Note the services on board
Services in cruises are quite rich, but you should ask the price of any service which you want to use before choosing. Furthermore, if foods and drinks on the cruise do not include in the price of the cruise, you should pay attention because almost foods in cruise are quite expensive. Moreover, if you want to dine on the boat, you must make arrangements in advance with the boat owner and the price. Ask prices for seafood on board and ask for processing. Guests are well informed before proceeding. However, if you book cruise tour through an agency or luxury cruise, they always have breakfast or lunch including the price of the cruise.
Hope that after the post, you will have useful information when book cruise in Halong Bay and have an amazing and unforgettable time in the beautiful bay. If you need more advice or information, you don't hesitate to contact us.