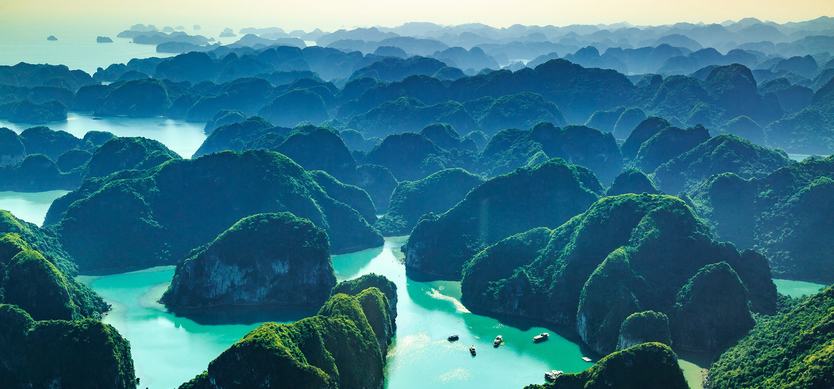 Being the most attractive destination in Vietnam, Halong Bay is an ideal place to spend your holiday.
Not only is it famous for breathtaking landscapes, but Halong is also well-known for its biodiversity. If you get the opportunity to take Hanoi - Halong 3 day tour, take your time to explore the ecological system in Halong Bay.
Halong Bay Biodiversity
At the ecological level of Halong Bay, it can be divided into two important ecosystems: closed evergreen tropical rain forest ecosystem and coastal marine ecosystem. For a closed evergreen tropical rain forest ecosystem, scientists have identified over 1,000 plant species on the islands of Halong Bay wildlife.
According to statistics, closed rainforest tropical forest ecosystems in Ha Long Bay and Bai Tu Long have 477 species of Magnolia, 12 species of ferns and 20 species of mangrove plants, four species of amphibians, ten species of reptiles, 40 species of birds and 14 species of animals. Based on vegetation types and forests, scientists divide the tropical rainforest ecosystems in Halong Bay into four main types: rainforests on rocky mountains, shrubs on high drylands rocks, mangroves, and plants in rocky caves.
For Halong Bay marine life and coastal ecosystems, the richness of biodiversity is evident in the six typical ecosystems. Specifically, tidal and mangrove ecosystems are distributed in Halong and adjacent areas with 20 species of mangrove plants. According to statistics, the mangrove forest in Halong Bay is home to 169 species of the silkworm, 91 species of seaweed, nearly 40 species of birds, ten species of reptiles and many other species.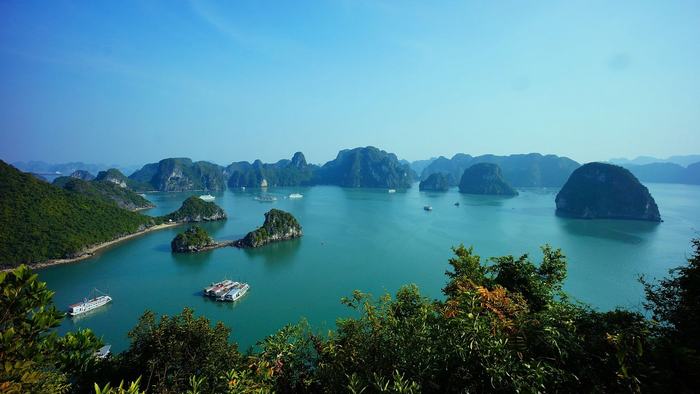 Stunning view of Halong Bay
Halong Bay marine life is also divided into the hard-bottom and soft-bottom ecosystem. Hard coral reef ecosystem - one of the characteristics of Halong Bay - is the ecosystem with high ecological productivity, helps clean water environment, concentrated in Hang Trai, Cong Do, and Van Gio areas. The coral reefs here usually have the type of shoreline, the outer reef surface. At present, Halong Bay has 232 species of coral. Halong coral reefs are home to 81 species of abdominal legs, 130 species of bivalve mollusks, 55 species of silkworms and 57 species of crabs.
The soft-bottom ecosystem is an ecosystem of seagrass populations. Seashells in Halong have five species that can break the waves and clean sea water. It is also the preferred habitat of 140 species of seaweed, three species of the silkworm, 29 species of mollusk, nine species of crustaceans. Tidal flora without mangroves is usually distributed in low zones, with two species of mollusks and sea worms with the high nutritional value such as peanut worms, sea cucumbers, oysters and clams.
One of Halong bay rare creatures is cave ecosystem and "and" and "tung," which are hard to find in anywhere else. "Ang" is the reservoir, located between the islands. These are the natural conditions that create particular ecosystems that increase the Halong Bay biodiversity.
Bai Tu Long National Park
Bai Tu Long National Park is located in Bai Tu Long Bay, Van Don District, Quang Ninh Province. With a total area of 15,783 hectares, of which the forest land area is 6,125 hectares with more than 80 islands divided into three main islands: Ba Mun, Tra Ngo, and Sau. The water surface is 9,650ha. The fauna and flora species living in the forest and sea areas of Bai Tu Long National Park are vibrant, rare and valuable in gene conservation of Bai Tu Long natural reserve.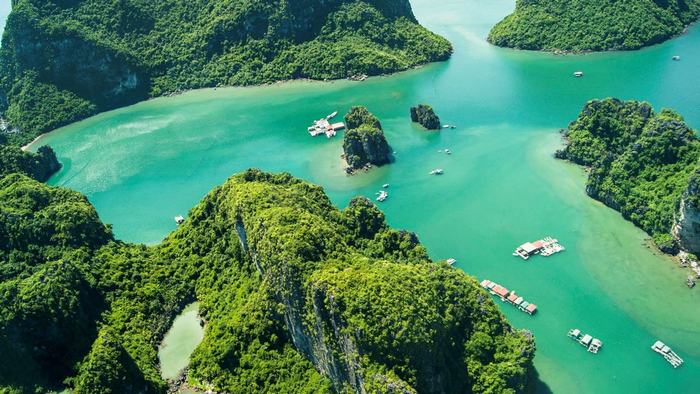 Bai Tu Long National Park
Bai Tu Long National Park is a complex of ecosystems that are full of mountain ecosystems, limestone karst and cave ecosystems, marine ecosystems (including coral reefs, seagrasses, and floodplains). Salty). These ecosystems have created an entire habitat complex for the whole area. Bai Tu Long natural reserve is the unique case of the national park system in Vietnam as well as in the world where there are all three typical and untouched ecosystems.
Cat Ba National Park
Cat Ba Natural Reserve is a world biosphere reserve with a combination of different ecosystems: Montane evergreen forest, coastal mangroves, coastal waters, coral reefs and cave systems with distinctive habitat for bats and cuckoos in the middle of valleys. Cat Ba National Park is one of the key conservation areas of Cat Ba.
The botanical composition has 741 different species, many kinds of precious wood such as lobster, sliced flowers, limewood, needles, white knuckles, banquets which only can find in the Himalayan mountains.
With the biodiversity, the Cat Ba Natural Reserve has been officially recognized as a World Biosphere Reserve by UNESCO at the International Council on Human and Biosphere Program Co-ordination in Paris, 10/29/2004.
For more information about Halong bay cruises, please visit our website. If you have any questions, feel free to contact us. Share this article if it's useful for you. Have a nice trip!