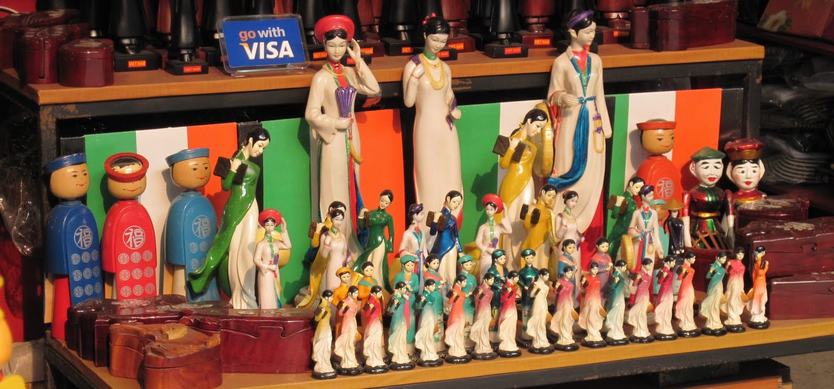 Apart from the beautiful landscape and rich traditional culture, Vietnam still has meaningful items that you see is to recall Vietnam.
Here are the top 10 Vietnam souvenirs to bring home for tourists we recommend to you.
What to buy as souvenirs in Vietnam?
Ao dai
Conical hat
Wood clogs
Folding fans
Ceramic products
Vietnam embroidery
Silk
Coffee
Salted/sugared dry fruits
Do paper
Ao Dai
It is recognized as a national costume of Vietnamese women; ao dai is a tight-fitted long dress worn over long pants. Though the shape and style of ao dai have been changed over the years, it is still being used by Vietnamese women. It is often worn in the special events, occasions like wedding, Tet occasion, etc.
The white ao dai for the female students becomes one of the beautiful images of Vietnam in the eye of international friends. So it is the favorite Vietnam souvenir you should consider buying as a gift for your women when taking Vietnam Highlight 11 days.
Non La (Conical Hat)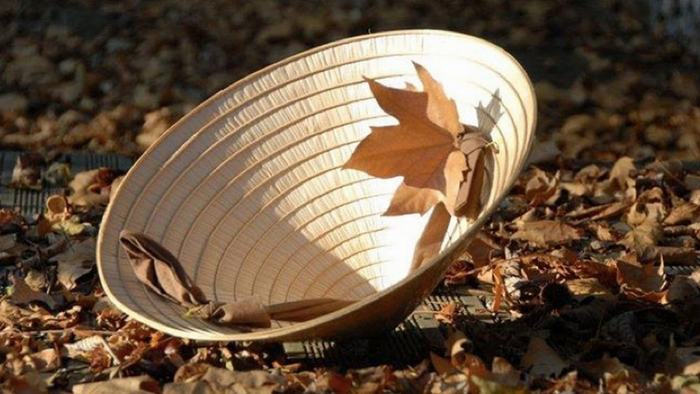 Vietnam conical hat
It is called a leaf hat or non la, which is the traditional hat of Vietnam for both men and women, but now it is mostly used for women. Non la is a symbol of Vietnam involving in ao dai. No one knows when non la was born, but Vietnamese people have used it for generations, and you can see its images on drums as old as 3000 years.
Because Vietnam is a tropical country, so it is necessary to use non la as an umbrella during rains and sun protector in summers. The conical hats are available i1n every Vietnam local markets so that you can buy it as a special gift of Vietnam.
Guoc moc (Wood clogs)
Guoc Moc or wooden clogs are traditional footwear for both genders in Vietnam. Vietnamese women often wear these with the traditional ao dai to stand out the shape of their body as well as add to their gratefulness. Now between the variety of high heels and sandals, it seems to be faded away, but you can still buy these at some traditional market in Vietnam.
Vietnamese embroidery
This art passes down from generation to generation; embroiders in Vietnam make use of Chinese techniques. Nowadays, the center of Vietnam embroidery is in Nha Trang, so you can find a museum in Nha Trang to see and learn how to make beautiful embroidery. It is bound to amaze you. So, if you are on a Vietnam trip, remember to buy at least one embroidered piece from there as a gift of Vietnam.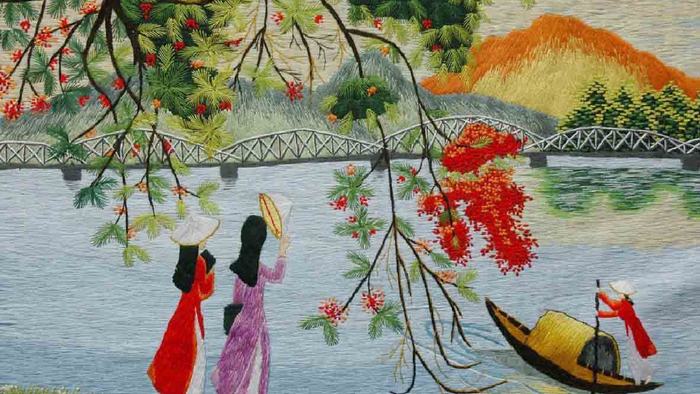 Vietnamese embroidery product
Hand fan
In the past, the hand fan is an essential item in any house of Vietnamese people, and it is used to cool off in summer days. Nowadays, many older people still use it, but you can see colorful hand fans in a lot of traditional Vietnamese dances. There are two primary materials to make a classic hand fan, which include paper and bamboo frame, people can use the other fabrics to decorate it more beautiful. Why don't you pick up a vivid hand fan to remind yourself of an elegant Vietnam?
Ceramic products
Ceramic is easily found at every corner of Vietnam, but it doesn't mean that we recommend you to buy a brick to bring home. There are so many types of ceramic products that you can buy as a thoughtful gift for a Vietnam journey such as a ceramic vase, lacquer vase or cute statue, etc.
It is a good idea to visit the traditional ceramic shops to learn how to create a ceramic product and choose one for yourself. After finishing your product, you can paint it on your own. It is so interesting. The cost of this Vietnam souvenir is affordable, so it is worth buying this Vietnam great product for your friends and family.
Ceramic products
Silk
It is one of the most common materials used daily by the locals; you can quickly meet the shades of silk in a scarf, paintings and many kinds of traditional costumes in Vietnam. The silk of Vietnam is made in conventional handlooms at gorgeous patterns, along with unique colors and sizes.
Tourists buy woven silk or products made of silk everywhere in Vietnam, but it is highly recommended for Hoi An city – one of top 10 best places in Vietnam or Van Phuc Village in the suburb of Hanoi. Silk in Vietnam is well-known for brilliance and lightness. Let's buy one for yourself when traveling in Vietnam.
Coffee
Vietnamese coffee is famous for its distinctive style and exceptional taste when the local people love to put milk instead of sugar into strong coffee. Therefore, tourists can enjoy Vietnamese coffee in the coffee shops of Vietnam; there are some big coffee brands in Vietnam for your consideration such as Trung Nguyen, Highland coffee, etc. If you decide to buy coffee as a gift in Vietnam, you should consider carefully to have the best coffee. The best coffee is the original ones called dried coffee beans.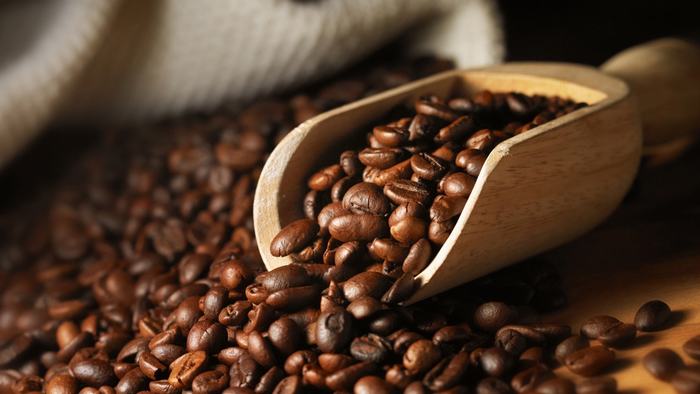 Vietnamese Coffee
O Mai (Salted/Sugared dry fruit)
In the beginning, this was used as a medicine in Vietnam. But thanks to its pleasant taste, people start to eat it as a snack. The main ingredients of O Mai are fresh fruit such as plum, lime, peach, etc. There are a lot of flavors of O Mai with sweet, sour, salty, spicy.
If you are wondering of things to bring back from Vietnam, this is the right choice for you to bring the taste of the East to home. It will make a great gift since it is easy to carry, hard to go off.
Do paper or the Vietnamese traditional folk painting
Do paper is made from the bark of the Do tree, which is a kind of wild tree commonly found along the bank of rivers. It was the highest paper quality before the new paper came. The process of making this paper is very complex, which takes up to three months. Nowadays, Do paper is often used to make the beautiful traditional folk paintings such as Dong Ho folk painting, Hang Trong folk painting, Lang Kinh folk painting, etc. It is also not a bad idea to bring one to your home.
Vietnam is welcoming you by all its faith and hospitality. If you need further information about the Vietnam souvenirs, please contact us at Halong bay cruises. Have a good trip.