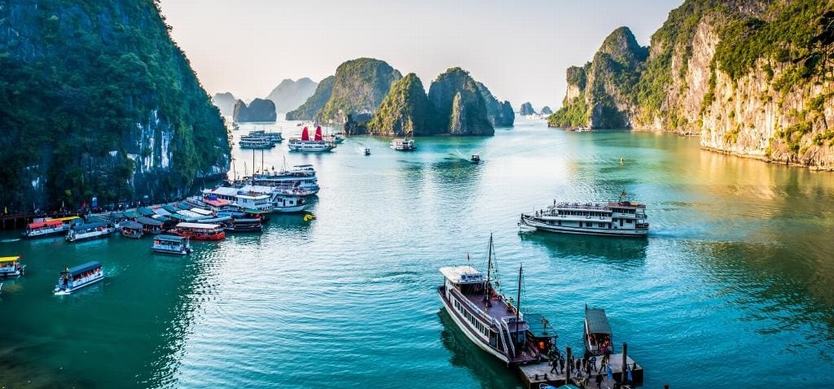 Suggested itinerary in Halong Bay for a 1-day trip. Visitors who come to Halong Bay usually should stay in Halong Bay for 1 or 2 days, depends on the time. Follow this itinerary for an organized trip in Halong Bay, Vietnam.
Useful information
Hanoi is 170km away from Halong, takes 3-4 hours to move.
The fare from Hanoi to Halong takes about VND100,000 to VND200,000.
Take tour ticket price about 700,000 VND - 850,000 VND / person.
Need advice on services, you can ask the tour guides
The tour will be covered with meals, rest.
Arriving in Halong
Passenger car: you can take out cars in Hanoi as Gia Lam, My Dinh ... to catch the car to Halong. The bus ticket is only from 100,000 VND - 200,000 VND / person depending on the type of car you choose is the seat or bed, the travel time takes about 3-4 hours, with the main route is Hanoi - Hai. Duong - Hai Phong - Bai Chay.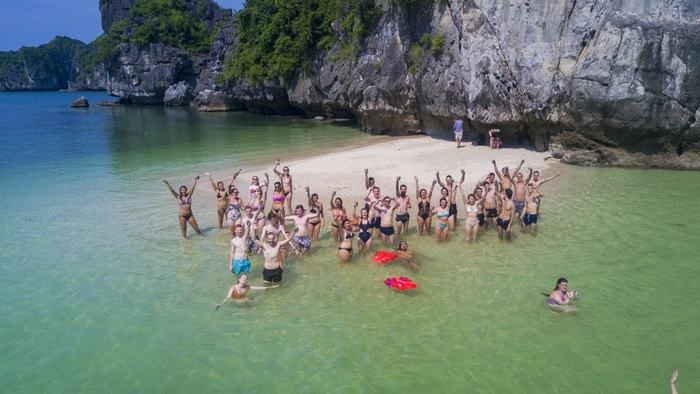 Swim in Halong Bay
Some famous car agents:
Southern Bus: 0168 329 2559
Phuc Xuyen Bus: 0333 66 33 66
Duc Phuc bus: 0936 359 111
Viet Thanh Kumho Car: phone 0437689874
Or you can choose to travel by train to Halong with high-class Halong Express. The train departs from Gia Lam station of Hanoi at about 7h05 minutes to Halong about 12h. The average price is 100,000 VND. You can also experience Halong Bay by means of seaplane - the most luxurious and modern means of transport with the average price from 5 million to 7 million.
Personal transport: Many people want to try their own adventure, so they choose a motorbike. But for personal vehicles traveling long distances, you need to ensure absolute safety for yourself.
Where to rest?
Only with a 1-day tour of Halong, the resting place is quite simple. Maybe the group will rest at the restaurant has been arranged after eating lunch is complete, or can also rent cheap hotels but still have good quality, full facilities, modern equipment. meet the needs of visitors. Hotel prices are about 200,000 - 400,000 VND / room.
However, with the schedule of Halong tourism one day, often will not rent a hotel because it costs money and time. The rest of the day is quite simple. Guests can enjoy time to visit for their delight in Halong.
What to eat?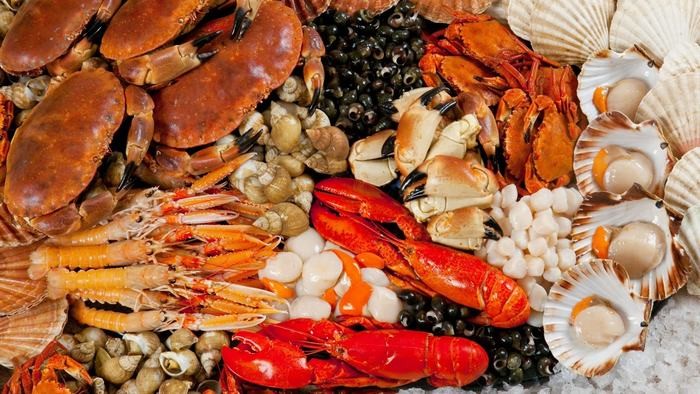 Must-try seafood in Halong Bay
Halong cuisine is very diverse, rich and very attractive. Going to Halong, you definitely have to enjoy the food here to know their flavor, along the city of Halong has many famous restaurants that you can not ignore. The food here is mainly raw seafood is fresh, delicious and nutritious seafood, especially as the dishes are made from squid, shrimp, crabs, clams, fish ... in restaurants such as Sea Food, Noodle Restaurant, Thien Ly Restaurant ... Do not skip meals while you are here!
Halong squid is delicious pepper price about 300,000 to 400,000 VND / kg.
Sung San Halong - rare dishes of this place for about 3-4 million / kg.
Grilled squid from VND 30,000 to VND 70,000 / dish.
Where to go?
Coming to Halong, visitors will not have to worry that they will play in any place because this is a popular resort in North Vietnam with countless places to enjoy.
Bai Chay: this is the leading resort of Ha Long with attractive and exciting sea travel service, the year-round average temperature is only about 20 C, extremely cool weather is very suitable for vacation.
Tuan Chau Island is considered as the most beautiful island of Halong Bay so the number of tourists coming here every year very much. Moreover, there is also the beach of Tra Co with beautiful white sand, the sea games are not very limited interesting.
Co To Island: This is considered to be the retention of the wildest beauty of nature, wild beauty that is very potential to be discovered. The number of tourists to visit is quite no less than Tuan Chau island.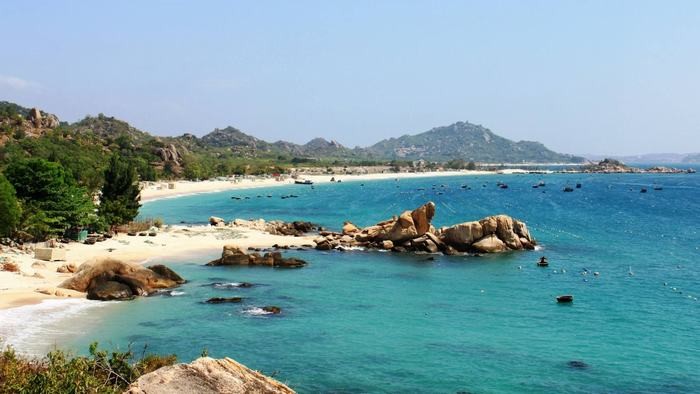 Co To Island
Climbing Bai Tho mountain: Many tourists want to conquer new things in Ha Long so they chose to experience Bai Tho mountain. Bai Tho is considered to be "the roof of Ha Long", and it is also an interesting experience for domestic and foreign tourists. Conquer Mount Bai Tho to help you feel the victory, confidence in yourself. Standing on the top of the mountain overlooking, you can perfectly cover the beautiful city of Ha Long insight, rather than standing below looking around.
Halong tour itinerary (for 1 day)
7:00 AM - 8:00 AM: Car and tour guide tour guide will pick you up at the destination as arranged. On the road, visitors can freely admire the two sides of the road. Especially, to Halong Bay, tourists will be beautiful sea view and feel the cool sea breeze blowing.
12h00: drive to Halong, lunch and rest. Then, hire a boat for about 150,000 per person to the bay to visit Halong Bay. Guests can rent a 4-hour boat to visit the bay to spend some time back to the mainland to explore and shop in Bai Chay.
Visiting Halong Bay by boat, visitors will feel the beauty of the sea, salty but beautiful Halong Bay. The island is undulating, the beach as green jade gradually appeared after the massive stone, the wind of the sea, the salty taste of sea salt as penetrating the soul of visitors ... You also admire the beauty of the fanciful system of caves in Halong Bay, such as Thien Cung cave, Sung Sot cave ... with beautiful layers of stalactite shimmering as a paradise in the middle of the sea.
16h30: Return to Halong Bay. You can agree with the garage to Bai Chay shopping souvenirs, seafood as gifts like Halong squid.
About 18h00: Back to the car to return visitors to the right place in Hanoi and end the tour Halong 1 day.
Hopefully, you will have an amazing time in Halong Bay. Coming to Halong Bay this summer to experience some of the best holiday fun in Vietnam. Hopefully, we will see you again on the streets of Halong City someday!