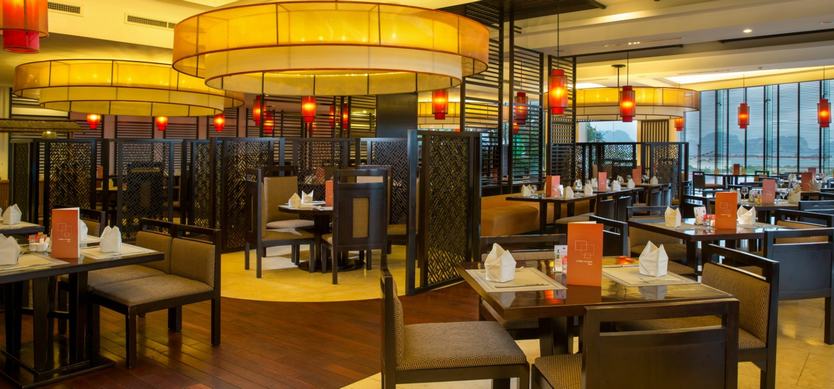 Not only attracts tourists by the breathtaking landscape but Halong also impresses them by its stunning food.
In fact, there are a lot of places where you can enjoy Halong food. But, where are the best ones?
Follow us to find the answer in this post.
Useful information
Halong grilled squid is priced at 300,000 VND / kg.
Sa Sung costs about 3 to 4 million VND.
The sauteed snail is priced at 30,000 VND.
Before eating, look at the price on the menu first.
Must-come restaurants in Halong Bay
Kim Quy Restaurant
Halong Golden Crab Restaurant
Hang Ngu Halong Restaurant
Van Xuan Restaurant
Hong Dang Restaurant
Anh Duong Restaurant
1. Kim Quy restaurant - snail supermarket in Halong Bay
Speaking of one of the famous restaurants in Ha Long, we must mention Kim Quy Snail Supermarket - the most famous brand in Halong specializing in dishes made from freshwater and saltwater snails.
The restaurant is located at 276 Ha Long Street (Cai Dam), next to Bai Chay International Tourist Boat, you can enjoy delicious snacks and beautiful scenery on the Halong Bay here.
The staff here is very friendly. You can trust that this is a destination not to be missed in Ha Long.
One person's service costs about 300,000 VND.
Phone: (033) 3846114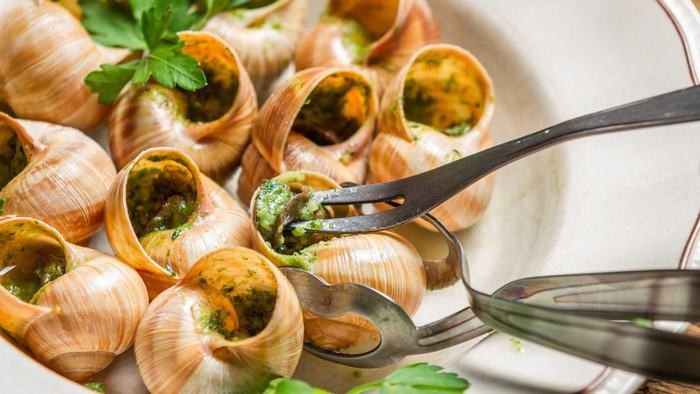 Food at Kim Quy restaurant
2. Halong Golden Crab Restaurant
Halong Golden Crab Restaurant is considered one of the most luxurious seafood restaurants in Halong, you will enjoy seafood in a completely different way. The main seafood of the restaurant is a crab, especially Golden Crab Hotpot. In addition, the crab here is also processed in other special ways such as omelet crab or cooked crab. The elegance of the dishes here is all cooked in a pot with a modern kitchen.
The restaurant is located in the Cat Vang villa area (Cai Cat area), Group 9, Zone 9, Bai Chay Ward, Ha Long City, just 10 minutes drive from Bai Chay Tourist Boat. Golden Crab Hotpot. The restaurant can serve 250 guests at the same time, space here is spacious, luxurious and cozy. In addition, Cua Gold Restaurant also organizes parties on caves or beaches on Ha Long Bay.
Tel: 0333 826 274 - Fax: 0333 626 409
The price of a meal is not less than 500,000 VND.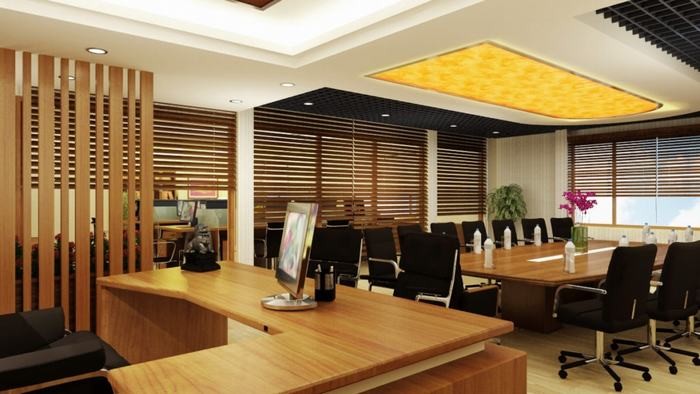 Halong Golden Crab restaurant
3 Hang Ngu Halong Restaurant
Hang Ngu Halong Restaurant is a new member of Huong Hai Co., Ltd, along with luxury yachts like Huong Hai Junks, Indochina Sails, Valentine, Ginger, Jasmine.
The restaurant has a rich menu of Asian, European and fresh seafood dishes of the famous Halong in order to serve the needs of tourists. Coming to Co Ngu restaurant, you can not miss the very attractive dishes with strange shakes, but also enjoy listening to the Shark Micro, French goose liver, French oyster mushroom or leg Bat Bao ...
At Co Ngu Restaurant there is also a very interesting wine list for visitors to choose from. In addition, the restaurant has a bar on the 3rd floor, which is ideal for enjoying delicious and interesting drinks.
A meal for an average person is about 500,000 VND
Address: New villa area, Halong, Bai Chay, Halong, Quang Ninh
Tel: 84 33 3511363 - Fax: 84 33 3515363
Van Xuan Restaurant
Van Xuan Halong Restaurant belongs to Dong Hung Thang - Cai Dam - Halong. The restaurant is conveniently located just 800m from the Bai Chay - Ha Long Tourist Wharf and close to three-star hotels such as Muong Thanh, Royal Lotus, Crown, NewStar... Many guests are staying here. Van Xuan Restaurant's guests are very satisfied with the food and service.
You can enjoy a lot of seafood specialties of Halong Bay here. The food is beautifully decorated and tastes delicious. Make sure to eat once will remember forever.
The price of a seafood meal for a person is about 300,000 VND.
Tel: 033 3640 569
Van Xuan Restaurant
Hong Dang Restaurant
Hong Dau floating restaurant has a large area, spacious space, luxurious layout and famous for good food, reasonable price.
Interesting and special of Hong Diem: Nha Be has a dock for guests from the mainland to sea. Diners can choose the fish and snail ...... fresh delicious Hong Ding on the sea. Hong Ding's seafood is raised in a natural grazing style, not raised by bran, so the meat of the seafood is fragrant, tender, and delicious.
The price of this restaurant is also relatively cheap, about 200,000 VND / person
Address: House of Hong Dap - Column Road 5 - Opposite AZ 68 coffee
Phone: 0904-688-022
Anh Duong Restaurant
Anh Duong Restaurant has long been known as the top quality restaurant and service in Halong. The restaurant is luxurious, very suitable for guests, the dining hall is spacious enough to organize parties or cozy areas, suitable for family meals ...
It is famous for fresh seafood of Halong. In order to be able to process these dishes, the chef must work very hard from raw material selection to processing. The staff in the restaurant is very enthusiastic, attentive and friendly.
The price is quite appropriate, the average person is about 300,000
Address: 18 Group 3, Zone 8 - Hong Hai Ward - Ha Long City - Quang Ninh Province.
Phone: 033.6293.666 - 093 621 8866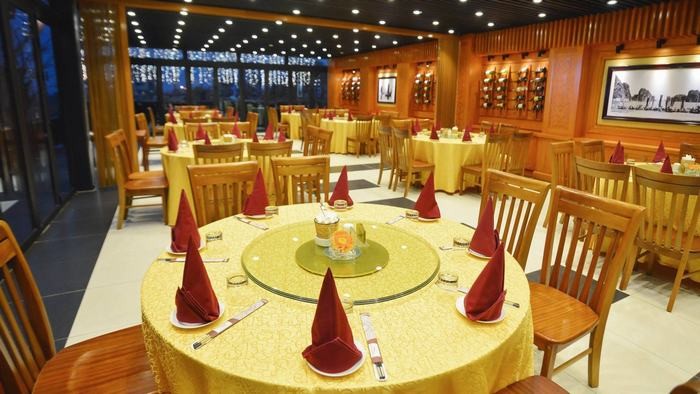 Restaurant in Halong
In addition, here you can enjoy delicious food in Ha Long in some other restaurants such as:
Phuong Thuy Ha Long Restaurant
Ha Long Road - Bai Chay Ward - Ha Long - Quang Ninh
Tel: 0333.848. 394
Mobile: 0912978235
Vinh Thang Restaurant
Ha Long Road - Bai Chay Ward
Phone: (033) 3845044
Wind Sea Restaurant
Vuon Dao Hotel - Ha Long Road
Phone: (033) 3847490
Hopefully, you will have a wonderful holiday in Halong Bay. Remember to visit one of these restaurants to experience the best of Halong culinary, or even in Quang Ninh province. See you again in Halong Bay soon!
If you concern more about traveling to Halong, do not hesitate to visit our website and ask us if you have any questions. Share this article with others if you find it useful. Thank you!