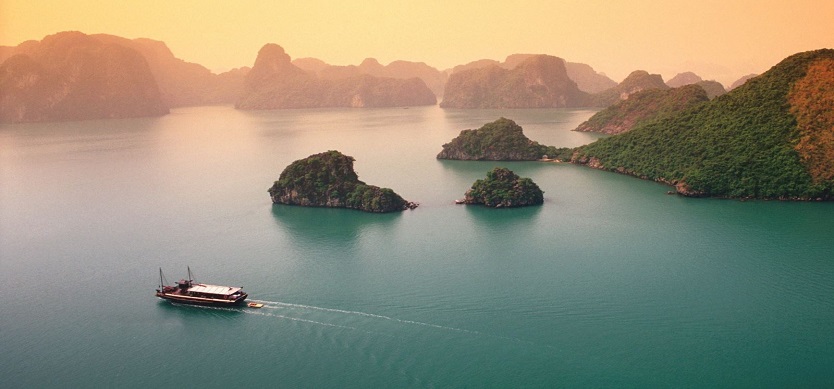 You and your family are planning a trip to Halong Bay this summer, but this is the first time you go to Halong Bay, so the feeling of confusing and questioning for what to prepare when traveling and how to go to Halong Bay. We would like to share some experiences of sightseeing Ha Long for you to save the cost and still resourceful and interesting enough to raise the desire to take a careful look at this bay.
Some information to know about Halong Bay
Halong Bay is located in the North East of Vietnam, which is apart of the western region of the Gulf of Tonkin, including the seaboard zone of Ha Long City. It intersects with Cat Ba Island to the west, which has a long coastline of 120 km. The total area of the bay is 1553 km 2, including 1969 islands of which 989 have been named and 980 unnamed ones.
The area which was recognized as the World Heritage Site has the size of 434 km2 and 775 islands, there is a triangle which was formed by the three peaks: Dau Go Island (in the west), Ba Ham Lake (in the south) and Cong Tay (in the east). Among all of these islands and islets, Cat Ba island which has Cat Ba National Park is the most famous one.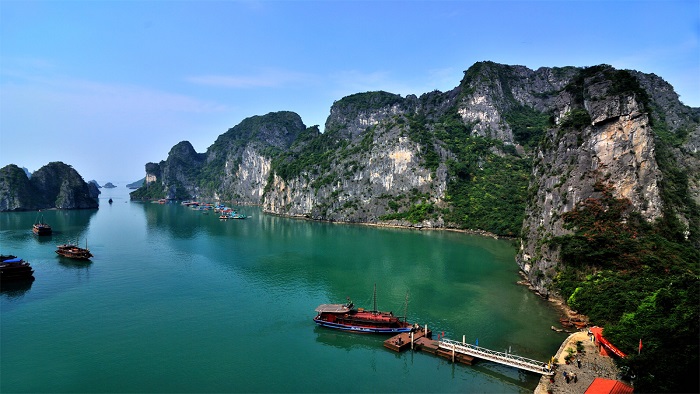 Halong Bay
The ideal time to travel to Halong Bay?
The weather has four distinct seasons in Halong Bay, most notably: Winter (from November to March next year) when the weather is very cold and Summer (From April - October) when the weather is very hot. There are various activities to take in this World Heritage site not just admiring spectacular landscapes such as kayaking, overnight on cruises, climbing, sunbathing….
Vietnamese tourists usually travel to Halong in summer (April-October period) every years, in the winter, it's the hot spot for foreigners.
If you want to travel Halong Bay in the summer, you may usually see the overcrowded scenes in every destinations, so the most ideal time without ruining your experience is from March - May and August - October periods, June – July isn't a recommended option since:
- The weekend of June - July is the peak season, attractions of Halong are overwhelmingly crowded, so some visitors will feel the discomfort and the price of services are usually higher.
- At the same time, as following by the nature's laws, June - July are the months of a lot aggressive typhoons the Gulf of Tonkin and Ha Long, tourists should be careful when traveling in Halong Bay at this time of the year.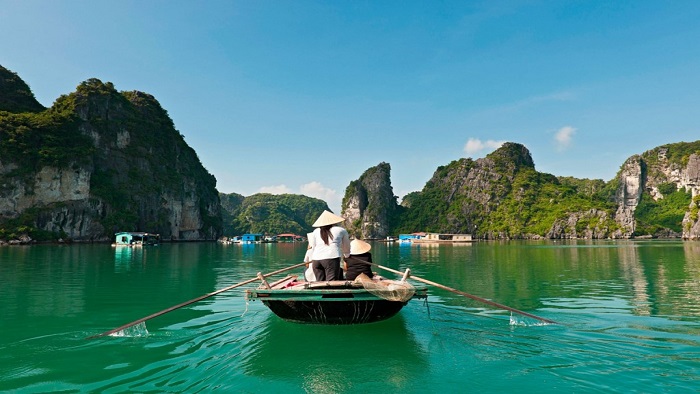 Boating on Halong Bay
What should be prepared when traveling Halong
Every summers, many visitors choose Halong Bay as a destination to enjoy with their families and relax after many days of stress and fatigue from the burdens of life. Let's make your holiday more charming and gorgeous to prepare the necessary items for traveling Halong Bay such as:
1. Swimwear
2. Sunscreen
3. Towels and shawls for girls
4. Underwear
5. Dresses for a seashore walking
6. Flip-flop or sandals
7. Hats and sunglasses
8. Swimming glasses
9. Personal hygiene items (including cleanser, soap, brush, toothpaste, shampoo, razor)
10. Medication: No matter where you go, you should prepare a first-aid including gastrointestinal disorder medicine (in case of eating strange goods); flu and fever medicines; insects repellents; antiemetic....are indispensable.
Transportations
Motorbikes/cars
Ha Noi - Bac Ninh - Halong route: 155 km. This is the shortest way to reach Halong Bay from Hanoi by car from about 3 hours, the best roads will be:
Hanoi Highway No. 5 - Sai Dong junction: 10 km.
Sai Dong along Highway No.1 - Bac Ninh: 23 km.
From Bac Ninh province: 18km - Pha Lai - Chi Linh - Dong Trieu - Uong Bi - Ha Long: 122 km.
Ha Noi - Bac Ninh - Ha Long route: 160 km.
Noi Bai Airport (Ha Noi) by Noi Bai - Bac Ninh (32km) to Bac Ninh.
Connect National Highway 18a through Pha Lai, Sao Do, Dong Trieu, Uong Bi to Ha Long.
Coach/ bus shuttle
Visitors should choose famous and trustful coach service's names, they gather mainly in major transportation hubs such as Yen Nghia, My Dinh, Giap Bat stations … in Hanoi city.
The first departure is usually at 6:00 am and 17:00 pm for the last one (a trip can expand from 3- 4 hours). It takes about 5 to 15 minutes to Bai Chay Bus Station in Ha Long, Quang Ninh Province. Carfare ranges from VND100,000 (for one seat) to VND 200,000 (for a bed).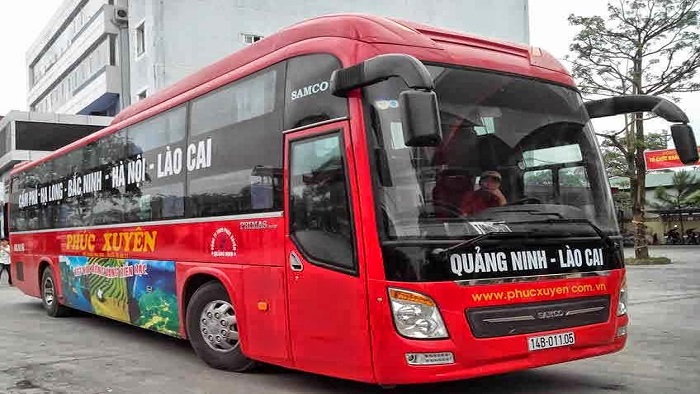 Shutle bus to Halong
Trains from Ha Noi - Halong
Guests can take the train which is usually departs from Gia Lam station. The earliest train will leave at 07:05 am which takes around 5 hours to Ha Long. Tickets are sold from $ 5 / ticket / guest (for Vietnamese guests) to $ 15 / ticket / guest (for foreign guests).
Taxis in Ha Long City
Mai Linh Taxi: 0203. 3628628.
Taxi Hong Gai: 0203. 3848484.
Ha Long Taxi: 0203. 3626262.
Taxi Thanh Hung: 0203. 3659659.
Taxi Thinh Hung: 0203. 3616161.
Sao Mai Taxi: 0203. 3822822.
Northeast Taxi: 0203. 3828282.
Van Loc Taxi: 0203. 3646646.
If you concern about Halong bay getting there, please visit Halong-bay-cruises for more information. Share this article if it is helpful for you!