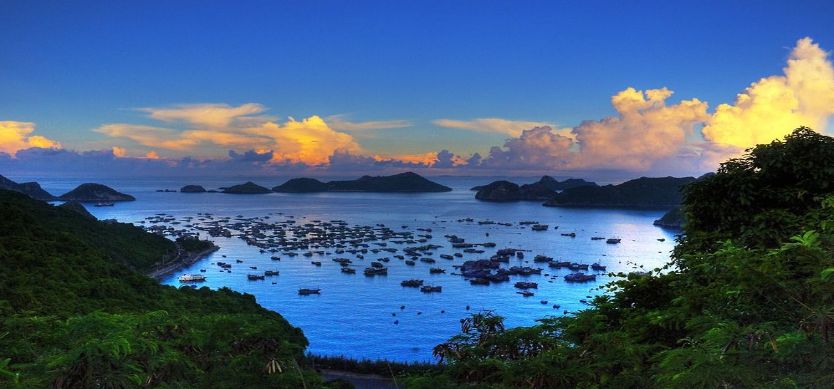 The question about whether Halong Bay or Nha Trang Bay is better is hard. Both of them are equally beautiful and interesting to see. But according to a "top 10 bays in Vietnam", you can probably guess which one is better in Vietnam. Let's find out the answer!
1. Halong Bay (Quang Ninh)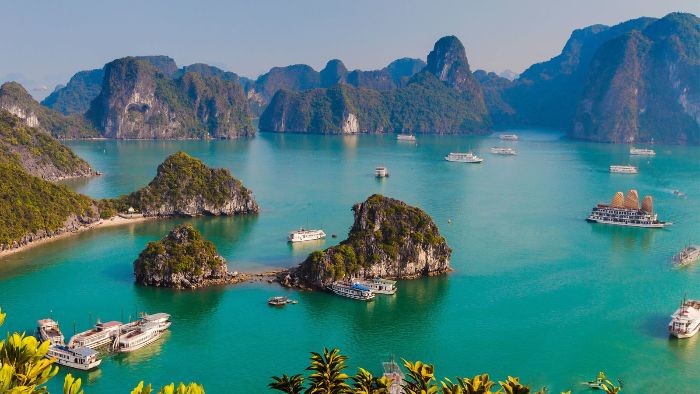 Halong Bay
Halong Bay as a giant watercolor painting is extremely lively. Thousands of rock islands bounce on the waves of shimmering, fanciful and majestic but also very soft graceful, lively. On 11/11/2011, Halong Bay officially entered the list of 7 natural wonders of New World organized by New7Wonders.
Come to Halong Bay to discover the undersea world here!
2. Lang Co Bay (Thua Thien Hue)
Lang Co Bay, Phu Loc District is a land rich in potential by nature, beautiful scenery. Over the bay is Hai Van Pass, the mountain runs to the edge of the sea. Below Lang Co beach is flat, clear water. Lang Co is a gentle, pristine sea with a fine white sand, clear blue sea. Today, Lang Co Bay officially became the 30th member of the world's most beautiful bays club (Worldbays Club).
3. Xuan Dai bay (Phu Yen)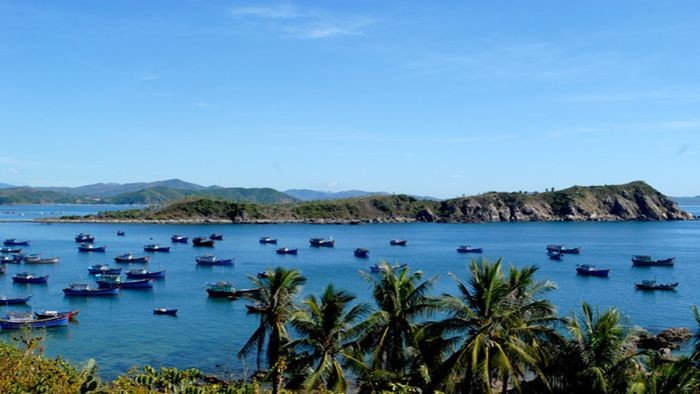 Xuan Dai Bay
About 45km north of Tuy Hoa City, Xuan Dai Bay is made up of a mountain range that looks like a unicorn. There are not many gulfs of the diversified landscape such as Xuan Dai bay. Next, puddle next to the beach, next to the mountain, winding messages. The puddles alone have dozens of small, shallow, shallow depths.
Xuan Dai is also home to many mountains, islands and peninsulas, all beautifully preserved. Another unique feature of Xuan Dai Bay is the clean, pure sand. Situated in the list of nominated the most beautiful bays in the world, Xuan Dai Bay is one of the typical landscapes in Phu Yen.
4. Vung Ro Bay (Phu Yen)
Vung Ro bay with 1,640ha of water surface, with wonderful scenery for visitors to visit, bathing. In the sea of Vung Ro, there are many species of seafood, the bottom of the sea are the coral reefs very attractive for the type of fishing tourism, swimming, diving. The peninsula embraces Vung Ro, making it a good seaport for boats to anchor, avoid storms and catch fish.
Vung Ro is the mountain range Deo Ca, Da Bia, Hon Ba shields all three north, east, west. To the south is the estuary of Hon Nua Island with a height of 105m as a fortress guarding ships in and out.
5. Nha Trang Bay (Khanh Hoa)
\
Nha Trang Bay
Covered by 19 large islands, Nha Trang Bay is quite airy, with no big waves. In Nha Trang Bay, there are nearly ten islands of oats, the annual exploitation of salanganes carry millions of dollars to Khanh Hoa. In Nha Trang Bay, there is another world of excitement, which is the world of 350 species of coral, 190 species of fish, mollusks, crustaceans, seagrass ...
Ecologically, Nha Trang Bay is one of the rare natural models of the lagoon system in the world because it has the most typical and rare ecosystems of tropical waters. It is wetland ecosystems, coral reefs, mangrove forests, seagrass beds, estuarine ecosystems, marine island ecosystems, coastal sandy ecosystems. In July 2003, together with Ha Long Bay, Nha Trang Bay was officially recognized and ranked as one of the 29 most beautiful bays in the world.
6. Van Phong Bay (Khanh Hoa)
Van Phong is located 80km north of Nha Trang city in Van Ninh district. The bay has very rich terrain, especially the island system, the peninsula, the deep bays, the sandbanks, sand dunes and attractive ecosystems such as tropical forests, mangroves, flora, and fauna. In recent years, Van Phong Bay has gained the special attention of researchers and exploring tourism in and out of the country.
7. Ninh Van Bay (Khanh Hoa)
Ninh Van is a beautiful island located in the Nha Trang Bay, on the Hon Heo peninsula, Ninh Hoa district, Khanh Hoa. The natural scenery in Ninh Van is almost preserved with the most natural and wild. Ninh Van peaceful, blossom green grass, this paradise possesses high mountains, green forest to the eye.
Fine sandy beaches, turquoise blue sea, and fascinating coral reefs are also key factors to attract tourists to Ninh Van. There are only small bungalows located close to the beach, on the rock or on the hill.
8. Cam Ranh Bay (Khanh Hoa)
Cam Ranh Bay, about 60km south of Nha Trang, is a "green" area. The bay of green, immense, almost flat throughout the year. In the bay, there are many coral reefs, colorful fishes that appeal to those who love diving. The bay also has many beautiful beaches, besides the green coconut soaring, making up the characteristics of the Central Coast. Cam Ranh Bay is an ideal place for organizing various types of international cruises such as boating, fishing, scuba diving, coral reefs, convalescence, healing, climbing …
9. Vinh Hy Bay (Ninh Thuan)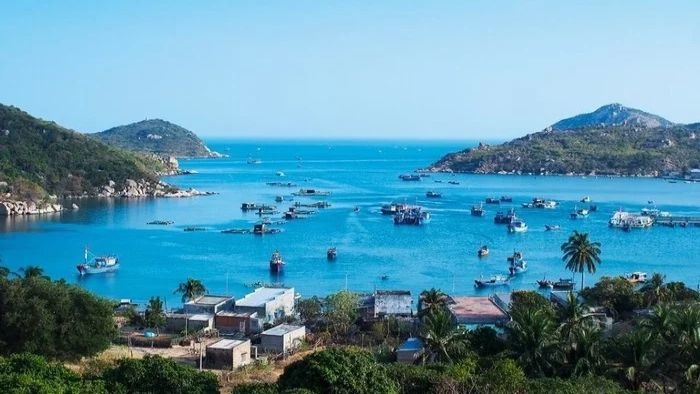 Vinh Hy Bay
Vinh Hy Bay, Vinh Hai Commune, Vinh Hai Commune, Ninh Hai District, about 40km from the center of Phan Rang city. Vinh Hy Bay is surrounded by mountains with many interesting caves, fresh natural climate, especially blue water and so much so that visitors can see each flock of anchovies swimming around the boat. Vinh Hy is the place where you can see the beauty of nature, the life of the people here, as well as the short stopovers of visitors are the features that make this place more romantic. On the itinerary, every visitor will spend the time to visit, to receive a full gift of the perfect and wonderful that the sea of heaven endowed.
10. Ha Tien Bay (Kien Giang)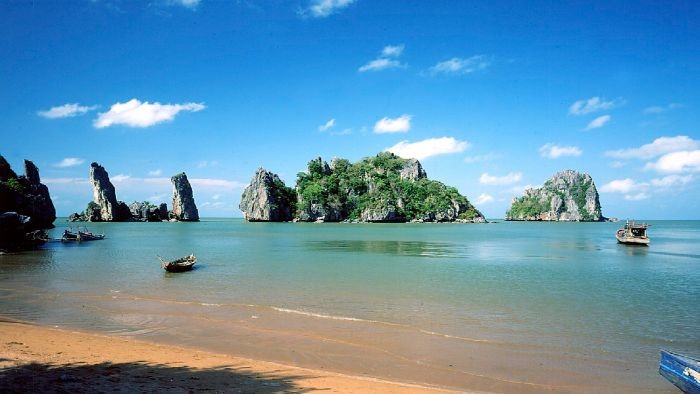 Ha Tien Bay
Ha Tien Bay has 105 large and small islands, including Hon Nghe Island Commune, which is developing fish farming in the sea and many tourist attractions. Nature offers Ha Tien a harmonious whole: mountain, sea, island, and plain combined into a beautiful land like foreground. Ha Tien Bay attracts the most visitors in the Mekong Delta by beautiful scenery and many specialties.
Hopefully, you enjoyed the article and found what you were looking for and remember to return to Halong Bay Tours for more articles! We do hope to see you again in Halong Bay! Thank you!