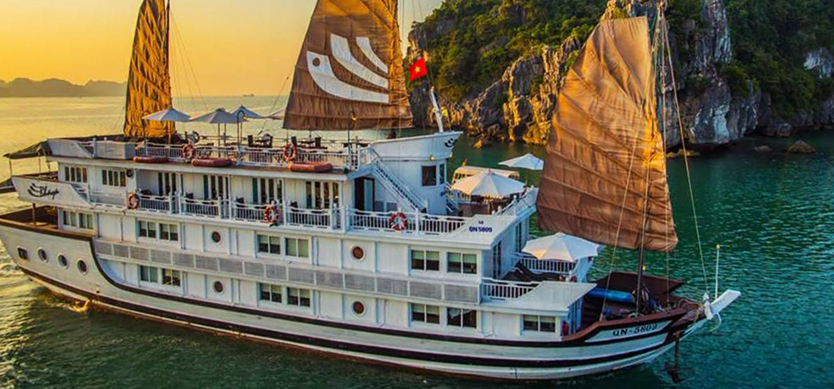 "Halong" means "Bay of Descending Dragons". This unique UNESCO World Heritage Site is a popular place for tourists and it is good to know that large parts of Halong Bay are officially protected from development. The islands vary greatly in size and shape as well as structure. If you're planning to visit Halong, these guides are what you should not neglect.
The Best Time to Visit Halong
Although you can visit Halong Bay all year round, you'd better plan your cruise tour carefully. Bad weather affects visibility and can even spoil your trip. The best time to visit Halong Bay starts is from March to June to avoid crowded public holidays (30 April 30 and 1 May). June to September is the low season so you can get better deals but pay attention to storm forecasts. October and November are in high season and it is still sunny. December is cool, cloudy but dry while January and February are cold, foggy, and drizzly. The showers will hide the splendor of the bay.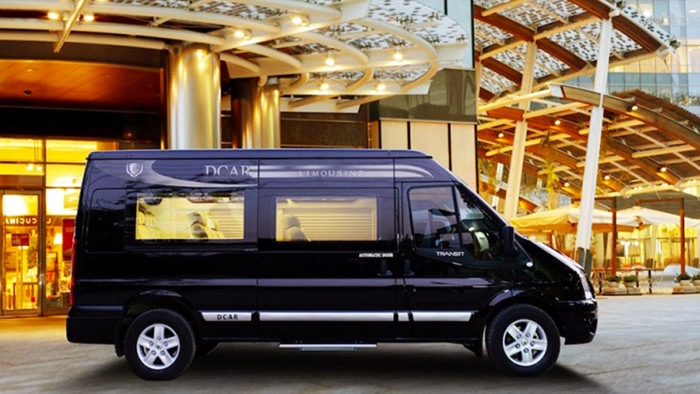 Transfer to Halong by minivans
How to book a Halong Bay tour
A one-day cruise will show you a glimpse of Halong Bay, yet if you want to get the most out of your trip, allow at least two days. You will be able to see the most stunning moments on Halong Bay or it's greatest wonders, including the sunset, sunrise, and a starry or moonlit night.
Booking a Halong Bay tour on cruises from Hanoi is easy. You can deal with the travel agent, the cruise line operator or your hotel host in Hanoi. It is advisable to shop around and ask clearly for what is included (and, just as importantly excluded) in the package (e.g: kayaking & transfers). If it sounds too good to be true, it probably is. Also, when you book through an agent or hotel, make sure you get a hotline number to contact in an emergency (e.g: prohibited cruises due to storm warnings).
What to take notice of
The huge array of slow 'junk' tour boats for package tourists from Hanoi depart from here for Cat Ba Island. As most people taking these boats are on pre-booked tours, the piers are not set up for independent travel. You will be approached by hawkers wanting to make a quick buck by selling you tickets for a premium, so let's avoid these guys. What you need to do is get yourself a ticket from the row of counters inside of a building near the waterfront. Tickets are 80,000 VND for 'route 1' which is the standard way to get over the Cat Ba. Wait around there with the locals (the group easy to identify as "not lost looking western tourists") until something happens.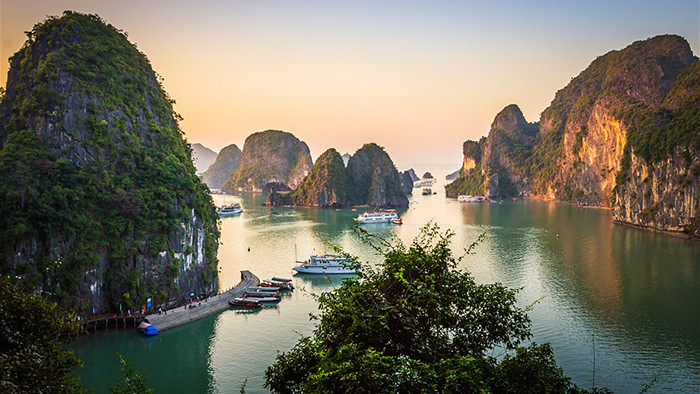 Admiring the sunset on Halong beaches
For individual tourists not on a tour package from Hanoi, "licensed" agents will approach you upon arrival at Bai Chay Wharf to sell cruise packages to you. Starting prices (for a non-Vietnamese Asian) are 500,000 VND for a 4-hour cruise (for which you will receive an 80,000 VND cruise ticket) and 800,000 VND for a 6-hour one.
If you want to avoid the hassle of buying tickets yourself and not looking like a lost sheep not knowing which cruise to take, do your best to bargain. You could approach the ticket counter directly if you have a Vietnamese-speaking guide along, and the rates will be much lower (remember, it's an 80,000 VND ticket), but be prepared to pay higher than the value stated on your ticket due to other surcharges such as mandatory insurance.
The tourist boats just stop at an island with two poorly preserved caves, and passengers are hit up for overpriced beers and kayaking ("the water cave") along the way. The whole ordeal takes four or five hours and is really best avoided unless you've never seen a cave before or want to hang out with clueless gap-year tourists. You can talk with the guide, who takes a tourist group on the pier or transfer to Cat Ba with him directly. If they have empty rooms on the boat, they will happy to take you. The 2-day-1-night cruise is less than 40 USD.
A medium-quality, a 3-day cruise including one night on a boat, one night on Cat Ba island in a 2-star hotel, bus transfers to and from Hanoi, all other transfers, admission to a cave, kayaking, admission to Cat Ba National Park, and all meals costs around 145 USD when booked from a reputable travel agent in Hanoi (or you could try book through your hotel in Hanoi). Do not book organized tours from Halong Bay as they will overcharge you as there is not much competition.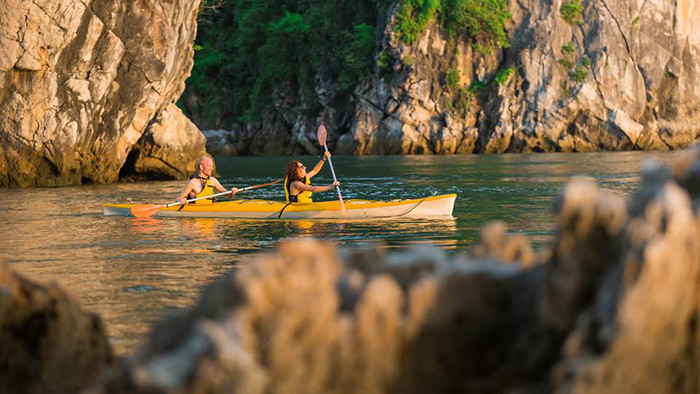 Having fun in Halong
When catching a taxi to Bay Chai Wharf at Halong Bay, many of the taxi drivers will try dropping you off at an entrance away from the main terminal where they have friends waiting to try selling you overpriced tours or transfers. Touts may be wearing identification around their necks to make themselves look official but they are not to be trusted - you are likely to end up on a cheap tour with nothing included (e.g. no admissions, no transfers on Cat Ba) despite the touts insisting that everything is included. The touts at Halong Bay pier will say anything to get your money and should be avoided if you don't want to be scammed. Pre-booking through a travel agent or your hotel in Hanoi will be safer and cheaper.
Hope that our full guides will help you have a wonderful and safe cruise trip in Halong. Feel free to contact us or visit our website for further information. Don't forget to like and share the article if it is useful for you. Thank you.