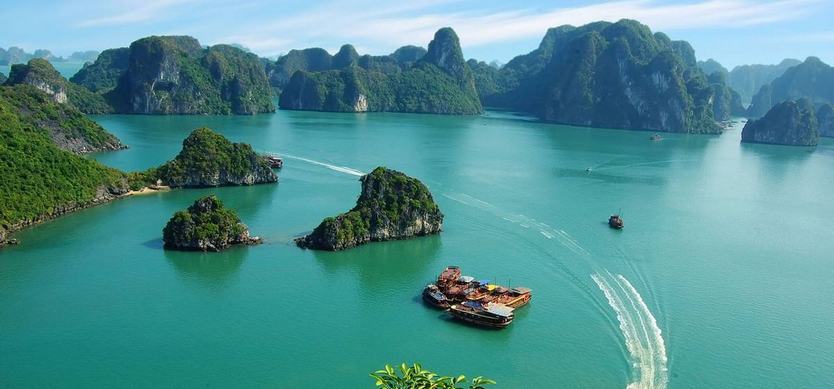 Many people know about Halong Bay as this is one of the most famous destinations in Vietnam.
Belong to Halong Bay are tons of amazing attractions, which is also the main characteristic of Halong Bay tourism.
Along with the development by the government, these attractions play a major role in expanding the tourism in Halong Bay, making Halong Bay even more famous to the world.
Where to visit in Halong Bay?
Bai Tu Long Bay
Ti Top Island
Sung Sot Cave
Thien Cung Grotto
Trong Mai Islet
1. Bai Tu Long Bay
Bai Tu Long Bay is located in the Northeast of Vietnam, near Halong Bay. Bai Tu Long Bay belongs to the area of Halong City, Cam Pha City, and Van Don Island. It borders Halong Bay, the sea, Cam Pha City and Co To island. There are almost thousands of island that belong to this bay, all of which are largely inhabited.
Until now, there are hundreds of limestone islands in many famous places such as Bai Tho Mountain, Con Coc Islet, Tien Ong Islet, Dam Oan, Con Co, Thien Canh Son cave, Tam Cung cave, and Me Cung cave... The island system is high - the island is undulating high above the water with hundreds of kilometers of coastline to create a spectacular but equally romantic. With that terrain, Bai Tu Long Bay has many beautiful beaches such as Con Co Beach, Van Don Beach, Quan Lan Beach, Minh Chau Beach, Co Toan Beach ... All of the above beaches remain the same: pristine and purity of nature.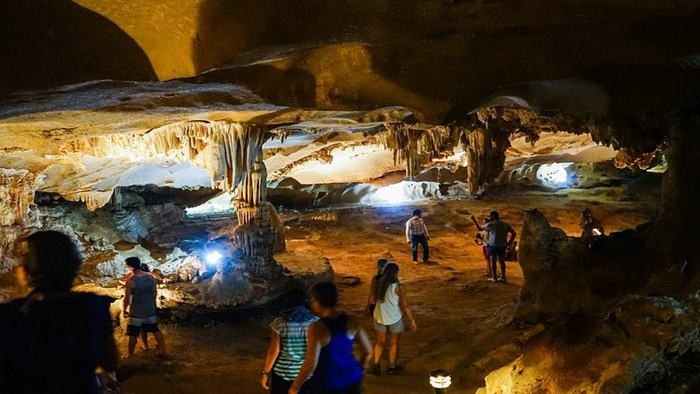 Thien Canh Son Cave
2. Titop Island
Titop Island is located in Halong Bay, in Halong City, Quang Ninh Province, about 7 - 8 km to the Bai Chay Tourist Port in the Southeast. Ti Toll has a crescent-shaped sandy beach. The sand here is washed by the tide all four season per year. In the late 19th century, the island was named Cat Nang. On November 22, 1962, President Ho Chi Minh and the astronaut of the Soviet Titop visited the island. To commemorate that trip, President Ho has named the island Titop Island. An island with steep slopes, a side with a white sand beach, flat at the foot, surely an amazing place to be in Halong Bay.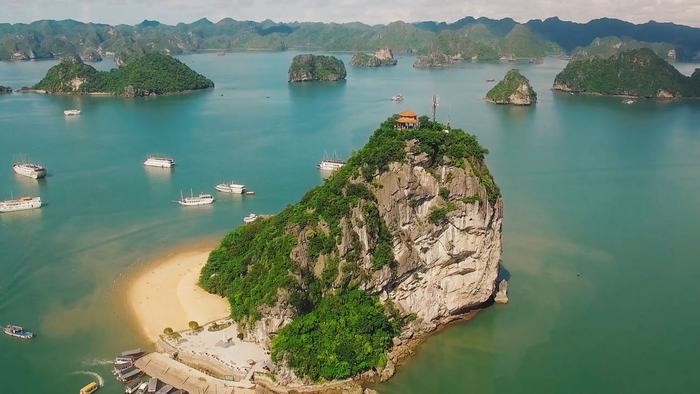 Titop Island
3. Sung Sot Cave (Surprised Cave)
Sung Sot Cave is divided into two main compartments, of which the whole of the first compartment as a big theater-wide. The second largest cave in the Sung Sot can hold thousands of people. Going into the scene is very strange things, like the ancient tree bush leaf, Sumatran, sea bears, dinosaurs Sung Sot Cave is a destination inside the World Heritage Site of Halong Bay, near Bo Hon Island. The place is stunningly wide and beautiful just like first class attractions around the world, there are also rock formations and cannot be found anywhere else around the world.
The road to Sung Sot Cave is quite narrow, and you also have to go through a forest and climb stone steps. The mountain climbers (hikers) will love this place for sure, because of the more you climb, the more you are eager to see the place with your eyes, just like when going up to the sky.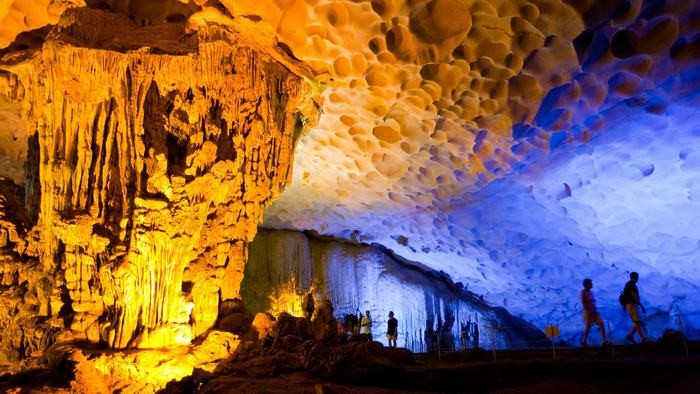 Sung Sot Cave
4. Thien Cung Grotto
Thien Cung Grotto is a famous attraction near Dau Go Cave. Many people say this is the most beautiful cave in Halong Bay. The cave is about 25m in height 10.000m2 in width. The cave system is extremely complex, including many levels, some of them even have high ceilings and wall. The special thing about Thien Cung Grotto is everywhere we can see countless blocks, stalagmites with strange shapes. So people have envisioned a myth of the love and the separation of Father Dragon, and Mother Dragon took place on the cliffs. Others might think this is a scene from one of the fairy tales in Persian.
5. Trong Mai Islet
Trong Mai Islet is a symbol of Vietnam tourism, located in the south west of Halong Bay, 5 km from Bai Chay tourist port, near Dinh Huong island. According to the locals, Trong Mai Islet resembles a male and a female chicken. In the middle of an immense sea of water, two chickens one male and one female roosted on the face. At dawn, from the far side, shining brightly, dying red giant chickens together on immense waves.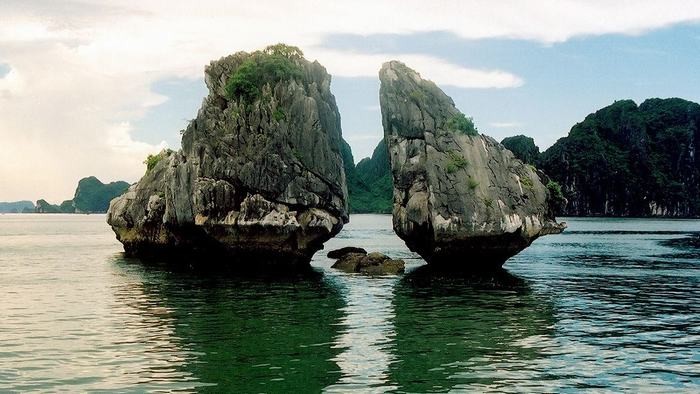 Trong Mai Islet
From the water, the height of each child to more than ten meters. The huge body stands on its feet, so it seems that only a few waves can be fluttered and that heavy rock can fall down at any moment. But no, millions of years passed, two chickens still standing there. It seems that the attraction is multiplied by the unbalanced legs. There are many works of photography, painting, poetry ... about these two chickens. Their image has become a symbol of Halong tourism and tourism in Vietnam in general.
Hopefully, you will enjoy your time in Halong Bay in the near future. Coming to Halong Bay these days are better than ever with tons of new things to do, but the traditional places to see still remain the same, and even easier to access with the improvement of the transportation. We hope to see you in Vietnam and even Halong Bay someday!