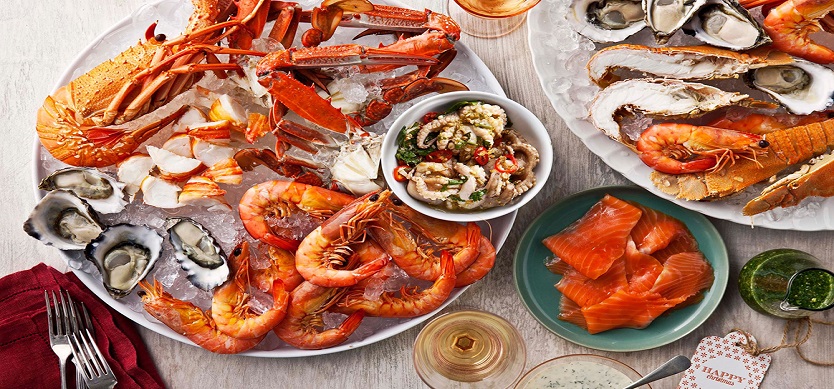 Starting travelling alone from the age of twenty, I've been through many countries around the world and realized that each destination had its own outstanding features.
As my culinary experience in Halong Bay, I've picked up the list of 7 most popular seafood dishes that are worth trying when taking Halong Bay cruises.
Even you're the most discerning dinners, these dishes will definitely please you.
Let's see.
Local seafood dishes in Halong Bay
Grilled squid
Grilled squid stuffed pancake
Horseshoe crab
Sipunculus nudus (sea worms)
Matis shrimp noodle
Clam saute noodle
Oyster porridge
1/ Grilled squid
In the top 10 of the ranking of the best Asian dishes, grilled squid is a proud speciality of the people in Halong. Arriving in Halong, even if you go to any restaurant, local people will introduce this dish to you. From a distance, you can smell the aroma of patties right from the frying pan.
When you enjoy each of these natural yellow patties, you will find the crisp, chewy and juicy taste of fresh squid. Not only that, the squid is brittle in the mouth, creating a quite interesting and strange feeling. Furthermore, grilled squid served with white sticky rice is the best. Therefore, when having a chance to visit Halong Bay, you don't forget to enjoy the wonderful dish.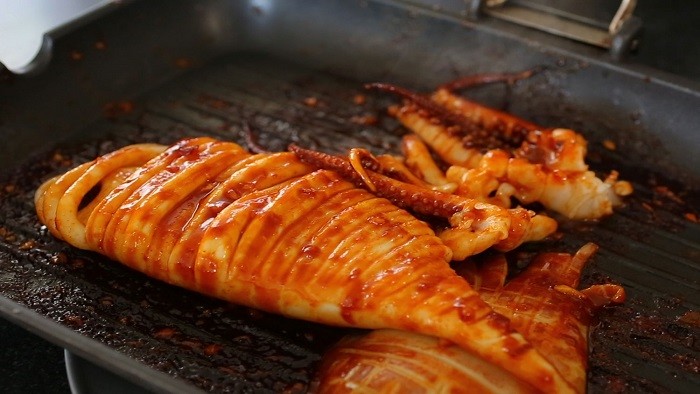 Grilled squid
2/ Grilled squid stuffed pancake
Squid is the most famous specialities of Halong, so when visiting the place, tourists should spend the time to enjoy all the delicious dishes which are made by squid.
One of the must-try squid's dishes is grilled squid stuffed pancake. Thin mourning rolls are cleverly coated and minced meat with mushrooms and atrium inside, but when eaten with squid, it creates a very special flavour. The scent of rolls, scallops, and onions mixed with the fresh taste of squid and dipping sauce creates an amazing combination.
3/ Horseshoe crab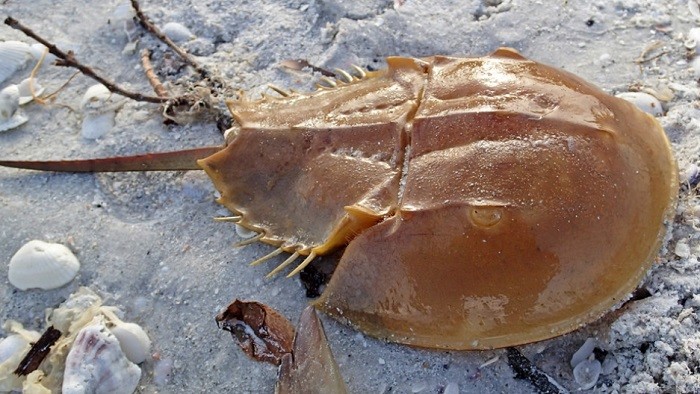 Horseshoe crab
Horseshoe crab belongs to the family with the crab family. Interestingly, these horseshoe crab often come in pairs, the females carry the males on their backs, so when one catches them, one catches them. Perhaps, when eating the crab, they always have to eat a couple of horseshoe crab because they were afraid that if they eat only male or female horseshoe crab, they will be cold. It is the reason why when processing, people often make a pair to sell.
Besides that, horseshoe crab can be processed into various dishes such as steamed horseshoe crab, stir-fried horseshoe crab with vermicelli, grilled horseshoe crab cartilage, stir-fried horseshoe crab with chilli, and so on. Therefore, you can comfortable enjoying all the famous and delicious dishes from the special crab.
4/ Sipunculus nudus
Sipunculus nudus is also known as ginseng or sea worms. Although the price is a bit high, the siphunculus nudus is popular with many people in the list of certain delicacies to try in Halong cuisine. In the first time, some people do not dare to eat because the siphunculus nudus looked exactly like the worms with pink color were scary. But after a desperate attempt, you understood why this dish is so famous. The sipunculus nudus is very sweet and fresh, and when it is stir-fried with garlic, it rises so the aroma of the sea is very attractive. Therefore, when having a chance to visit Halong, especially men, should spend time and money to try a delicious and healthy dish.
5/ Mantis shrimp noodle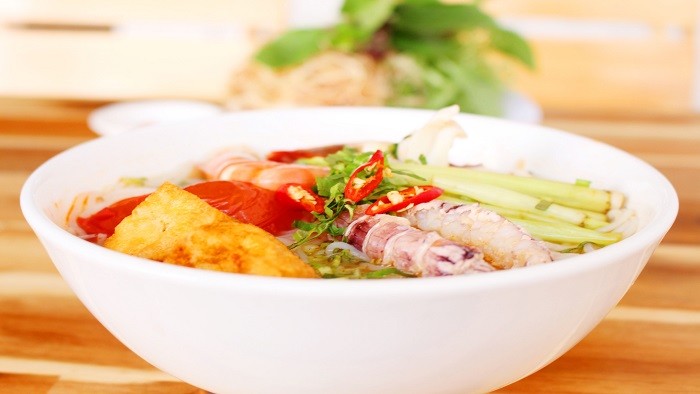 Mantis shrimp noodle
When talking about top seafood in Halong Bay, tourists cannot miss out mantis shrimp noodle. Fresh and superficial mantis shrimp's meat is taken from the waters of Quang Ninh. After preliminary processing, people take the skin of the surface and cook it together with the bone to serve as the broth. In vermicelli, there are also other ingredients such as choysum, tomatoes, shrimp and other herbs to enhance the flavour of the dish.
6/ Clam sauté noddle
Clam sauté noodle is known as the most delicious and popular sauté noodle in Halong Bay. When looking at the vermicelli plate without any eye-catching colours, the layout is not attractive, only vermicelli, black meat, ear fungus, mushrooms, and onions. But tasting it, surely you will want to enjoy the second time. Tasty meat tastes very spicy and strange, when used with mushrooms and wood ear, the more delicious flavour is added. The dish name is bored but not bored at all.
7/ Oyster porridge
It is a popular dish in Halong Bay, so oyster porridge has a reasonable price from 30.000VND- 40.000VND/bowl. Therefore, when travelling to Halong Bay, you must try the delicious and nutritious dish. The smooth and glutinous porridge has seafood sweetness and the smell of fragrant rice along with laksa leaves and coriander. After the fragrant rice is cooked, people put it in and boil it evenly until the porridge is comparable. When you eat, you should add a bit of onion and pepper to help smell better.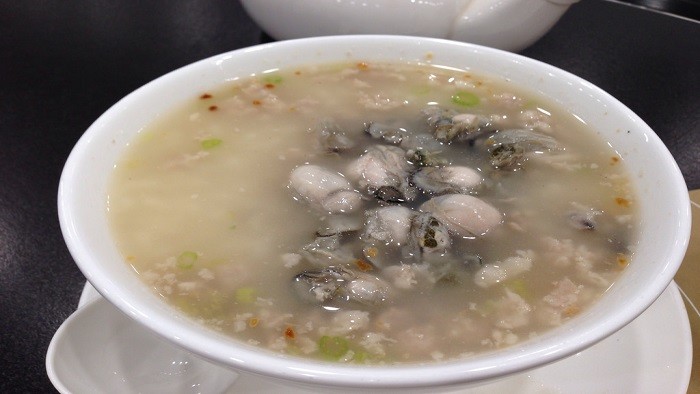 Oyster porridge
Hope that after the post, tourists will have useful and necessary information for traveling in Halong Bay, especially famous and popular seafood in Halong Bay. Furthermore, if you need more important information for traveling in Halong Bay in particular and Vietnam in general, you don't forget to visit our website to get more.