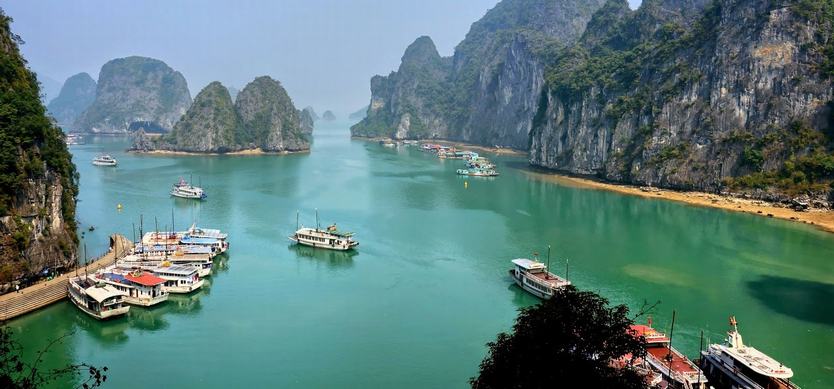 There are tons of unknown things about Halong that even a local cannot fully understand. So even if you are a local, or a foreign tourist, the feeling of being overwhelmed when coming to Halong is understandable. Knowing that this article should help you understand some of the basic things about this wonderful destination in Vietnam.
The appropriate time to travel to Halong
Halong Bay is located in northern Vietnam, has four seasons: spring, summer, autumn, winter. Almost any time around the year you can travel to Halong, but the best time will be from April to October. The weather these months is quite cool and pleasant.
Even so, you can come here in the winter months of December, January, and February. The weather can be a bit cold and cloudy, with the occasional rainy weather. In the summer, there are many tourists come here to relax and visit, but sometimes in this place, more people means more interest things to see. However, during the summer months from May to October, the temperatures will rise and you may experience storms during the rainy season.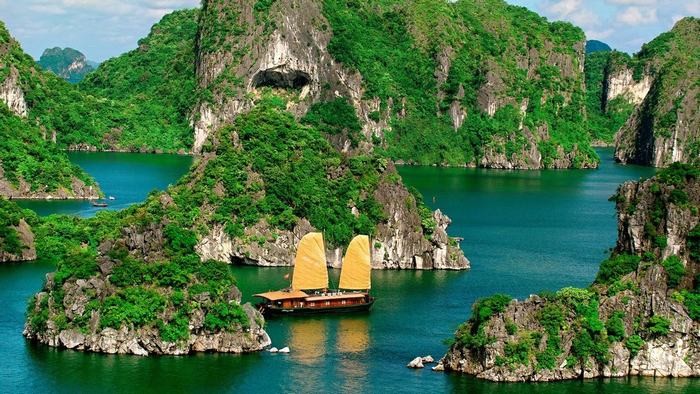 Halong Bay in summer
Where to go?
When traveling to Halong Bay, the visitors can take a cruise for sightseeing, look out over the beautiful islands on the bay, and the floating houses of the fishermen on the Bay.
Along the coast of Halong Bay is a popular beach called Bai Chay. The guests can relax and bathe here. If the tourists enjoy the pristine and tranquility, it is possible to take a boat to Co To Island and enjoy the beautiful coral reefs.
Besides, the visitors should not skip visiting Tuan Chau island, the most famous tourist in the North and is the most beautiful island among the 1,969 islands in the bay. In addition, this is the only island that is inhabited. The beach and water games such as beach volleyball, soccer, surfing, canoeing, high-speed water slides will bring you a healthy, fun and impressive holiday. In particular, the visitors can also admire and enjoy the food in the Vietnamese cuisine garden, built in a unique style that resembles architectural imperial Vietnam 17th and 18th century.
Halong has a large cave system, each cave has its own beauty and the stories attached to it. The guests can choose to visit Luon cave located on the island of Bo Hon, 14 km from Bai Chay to see the stalactites were built in millions of years with a variety of shapes and sizes.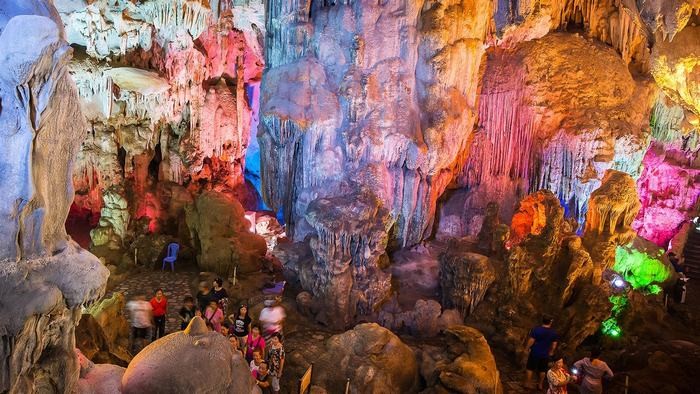 Explore caves in Halong bay
If you want to go to the temple, the visitors should visit Yen Tu. This is a system of pagodas, towers, and forests of ancient trees in harmony with natural scenery. Yen Tu's beauty is the greatness of the mountain with the ancient features of the "Am" system and the tower with many leaves, apricot etc…
Accommodation
1. Wyndham Legend Halong
2. Vinpearl Resort Halong Bay
3. Starcity Hotel Halong
4. Royal Lotus Hotel Halong
5. City Bay Palace Hotel Halong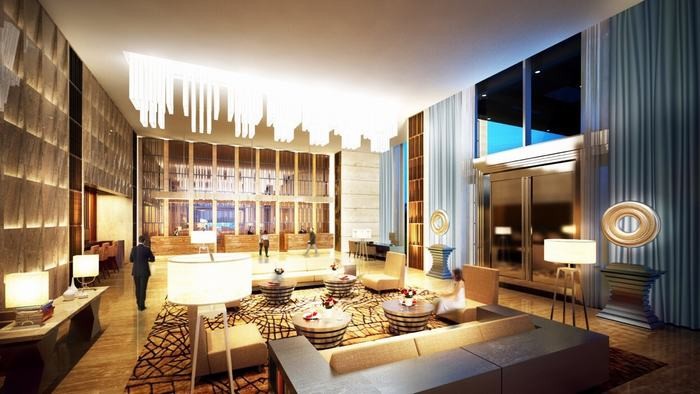 Wyndham Legend Halong Bay
Transportation
Halong City is 170 km from Hanoi, with 3 to 4 hours by car. If you go self-sufficient, you can take the bus in Hanoi. From the station Kim Ma on Nguyen Thai Hoc, the tourists pick up the bus of Hoang Long Express, daily car, every 15 minutes will have a trip to Halong. You can also take the bus from Haiphong just about 75 km from Halong Bay. Once you have arrived in Halong Bay, you can rent a boat or boat cruise on the bay.
There is a train running from Hon Gai to Hai Phong every day. Depart at Hon Gai at 6:30, 13h and 16h. Unfortunately, there are no hydrofoils running Halong and Hai Phong. However, the fare is slightly higher than that of traveling by car.
Apart from the usual means of transport, Halong Bay tourists from Hanoi also have new options with the modern and luxury seaplane of Hai Au Airline.
Airplanes with 2 seats for pilots, 12 seats for passengers and spacious windows, not only help you save time traveling, but also help you to enjoy the beautiful view from the plane, also It records the memorable moments of Halong Bay from 150 to 3,000 meters above sea level.
Shopping in Halong
In general, the price when traveling Halong is not too expensive for a famous tourist site. The visitors can shop for clothes that are slightly more expensive than others. Dining at the bar is also quite popular. However, like other travel destinations, the travelers also need to ask for re-pricing before deciding what to buy or rent.
In addition, the fare of public buses from Ha Noi to Halong is about 120,000 VND (~$6). The price from the bus station to Bai Chay resort is 15,000 dong per person. If you want to go to Hon Gai, you have to spend up to 40,000 VND per person. You should take a taxi if your group has 3 people or more. As for buses from the bus station to Bai Chay or Hon Gai, the highest price is 5,000 VND per person.
Hopefully, after this article, you will be able to have a smoother trip in Halong Bay, one of the most famous destinations of Vietnam. Visit our website to get further information. If you find this article useful, you can share with others. Thank you!