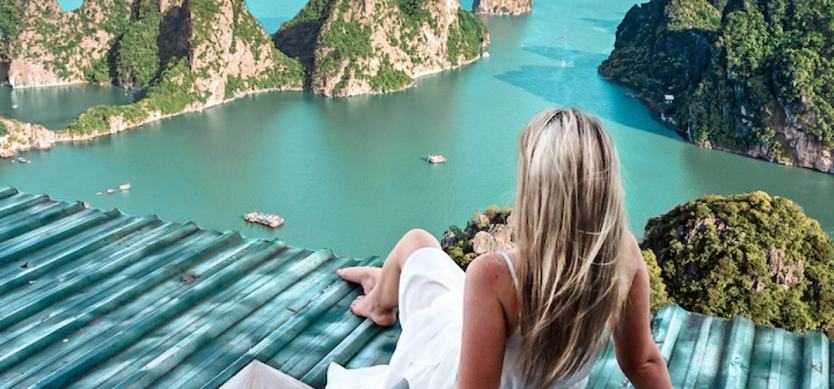 Here's a little something to tingle those taste buds for the food lovers amongst you! It's time for the food story of Halong Bay that we promised in our last post "Beautiful Halong Bay".
You may be thinking a post just on the food experience of 2 day Halong Bay cruise tours is a bit excessive? After all, how much can you really eat in 2 days? Well, the answer is 'quite a lot'. With each meal lasting almost 2 hours, and an average of 9 courses per sitting, it was almost as impressive as the limestone karsts!!
So prepare yourself for the highlights of our incredible culinary experience on Halong Bay!
The Food of Halong Bay
As mentioned in our previous post, we decided to break the budget to ensure we experienced Halong Bay the way we wanted to (and also to avoid the rat-infested junk boats we'd read about!).
Despite this, we were not prepared for the incredible food and service we received! Vietnam is renowned for its great cuisine, but this surpassed all of our expectations. After settling into our cozy cabin, we were invited for our welcome drink and first meal of the cruise. As it was lunchtime, I expected some soup and maybe a rice-based dish (our standard Asian lunch), but when the delicious fried oysters appeared in front of us, after a delightful cream of pumpkin soup for starter, we knew this was no ordinary lunch!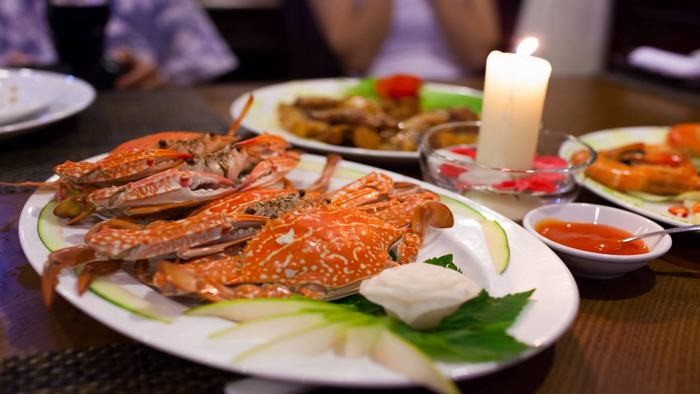 Food on cruise
Then the fresh seafood and amazing dishes just kept coming…big juicy prawns, grilled monkfish in a sweet sauce, beef teriyaki, delightfully fresh salad served with sesame seeds and sweet radish dressing – we were spoiled for choice! And after eating cheap Asian street food for the past month it was a much welcome treat for us!
Thankfully kayaking was on the agenda for that afternoon to work off some of those very worthwhile calories!
I was convinced that our first lunch was a special treat to welcome us aboard and that surely they couldn't keep up that standard of food, service or volume of courses! But to our delight, they just kept surprising us and exceeding our expectations at every meal.
Amazing experience on Halong Bay
On our first night, we had a stunning surprise! Our previous post "Beautiful Halong Bay" showed you our stunning cave setting for our first dinner – a surprise cave BBQ! Impressed enough by our beautiful candlelit cave, we would have been satisfied with a burger, sausages and maybe a tuna steak (if we were lucky) but once again we were treated to the freshest and tastiest food I have ever experienced! More delicious tiger prawns, beautifully marinated chicken and beef skewers, crispy fresh salad and many more dishes that I can't even remember now! Accompanied beautifully with some delicious ice-cold Chilean white wine (yes they even carted the ice buckets up the 100 stairs to our cave!) which we'd selected earlier – wow.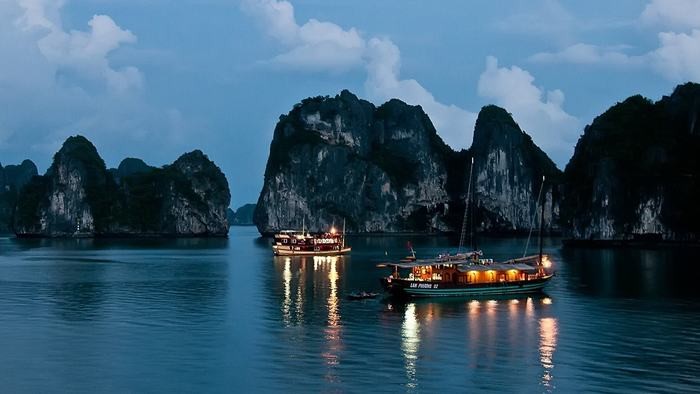 Halong Bay by night
But the absolute highlight of the evening was when we were presented with our special honeymoon gift! An amazing freshly made (how?!) coconut flavored sponge cake. Wow! There was even enough to go around all our new friends and the crew – a great way to top off our amazing cave dinner experience.
The next morning, we looked forward to our first breakfast onboard the boat and we were not disappointed when presented with eggs on toast, fruit, fresh Vietnamese coffee and a bowl of Pho Ga (fresh noodle soup with roast chicken, vegetables and herbs) – a Vietnamese breakfast favorite!
Halong Bay was the ultimate introduction to Vietnamese cuisine for us, and one which left us salivating to try more local dishes. Little did we know, it would only get better as we traveled North to South on our cultural and culinary experience of awesome Vietnam.
For more information about Halong Bay tours, you can visit our website. If you have any questions, feel free to contact us. Share this article with others if you find it helpful. Have a nice trip!