Tam Cung cave is located on May Den island - an island that is almost isolated from other ones.
Because of this, fewer visitors know this cave than elsewhere in the bay. However, it is no less attractive than Thien Cung, Me Cung, or Luon cave.
If you care about visiting this place, don't miss out on this article. We will provide you with a closer look at the beauty of Tam Cung cave.
Where is Tam Cung cave?
With a beautiful location in the heart of Halong Bay, the cave is in the northeast of Sung Sot cave. Tam Cung cave is located on May Den island with high cliffs and lush forests.
The beauty of Tam Cung cave
Not only does it have the beautiful terrain but Tam Cung cave is also endowed by nature for a very large area. The cave is divided into three compartments.
Inside the cave, visitors will be comfortable watching stalactites with many different shapes and colors. In all three compartments, stalactites create vivid natural shapes such as gods with a silver beard, white night cactus, lions, seals, or marine creature statues, etc.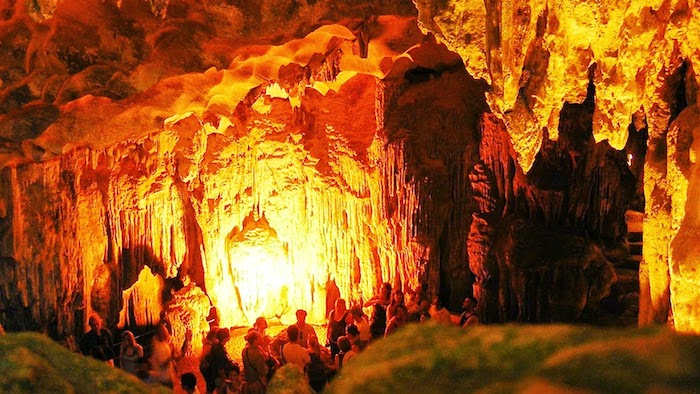 Visiting Tam Cung cave
The first compartment
In the first compartment, you can hear the sounds somewhere echoing the like the T'rung instrument or the sacred stone.
And the next, the "Fu, Lu, Shou," or God of "happiness, wealth and longevity," are standing quietly on the cliff overlooking the ceiling. From the cave ceiling, a stalactite identical to the white sweet olive flower blooming in the middle of the stalactite forest.
The second compartment
From the first compartment to the second one, through a small, bumpy opening, this place is like a living natural museum with stone lions, seals, marine statues, etc.
In the middle is a stream of the freshwater flowing all year round. On the two sides of the cave are stone curtains hanging down from the ceiling. Everything seems to be shaking.
The third compartment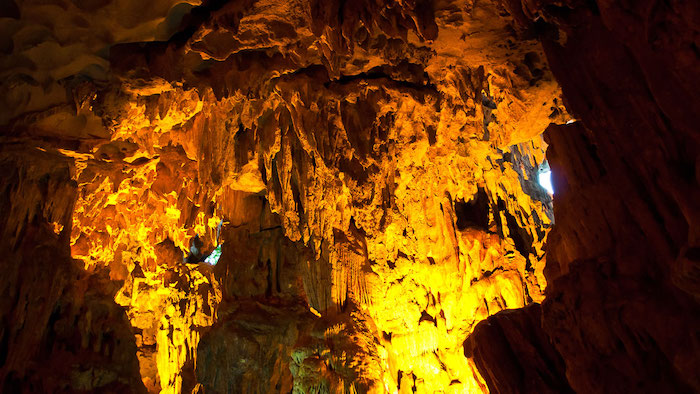 Beautiful stalactites in Tam Cung cave
Coming to the last compartment, visitors can admire the complex and impressive stone carvings of the natural artist. Each work is made up of superior aesthetics, admirable skill, and ingenuity.
Each shape has a different style. They are soft petals, gentle elephants, slender bamboo sticks, etc., but they all create a lively, harmonious and balanced picture.
Besides beautiful Halong Bay beaches, Tam Cung cave is indeed a majestic paradise on the dreaming beauty of Halong Bay for travelers to explore. If you have a chance to have a Halong Bay tour, don't miss out on traveling to the cave. For further information, feel free to contact us or visit our website. Please like and share the article with others if you find it useful. Thank you.