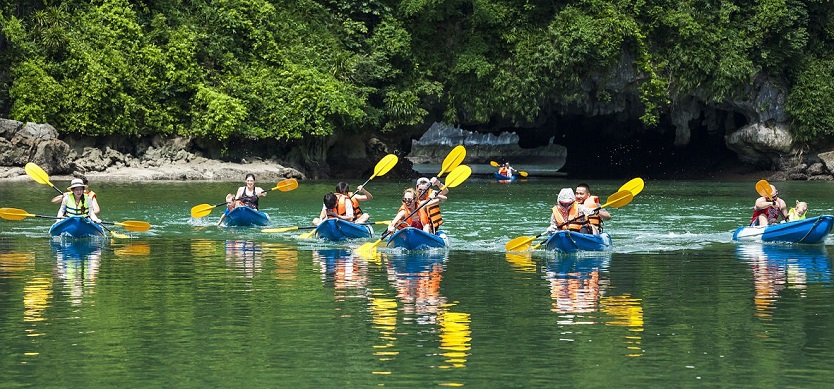 Halong Bay is recognized as a world natural heritage - a must-come destination whenever planning a holiday in Vietnam.
Every year, Halong Bay receives millions of both international and domestic tourists.
The breathtaking beauty of the bay charmed any tourist's heart who's visited once.
So, what are the best activities to do there?
If you're planning your upcoming trip in Halong Bay and still wondering this question.
Top things to do in Halong Bay
Kayaking
Halong Bay has been voted by National Geographic Magazine as one of the 25 world's most beautiful places for kayaking. Therefore, it will be a big omission if you do not try kayaking when coming here.
Participating in kayaking, visitors are immersed in the sea, the cool blue water while rowing boat weaving into the caves to explore countless stalactites that endowed with many pictures of strange enemies.
Especially when kayaks go into the low caves, you will have to use your hands to cling to the top of the cave and push the boat in. Sometimes you will have to lie down on the boat to be able to go through the cave. kayaking is a quite dangerous sport for those who do not know how to swim.
However, to feel all the majestic beauty of Halong Bay and discover the beautiful cliff, visitors should not miss this opportunity. You can paddle alone or accompany your friends to explore Halong Bay on your own.
To experience kayaking, you can join the day tour, but if you want to have more wonderful experiences and visit more beautiful places such as Luon Cave, Soi Sim, Bright and Dark Cave, Ba Trai Dao Island, or Lan Ha Bay ... visitors should join the overnight cruise tour on the bay. Most cruise ships are equipped with kayaks for tourists to self-explore tours in beautiful in safe areas and locations.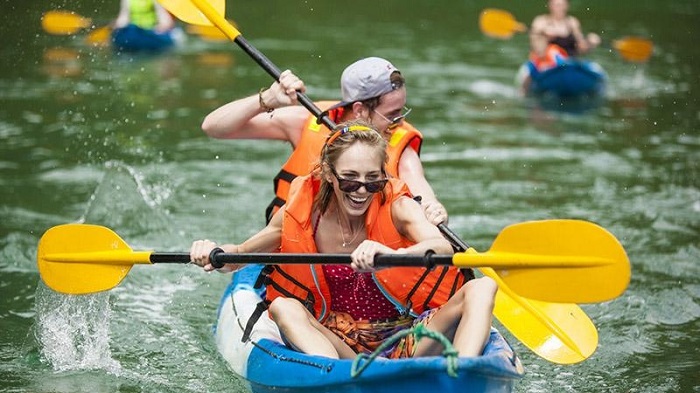 Kayaking in Halong Bay
On the other hand, you can also take a boat to places like Ti Top Island, Sung Sot Cave, Bo Nau, Vung Vieng Fishing Village, etc. There is a kayak rental service, you will do it yourself with the price of about 150 thousand VND / hour.
If you are into exploring the undersea world then snorkeling will satisfy your desire. Taking part in this activity, you will have the chance to see colorful coral reefs and diverse sea creatures.
The best time to do snorkeling in Halong Bay is in December when the sea temperature is warm enough, about 26 degrees Celsius.
The most ideal spots for snorkeling in Halong Bay is the areas near Cong Gio Island, Van Gio Island, Trai Cave and Cat Ba Island.
If you book a cruise tour, the cruise operator will provide you with the necessary equipment. You can also find some local companies providing scuba diving training if you're keen on going beyond snorkeling.
Some cruises that offer this activity include Aclass Legend Cruise, Halong Phoenix Cruise, Golden Phoenix Cruise, and Emperor cruise.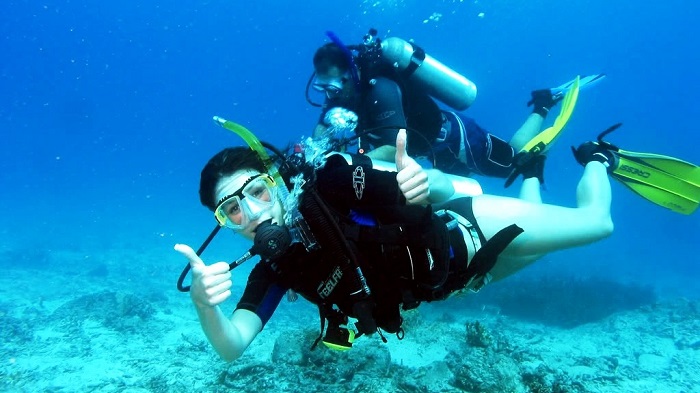 Scuba diving in Halong Bay
Night squid fishing is an enjoyable activity that you should try when taking a cruise tour in Halong Bay.
Taking part in squid fishing, you can have the feeling of dropping net-like local fishermen.
The squid season begins in April and finishes around January next year. The peak season starts from August to December. You can catch the biggest squids if you go in October and November.
Squid fishing is easy and anyone can catch it. Just drop a line of a rod into the water, the squid will mistakenly think that food and they will use tassel cling to hook. Then they will be pinned and cannot be removed. When the squid has taken a bite, you will feel the tip of the line is a bit heavy and slowly pull it up.
After finishing fishing, you can enjoy what you caught right on the boat.
Taking an overnight cruise on the bay
There is no doubt that taking an overnight cruise tour is one of the best ways to fully admire the beauty of Halong Bay. In Halong, there are a lot of top cruises for sleeping on the bay. Of course, if you do not have much time, you can take a day tour. However, Halong Bay at night becomes more sparkling.
Taking an overnight cruise tour also means you will have more chance to participate in more activities.
For those who are into water-based activities, you will not miss kayaking, swimming, or snorkeling.
A lot of cruise ships offer Tai Chi exercise in which you wake up early in the morning to enjoy the fresh air of the bay and do some warm-up activities before starting a new day of exploration.
Cooking class is an exciting activity to learn more about the culinary culture of Vietnam, and also you have the chance to learn how to cook traditional Vietnamese food.
Cruise in Halong Bay
If Fansipan is the roof of Indochina then Bai Tho Mountain is dubbed as the roof of Halong. For those who are into something adventurous, climbing up this mountain is a must-do thing when coming to Halong.
In Vietnam, the dry season lasts from November to April. This is the best time for climbing. You need to carefully consider and check the weather forecast before your trip.
The mountain is only about 200 meters above the sea level and you need 30 minutes to climb. When reaching the top, you can see the panoramic view of Halong bay.
On the way to Bai Tho Mountain, you have to pass small and narrow stone steps. Moreover, they have formed a long time ago so there is moss and it is very dangerous if you are not careful.
Admiring the view of the bay from a seaplane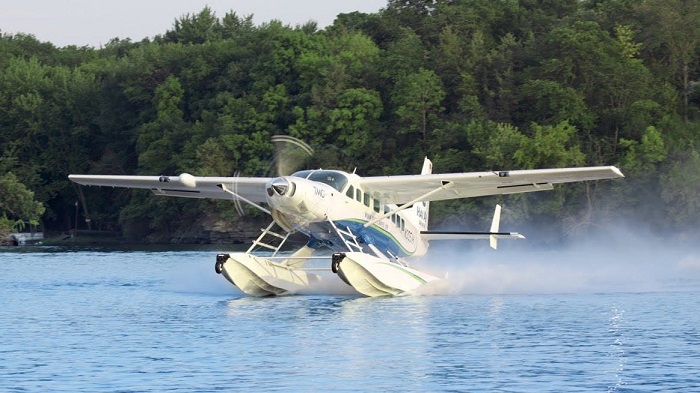 Seaplane in Halong
If you have ever admired the beauty of Halong Bay on the cruise but still not satisfied, why don't you experience watching Halong Bay from a seaplane?
Currently, in Vietnam, Hai Au Aviation is the first private airline to provide seaplane services with high-class sightseeing flights. This type of business has flourished in the world but it is still quite new in Vietnam.
Not only help passengers save time when traveling to famous tourist destinations, but seaplanes also offer beautiful views of the scenic spots.
The aircraft has 2 seats for pilots, 12 seats for passengers and spacious windows, allowing passengers to comfortably enjoy the beautiful view from the plane and experience memorable moments of Halong Bay from height from 150 to 3,000 m above sea level.
Looking down from the seaplane, the whole view of Halong Bay with nearly 2,000 large and small islands appears vividly and magically undulating on the beautiful emerald-green seawater.
Exploring caves
Halong Bay is considered as a perfect picture of nature. And in this picture, besides "water and rocks" as many people often say, there are also beautiful and unique caves.
Thien Cung Cave: It is located in the southwest of Halong Bay, about 4 km from the tourist port on Dau Go Island at the altitude of 25 m above sea level. The road to Thien Cung cave is craggy cliffs and covered with trees. Through a narrow gap in the cave suddenly opens up space above a quadrilateral surface with a length of 130 m.
Dau Go Cave: When setting foot in the cave, visitors are surprised by the ancient pristine and extremely attractive beauty.
Dau Go Cave is divided into three main compartments. But the most special one is the second compartment like flowers of colorful marble alternating.
The outer compartment is arched with a giant oil painting depicting the pristine natural landscape with stalagmites and stalactites on the ceiling. At the end of the cave is a fairy well with water flowing all year round.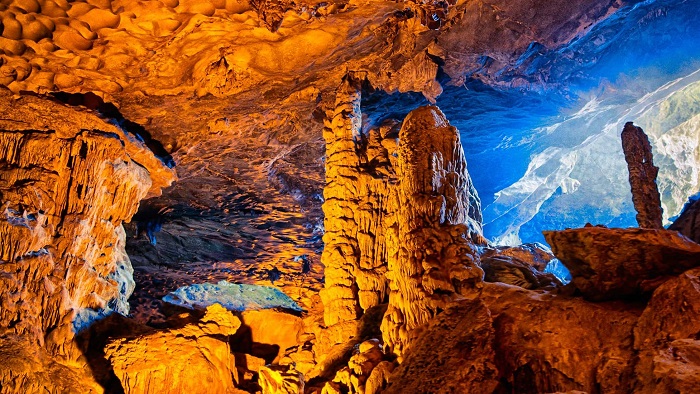 Sung Sot Cave
The Queen's Cable Car was just opened in June 2016. Experiencing the cable car, you can fully admire the beauty of Halong Bay from above.
The Queen's Cable Car is a project in the Sun World Ha Long Park project system which is consulted and designed by two world's leading cable car companies Doppelmayr (Austria) and Garaventa (Switzerland).
The cable car has a total length of 2,222m, with 2 cable pylons, including 2 cabins but the transport capacity is up to 2 thousand passengers/hour.
The cabin of the cable car is like a huge double-decker bus connecting the ocean and the vast sky, on which you will see a different, beautiful and mysterious Halong Bay.
FAQs for your trip in Halong Bay
Q: Is Halong Bay worth visiting?
A: Yes, it is definitely worth it. Halong Bay is a must-go. Not only have the magnificent beauty with stunning caves and beaches, but Halong Bay also offers tourists a lot of interesting things to do.
Q: How many days should you spend in Halong Bay?
A: Normally, people will need to stay in Halong Bay for 2 days to 3 days either on a cruise or a hotel on land. If you do not have much time, you can still take a day tour, but you will not able to participate in many activities.
Q: When is the best time to visit Halong Bay?
October to December (Fall) is the best time to visit Halong Bay and peak season thanks to the pleasant weather and low chance of rain, though you can expect double the crowds. While June to September (Summer) is the low season and has a higher chance of storms and typhoon.
Q: Is Halong Bay safe?
Halong Bay is a safe destination for both male and female tourists in terms of violent crime, assaults, and bag snatching. However, safety regulations don't always correspond to the international requirements, thus the cases of boat sinking are quite common.
Q: Can you stay in Halong Bay?
A: Overnight on the Cruise in Halong Bay. Today, the cruise is the most popular method which travelers choose to overnight in Halong Bay. There are two types of cruise in Halong islands like luxury cruise and normal cruise. Depending on your budget on the trip, you can choose one suitable option.
Q: Where do you fly into for Halong Bay?
A: Noi Bai International Airport
The best way to get to Halong Bay will be to fly into Noi Bai International Airport, 40km outside Hanoi, Vietnam's capital city. From there you will need to transfer to Halong City, and there are a number of ways you can do this.
We hope that after reading this post, you will understand more about Halong Bay and can choose the most favorite things to do when coming here. Visit our website to get further information about other destinations and leave any questions. If you find this article useful, please share with others. Thank you